Faculty of the Month
Professor Doug Horton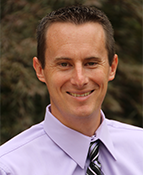 Doug returned to Eastern University as a full-time Instructor beginning in the fall semester of 2008 after working clinically for eight years. He received his Bachelor of Science degree in Health and Exercise Science with specificity in Athletic Training in 1999 from then Eastern College. He currently serves as clinical coordinator and interim program director in the athletic training program. This program has experienced a 100% FIRST time pass rate on the board of certification exam over the last five years, and 94% of graduates since 2011 are currently working in the athletic training field or are in graduate school.
When he is not at school, Doug enjoys spending time with his wife and four girls (Gracie, 12; Paige, 9; Aubrey, 6; and Lucy, who was just born on Oct. 6th). He is also passionate about working with a great team of volunteers who run a nonprofit organization called Goliathon. Goliathon is a 4-mile obstacle course event held in New Jersey twice a year. All proceeds support clean water projects to third world countries through Charity Water. After three years and six events, Goliathon has donated more than $100,000 to support projects in Bangladesh, Nepal, Ethiopia and Cambodia. The next event is scheduled for June 3, 2017. To learn more about Goliathon, please visit www.goliathon.com/reviews.
(Left) A Goliathon obstacle. (Right) Students at Nagorghope M.L. High School in Bangladesh enjoying clean water provided from Goliathon. The students here used to walk up to two hours to collect water.