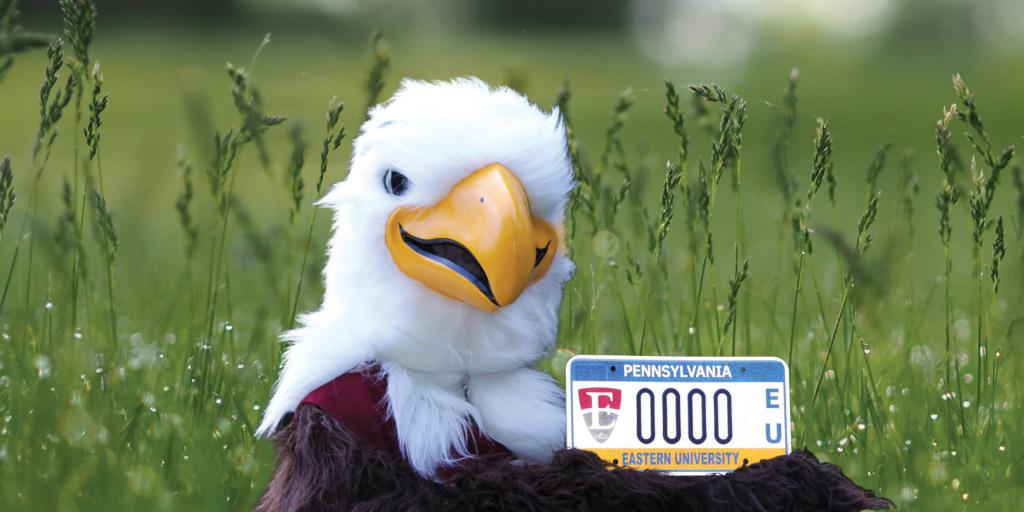 Eastern University license plates are available for a one-time fee of $35, made payable to Eastern University.
To Order
Print out the application form (PDF). If you do not have access to a printer, please email your contact information including your full name and mailing address to advancement@eastern.edu and an application will be mailed to you.
Complete the application and carefully read its content.
Retain a copy of the application for your records, and mail the signed original, including your check to:
Eastern University
Office of Advancement
1300 Eagle Rd
St. Davids, PA 19087
Questions? See Our FAQs
How much does it cost to get an Eastern University plate?
The total cost to receive the plate is $35.00, with $32.00 going to PennDOT for the processing fee and plate fee and $3.00 is considered a tax-deductible contribution towards the Eastern Fund, bringing the total to $35.00.
Note: When applying for your plate, you need only write one check for $35.00, payable to Eastern University. Eastern will forward the $32.00 due to PennDOT, along with the approved application.
Who may order an Eastern University plate?
Any Eastern student, alumni, faculty, staff or friend may choose to drive with Eastern pride! You just have to be the registered owner of a qualified motor vehicle in Pennsylvania (a qualified vehicle weighs less than 9,000 pounds and is not a motorcycle).
Is the license plate available in other states besides Pennsylvania?
How long will it take to receive my plate once my application and check are mailed?
Eastern University will process your check right away, but will only submit batches of applications on a bi-monthly basis, depending upon the amount of orders we receive. Once PennDOT receives the batch of applications from the University, it takes an additional 4-6 weeks for PennDOT to process them. Therefore, it may take up to 13-15 weeks to receive your plate. PennDOT will mail the license plate directly to the applicant.
Who do I contact if I don't receive my plate within the above timeframe?
If you do not receive your plate within the 13-15 weeks, please email advancement@eastern.edu.
Can I personalize my license plate?
YES! The Eastern University plate may now be personalized for an additional $104 fee per PennDOT. Please see the application for instructions and how to check number availability. If you choose to personalize your plate, your total cost would be $139.00, with $126.00 going to PennDOT for the processing fee and plate fee and $13.00 is considered a tax-deductible contribution towards the Eastern Fund, bringing the total to $139.00. Checks made payable to Eastern University.
Can I request a particular number or letter?
Unfortunately, we cannot accommodate specific number or letter requests. Plate numbers will be assigned in the order in which the applications are received. If you desire to personalize your plate for an additional fee, please see the question directly above for directions.
Can I transfer my current license plate number to my new plate?
No, numbers from previous plates are non-transferable.
I have a customized license plate (i.e. vanity plate). Is there a way to have both the Eastern plate and my vanity plates if I am a PA resident?
No. Pennsylvania State Law allows only one license plate per vehicle.
Why aren't the license plates offered in Eastern's school colors?
All Pennsylvania license plates (even specialty plates) are manufactured in the standardized blue, white and yellow color scheme.
If I lease my vehicle, am I eligible for the Eastern University plate?
Yes, but you must download form MV-1L (PDF) and have your leasing company fill it out and return it to you. Applications received without this form will be held until the form is filled out.
I currently have license plates that indicate that I am disabled. Will my new plate reflect this?
You may still order an Eastern University specialty plate, but specialty plates cannot indicate disability. You must order a Person with Disability Parking Placard to hang on your rearview mirror using form MV-145A (PDF).
Will I receive new registration stickers with my plate?
Yes. You will receive new registration stickers and a registration card when your plate is delivered.
Will I need to register my plate with Eastern each year?
No. Your one-time fee ($35) is the only payment that will be submitted to Eastern to obtain your plate from PennDOT. Beyond this point, your annual renewal will come directly from PennDOT and no further money will be collected by Eastern for you to keep your specialty plate.
Can I obtain a refund should I cancel my plate order?
No refund will be issued when an applicant cancels his/her request after order is placed.
Why is there an additional 6 dollars added to the cost that will go towards the Eastern Fund?
In December 2001, the Pennsylvania legislature authorized nonprofit organizations to add a fee onto the $25 per plate + $4 per plate pressing Commonwealth fees as a means for nonprofits to raise additional funds. Eastern has decided to add a small fee towards the Eastern Fund, which aids in student scholarships, campus improvements, and will also count towards our participation rates. You will find that our fee is far below other peer institutions in Pennsylvania.