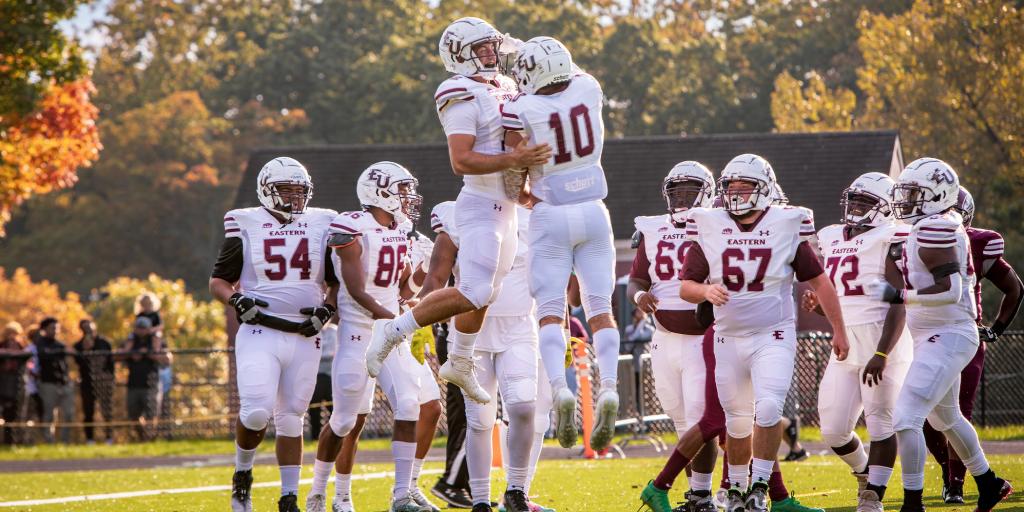 Ready for Game Day?  We hope so.  In preparation for our first season at Historic Franklin Field please review the following tips to make your trip a little smoother.
Hey Alumni, Join the EU Pep Band for the Football Game! Interested in participating in the EU Pep Band as an alumnus, fill out the EU Pep Band Alumnus form.
Parking Options:
Penn Park Parking Lot
3100 Walnut St
Philadelphia, PA 19104
View the Tailgating Lot on Google Maps
$4.00 per hour up to 3 hrs
$15.00 flat rate for more than 3 hours
You will walk through Penn Park (2 turfed soccer fields and softball stadium) and cross over the Paley Bridge to get to Franklin Field. This lot is limited to 220 cars and is used by the public, so first come first serve.  Spectators are expected to follow all University of Penn guidelines and rules regarding this area.
Museum Parking Garage (Closest to Stadium, ADA/Handicap)
(General admissions parking garage)
Museum Parking Garage, Philadelphia, PA 19104
1 Convention Ave, Philadelphia, PA 19104
View the Museum Parking Garage on Google Maps
This is the closest garage to Franklin Field. You will be right across from the general admissions gate (if you preordered your ticket). Price for the garage is $18.
Ticketing Options
Franklin Field Ticket Office (tickets are $10....no increase on gameday)
Penn Athletics will be implementing a mobile-first ticketing strategy for the 2023-24 athletics season. A mobile-first strategy will ensure safe, secure, and efficient entry for all fans. Your tickets will be sent to the email address used when purchasing tickets and be available to download to any Apple or Android device. Tickets will also be available through Print-At-Home format as well, which can be printed on an 8.5"x11" sheet of paper prior to attending the game. Please note that Print-At-Home tickets will not scan from a mobile device.
Spectators should ensure tickets are downloaded prior to arriving to the stadium. Information on downloading tickets.
More information, including a mobile ticketing FAQ.
If you have a question regarding your tickets, please email the Penn Ticket Office.
Tickets and Will Call Locations
General Will Call and Player Guest Will Call are located at the Weightman Hall driveway, off of 33rd Street.
Tickets can be purchased at the Weightman Hall driveway or at the remote ticket booth located near the Big East gate.
All locations will open 60 minutes prior to Game Time.
If you have a question regarding your tickets, please email the Penn Ticket Office.
Current Eastern Student Tickets
Current Eastern students will receive an email link through student development. To get student tickets, students must follow directions on that link.
Stadium Policies
Cashless Options, Bag Policy and ADA Accomodations
Aramark, Penn Athletics' concessions partner, is going cashless. Only credit and debit cards will be accepted at concessions stands. Reverse ATMs will be available throughout the concourse which will allow fans to put in cash and get a Visa debit card out. There are no fees associated with the reverse ATM.
In an effort improve security and patron safety at Franklin Field the following items are prohibited:
Large bags like duffel or equipment bag

Alcohol

Bottles and cans

Coolers

Fireworks/Open Flames

Weapons

Noise makers

Laser Pointers

Smoking

Seat backs with metal components or formed of hard plastic, with or without backs. (Soft sided seat backs or bench cushions are permitted)
All guests and their belongings are subject to search by security personnel. Penn Athletics recommends bags 12"x12"x6" or smaller to expedite the security process at entrance gates.
ADA seating is available in the first row of the south side of Franklin Field. Fans may access ADA seating through the East Gate. Access to the seating area requires an escort with event staff. A game ticket is required to sit in these sections. Please contact the Penn Athletics Ticket Office in advance via phone at 215-898-6151 if you or a guest in your party require accessible seating.
Please note, service animals with proper identification will be admitted to Franklin Field. Patrons with service animals will be asked to show proper paperwork to gain entry to the stadium.
View a full list of prohibited and permitted items.
 Bag Policy
All guests and their belongings are subject to search by security personnel upon entry and within the facility. All bags must be accordance with the following guidelines:

Bags should be smaller than 16" x 16" x 8"

No large bags, such as duffel or equipment bags