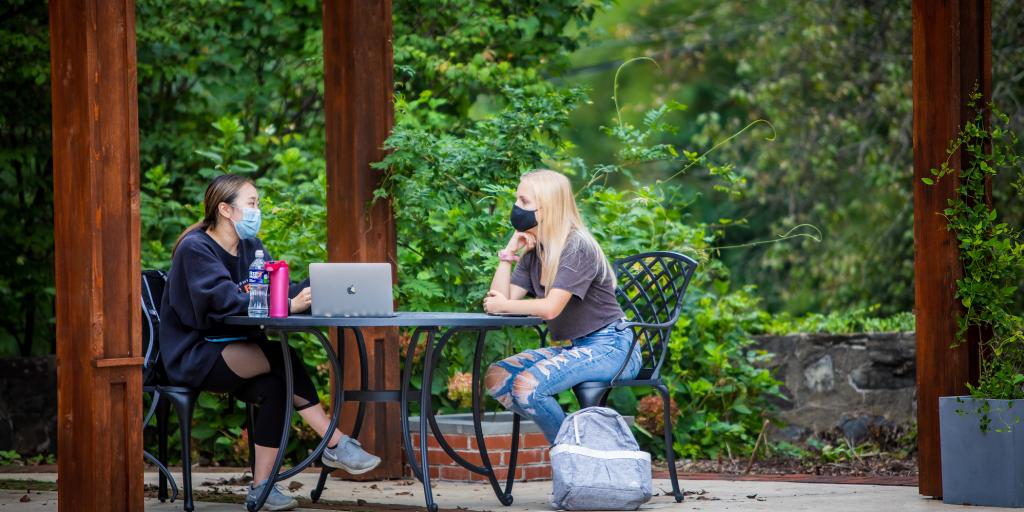 Phase System and Other Policy Changes
Why do we have a phase system?
We have chosen a phase system in an effort to allow us the flexibility to address and mitigate behaviors that could increase the risk of the spread of COVID-19 and preserve as much of the student experience as possible.  We believe that a phase system allows us to tighten restrictions when the risk of contagion may be higher and to loosen them when the risk to our community may prove more manageable.  This system also aligns with the way that most local and state governments are framing and codifying restrictions related to COVID-19.  The phase system applies specifically to visitation as in-person interactions are considered to be the most common way that COVID-19 spreads.
What are the deciding factors to switch phases?
​​​​​In order to determine what phase is most appropriate for our community at any given time, we will utilize the recommendation of our university physician, public health guidance and information on the nature of COVID-19, state and local guidelines and requirements, test results within our community and the surrounding area, the capacity of local emergency care units, student compliance with policies already in place, accessibility to vaccinations, and a number of other factors.  There is no "one thing" that will determine when we move into or out of a specific phase.  We will re-evaluate our place in the phase system during the first round of on-campus testing in February.
Can a numerical value be attached to the determining factors?
There is not a statistical or numerical value attached to what phase we are in, due to the numerous factors that influence the decision-making process.  As a result, low positivity test rates do not necessarily guarantee a change in the phase system.  Our goal is to keep the community as safe as possible.  We are committed to loosening restrictions if and when we feel we can do so without a risk of spread of COVID-19.
Why are there such restrictions in the residence halls, when students will be congregating and eating in the DC with our masks down?
​​​​​While we seek to create as many low-risk environments as possible on campus, we cannot assume control over every space.  Residence halls are considered one of the highest risk areas for COVID-19 spread on college campuses, so we are targeting our focus on an area that we have influence over that has been deemed as high risk.  In regards to the Dining Commons, Sodexo is committed to maintaining the appropriate number of students according to state regulations and recommended health directives.  The dining commons is meant to be a place for students to eat, not hang out. During a pandemic, this becomes even more true and necessary.   Individual responsibility on how you choose to interact with consumption of food is an individual decision based on your comfort level and perception of risk. You are not required to eat in the dining commons and have access to take-out options from the Dining Commons, Zime, and Breezeway.
Wouldn't it make more sense to start with phase D or at least phase B or C, then move backward when cases increase?
​​​​​We believe that starting in Phase A was the best decision for our community.  Unfortunately, there are two new and more contagious strains of SARS-CoV-2 that exist.  There are a lot of things that still remain to be known and researched related to these new strains.  We are currently not able to provide vaccines to our students.  In addition, colder weather increases the number of in person interactions that occur indoors where the risk of viral spread is greater.  We started in Phase A with the hope of keeping students as safe as possible until we learn more about how to prevent the spread of these new strains. Our goal is to continue in-person instruction and residential living for the entirety of the semester.
For phase D, could you explain why commuter students will be welcome in dorms but not any other people (who live off campus in the community doing what they feel is fit about covid)?
​​​​​​Our campus would still be closed to non-essential visitors.  Commuter students are still a part of our student body and would not pose as great of a risk as non-students.
Can students eat outside?
Yes. Students who are actively eating are allowed to eat on campus outdoors as long as they are following proper safety protocols, such as social distancing of at least 6 feet, mask wearing when an item is not being consumed, etc.
Will the no eating and drinking policy change?
It is possible for this policy to change.  However this change will largely be based on factors similar to those related to those dictating the phase system and on students behaviors related to mask wearing.  This policy was created to lessen the high incidence of non-masking wearing.  Many students were observed not wearing masks in high traffic areas such as the Breezeway, Jammin Java, and Walton lobby not wearing masks.
If I decide staying on campus is not for me this semester, can I get my money back?
​​​It depends.  If you decided that staying on campus was not the best option for you this semester, you were required to complete the Residency Exclusion form and remove all of your belongings from the residence hall by following the appropriate check out procedures with your Resident Director before 11:59pm on Tuesday, January 19th.  A reminder email outlining this process was sent to all residential students on January 19th.  You are no longer eligible to receive a refund for housing related expenses.
Visitation
What is the logic behind being tested for covid and having to abide by visitation restrictions?
COVID-19 has a longer incubation period than common illnesses.  Consequently, a negative test provided at move-in may not fully assess a student's risk of spreading the virus within the residential community.  As a result, we have scheduled monthly testing for all residential students and implemented policies that are designed to reduce the risk of potential spread.
Why does the one person rule exist? In what way is 4 people safer than three? For example, if I invited 2 people over when my roommate wasn't here, how is that more dangerous than those same two people being here when my roommate is too?
​​​​The one person rule exists to help with limiting the number of people in a room at a time.  Each assigned resident is allowed one guest to ensure that each person has the option to entertain a guest at all times.
Can I hang out in lounges with friends from my building?
Yes.  During all phases, you can visit with other people in your building in common areas.  However there are limits on occupancy of our indoor spaces.  As a result, most lounges in residence halls cannot accommodate more than 2 to 4 people at a time.  For more information on the specific capacity of a space, please look for signage and or communicate with residence life staff.  Occupancy limits are currently 10% of normal capacity as dictated by PA law.  We will let you know if and when capacity limits change.
Can I visit someone on my floor?
No. You are able to visit with students on your immediate hallway, as long there is only one guest per assigned resident.  Hallways provide a "pod" type of community atmosphere in which residents are able to visit with others even during Phase A.  Please ask your RA or RD if you are unsure what the definition of a hallway or floor is in your building.
Can I hang out in the hallway of my floor with my floormates?
Due to current state regulations and local fire codes, residents are not permitted to gather or spend extended periods of time in hallways.
Are there other spaces available aside from the DC and classes for students to meet?
Yes.  Students can meet in the library, outdoors, and in common areas in residence halls.  Please be aware of capacity limitations for all spaces and contact a residence life staff member if you have a question about how many people a space can hold.  All club meetings and campus events are currently required to be held online according to the Governor's most recent orders.  If you study best in a group setting, we encourage you to reserve spaces in the library and or utilize virtual platforms like Zoom or Facetime.
Essential Travel
Can I leave campus to pick up food?
​​​​​​Yes. Students are allowed to leave campus to pick up carry-out food from local establishments only.  Students are not allowed to eat at any restaurants or food service establishments off-campus whether they planned to be seated indoors or outdoors.  When students leave campus to pick up their food, they are required to wear a mask and social distance. 
Can I go hiking or fishing?
​​​​​​Yes. Students are allowed to go on a hike to support their mental health and physical well-being.  All hiking and fishing trips must be day trips within Pennsylvania state lines.  Students are expected to observe mask wearing and social distancing guidelines during their trip.  If you have a question about an off-campus trip to hike or fish, please contact your resident director.
Are our families allowed to come on the hikes or go fishing with us?
​​​No. Students are not allowed to meet families off-campus during any essential trip.  If students meet with any one who is not a residential student at Eastern while hiking, they will be asked to observe a 14 day off-campus quarantine before providing a negative COVID-19 test result to the Health Center.
Am I allowed to go hunting?
​​​​Students are not allowed to go hunting. Although this is an outdoor activity that may allow for people to easily social distance, the activity requires use of items that would be considered weapons (i.e. gun, knife, bow and arrow, crossbow, etc.).  As students are not allowed to possess or store weapons on campus, students would have to leave campus and or interact with people other than residential students to obtain items to conduct this activity.
If I go to an urgent care, do I have to quarantine?
​​​​All instances in which a student believes that they may need to visit an urgent care, the student is required to notify the Health Center.  Urgent care facilities present a similar risk of contracting the virus as doctors' offices and are considered lower risk to the community than an emergency room.  As a result, a trip to the urgent care to address health concerns does not require a fourteen day off-campus quarantine. 
If I go to an emergency room, do I have to quarantine?
​​​​​Yes.  Trips to the emergency room are considered a high risk activity.  As a result, all trips to the emergency room require a fourteen day quarantine observation off-campus before taking a COVID test to submit to the Health Center for approval.  All instances in which a student believes that they may need to visit an emergency care, the student is required to notify their RD and the Health Center.  Please do not neglect your health in an effort to avoid an off-campus quarantine.
Can I go home for the day?
​​​​Yes, but you will be required to complete a 14 day quarantine off campus before taking a COVID-19 test to submit to the Health Center for approval.  You will not be permitted to come back to campus to quarantine. As a result, it is wise to speak with your professor to see if they will allow you to complete your coursework virtually and to plan where you will quarantine and how you will get tested before leaving campus.
If I go away for the weekend even if I am only going home, can I just provide a negative test upon my return?
​​​​​No. COVID-19 has a longer incubation period than common illnesses.  Consequently, a negative test provided after an overnight or weekend stay may not accurately assess a student's risk of spreading the virus within the residential community.  As a result, all off-campus overnight travel requires a fourteen day quarantine observation off-campus before taking a COVID test to submit to the Health Center for approval.
For Easter since it is three days, are we allowed to go home or do we have to stay on campus?
​​​​​Students are not permitted to go home for Easter.  Students are allowed to attend their normal church service.  However, our day trip policy and overnight trip policy both still apply Eastern weekend.  Students who leave campus for non-essential trips will be required to observe a 14 day off-campus quarantine before providing a negative COVID-19 test result to the Health Center.
Do vet visits qualify as essential travel as well for ESAs?
​​​​​Yes.  Please follow all masking, social distancing, and hygiene protocols.
Is work still an activity that is considered essential travel?
​​​​Yes.  Please follow all masking, social distancing, and hygiene protocols.  If you are interested in on-campus employment, please contact the Center for Career Development or view open opportunities on Handshake.
Do I have to quarantine if I go to a protest?
​​​​Our student code of conduct allows for students to remain civically engaged through the organizing and attending protests.  Our code requires students to wear a mask the entire time (even outdoors), social distance whenever possible, and practice appropriate hygiene protocols (such as frequent handwashing).  Because protests imply large gatherings in which the risk of community spread may be high, students who leave campus to attend a protest are required to observe a 14 day off-campus quarantine before providing a negative COVID-19 test result to the Health Center.
Commuters
Where can commuters eat on campus?
​​​​​In an effort to dedicate spaces for commuters to study, eat, and socialize between their classes, we have reserved Walton 3 and four classrooms in the Eagle Learning Center (ELC) for the entire semester.  Walton 3 and ELC 108 will be designated as spaces where commuter students are able to eat meals.  In addition to library spaces, ELC 109 and 110 will be used as study spaces.  ELC 111 is designated as a "quiet room" for students who prefer to study in silence or who may want a place to quietly rest.
Residential students are not allowed in designated commuter spaces.  In order to complete group assignments please use virtual platforms such as Slack and Zoom or make an appointment to utilize a study room in the library.
Are commuters allowed to order at Zime but not eat in the Dining Commons?
Yes.  Commuters are not allowed to order to-go meals from the dining commons as they would need to walk through the dining commons to select their meal options.  The latter would present a host of other issues, and I believe some confusion.  Commuters are allowed to order items from the Zime and Breezeway cafe as well as bring food from home/off-campus restaurants.
Can commuters go to the HHC library?
​​​​​Yes.  The Warner Library is currently open Monday through Thursday 8am to 8pm, Friday 8am to 5pm, Saturday, 2pm to 8pm.  The library is also offering appointments with librarians for research purposes, as well as offering study spaces by reservation only.
Athletics
What extra precautions are being taken to ensure the safety of student athletes this semester?
​​​​​​Eastern University Athletics in conjunction with the NCAA and the MAC member institutions has implemented a rigorous weekly testing protocol to ensure the safety and well being of our student-athletes and campus community. Our teams will be required to take a combination of antigen and PCR tests throughout the semester in order to compete in competition. These tests will be required to be taken on a weekly basis and are aligned with all CDC, State and local recommendations.
Will I be able to attend any sporting events to support my friends who are student athletes?
The MAC conference member schools, including Eastern, will be implementing a policy that will restrict fans from being in attendance at home contests.  As a result, you will not be permitted to support your friends by attending their sporting events in person. This policy has been created with our campus community in mind, as a way of controlling the potential exposure to COVID-19. The MAC will evaluate this policy throughout the semester and will adjust its policy, if deemed appropriate by CDC, State and local recommendations.
Additional Questions
How can I care for my mental health  and overall well-being during times where I have more limited opportunities to socialize  in person with family and friends?
We acknowledge that social isolation and limitations on change of place may negatively contribute to a student's mental health, and we are here to support them. We encourage students to connect with CCAS to schedule an appointment.  Their office is open for in person intakes between 9am and 4pm Monday through Friday and via email at ccas@eastern.edu.  If you are struggling with a more acute mental health crisis after hours, please contact your Resident Assistant (RA), Resident Director, the Office of Public Safety (610-341-1737), the Delaware County Crisis Connections Team (1-855-889-7827), or 9-1-1 depending on the level of severity.
In addition to mental health services, we encourage you to branch outside of your immediate social circle of friends to meet people on your hallway.  We also encourage you to attend virtual events sponsored by the Student Activities Board.  Updates about upcoming events are emailed to all traditional undergraduate students on Fridays via the Weekly Happenings.  The EU Fitness Center is also open by appointment.  Make an appointment.
Can my parents drop something off even if they are wearing masks and just handing me something outside?
​​​​Yes. Your parents can drop off items for you at the Welcome Center in the ELC Lobby.  To complete this process, students should send an email to the service stop to schedule a drop off time at servicestop@eastern.edu.  Once an appointment has been made, your parents are permitted to enter the ELC lobby only.  Parents are not allowed to drop off items in parking lots or to students directly.  
If the item does not contain hazardous materials or violate any other postal service policies, your parents can mail your items to the University Mail and Copy Center.
Can you explain again why commuters and professors don't have to have covid tests?
​​​​It is recommended that commuters and professors get tested regularly.  Commuters and professors are not allowed to interact with students in the residence halls and the dining commons.  As a result, these groups present a lower risk of contact with our community.
Will clubs be functioning and meeting like they did last semester?
​​​​Unfortunately, current PA mandates require all meetings, events, and activities to be hosted virtually.  It is our hope that this mandate will change as the threat of the virus lessens.  We will notify the student body of these changes via email as they occur.
Does vaccination give a person any special allowances?
​​​​​We are not giving special policy allowances to students who are vaccinated. We appreciate students' commitments to protecting themselves and others by receiving the vaccine.  In addition, we understand that vaccinations potentially reduce the severity of illness if the COVID-19 virus is contracted and may potentially reduce the risk of spread to other students.  However, masking and social distancing are still required even after receiving the vaccine.  When these safety precautions are observed, the vaccine functions at its highest level of effectiveness.
Why are there different maximum capacities for classrooms depending on what they are being used for?
​​​​Governor Wolf has mandated capacity limitations for all uses of spaces with the exception of academic instruction.  As a part of this order, clubs and all other co-curricular activities are mandated to meet virtually.