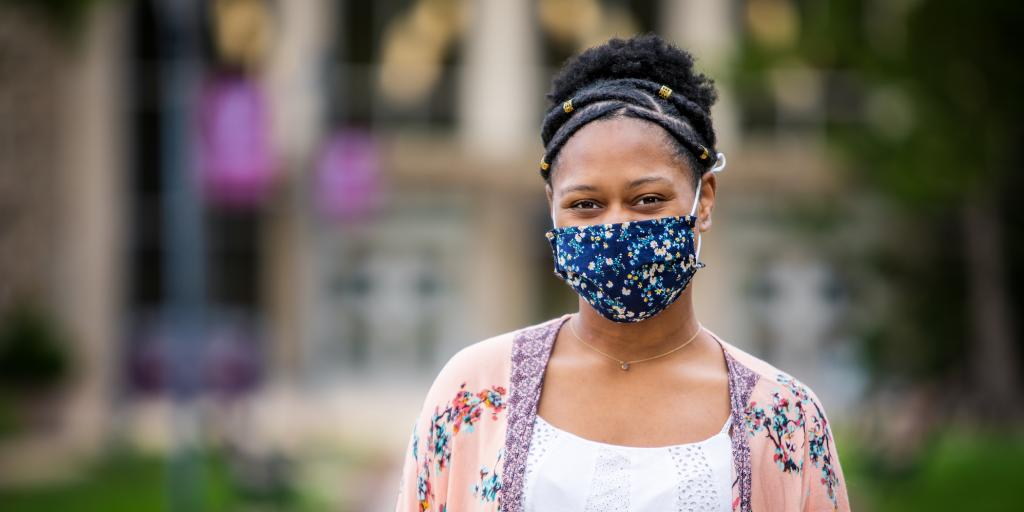 In 2020–21, the student experience at Eastern University will be different from previous years. Eastern has chosen to follow the Pennsylvania Governor's recommendations on social distancing and face coverings.  Accordingly, this policy is enacted, effective August 13, 2020, and remains in effect until further notice. This policy applies to all students attending Eastern University. The purpose of the policy is to establish a shared understanding of what behavior is expected from every community member.
The expectations outlined in this policy are designed to reduce the number of people in our community who contract and spread COVID-19, while also providing an engaging college experience. Our community's health and safety depend on all members abiding by certain standards.
As the pandemic continues, scientific understanding of the virus and resulting health effects evolves, and thus the guidance from public health authorities and directives from government may change. All community members are expected to monitor trustworthy sources of information about the pandemic, and the university will do the same. In the event that public health guidance or government policy is announced that requires more restrictive measures than this policy, all students are expected to immediately comply with the new measures announced. In the event that restrictions are reduced by the government or public health guidance, all students are expected to continue following this policy until notified the policy has been updated by the university. Given the unique dynamics of university life, Eastern University may find it necessary to continue restrictions longer than mandated by authorities. Any changes to this policy will be announced via email and updated on my.eastern.edu.
If a student chooses to attend Eastern University in person during the 2020-21 academic year, the student is agreeing to follow all of the expectations specified in this document, including the requirements to wear a mask; practice social distancing; participate in the COVID-19 testing program; submit daily health screenings via Campus Clear; cooperate with isolation, self-quarantine, and contact tracing; follow directives prohibiting large gatherings; and abide by residence hall guest and visitation policies. Students who do not attend in person are required to follow the applicable parts of this policy if they are on campus or if doing so is otherwise relevant for the university community.
All students are also required to follow the directives of faculty and staff at all times related to SARS-CoV-2 and COVID-19, including testing, health and safety practices, and any preparation needed to mitigate risk of contracting the virus in a classroom, lab, studio, or academic setting.  Additionally, the jurisdiction of the Student Handbook and Code of Conduct extend into virtual and remote classrooms, meetings, and activities.
All students are advised to carefully reflect on the degree to which they are willing to commit to following these policies as they decide whether or not to participate in the spring semester in person. Failure to follow the guidelines specified in this document will constitute a violation of university policy and may result in disciplinary action up to and including removal from the residence halls.
Community Covenant
As part of the shared responsibility, we ask that all members participate in appropriately intervening if they observe misconduct. This includes saying something to the individual; seeking assistance from Residence Life Staff, Public Safety & Police, another university employee; or immediately removing themselves from the situation. Students complacent

with any COVID-19 safety precautions may be charged with complicity.
Personal Health on Campus Testing and Symptom Monitoring
Students, faculty, and staff will be required to monitor their health regularly and will complete an online daily health screening that will require students to take their temperature and answer questions regarding any symptoms they may be experiencing.

Students, faculty and staff must download the

Campus Clear

application accessible on Google Play and Apple Store to monitor symptoms each day by answering a series of screening questions.  Faculty may ask students to show proof of screening to attend class.
Face Coverings 
All students are required to wear face coverings that cover their mouth and nose at all times when another person is within six feet of them, in both indoor and outdoor spaces, both on and off campus. The only time face coverings are not required is when students are eating. Students who live on campus must wear face coverings in all residential areas outside their bedroom including bathrooms, lounges, hallways, and all other common spaces in the residence hall. The only space in the residence hall where a student can be without their mask is their bedroom, and this is possible only if the only people present in the bedroom are assigned roommate(s) (not suitemates, housemates, or apartment-mates).  

Face coverings must completely cover the nose and mouth. Eastern will be providing two face coverings to each residential student, free of charge. All cloth face coverings are required to be laundered after each day's use.  Eastern University is providing free laundry use in the residence halls to all residential students.
Physical Distancing 
Because keeping space between people is one of the best tools there is to avoid being exposed to the SARS-CoV-2 virus, students are required to practice physical distancing, including staying six feet away from all people not in their residential cohort. Outside of your roommates and hallmates you are required to stay 6 feet apart.  

Students are expected to refrain from gathering in large groups, unless the purpose of the gathering is free expression, such as protest, in which case face coverings and physical distancing are required. 

Do not gather in groups of more than 10 people at any time, on or off campus, unless all people are in the student's residential cohort or six feet of physical distance can be maintained between all people present. This means that no large parties will be permitted, and a variety of other events will change to a different format or be canceled.

Stay out of crowded places and avoid mass gatherings. Gatherings of any size for the purpose of freedom of expression are permitted, but organizers are cautioned to promote the health of attendees by encouraging face coverings and structuring activities in a way that permits physical distancing. Students who participate in large gatherings for the purposes of freedom of expression, on or off campus, are required to maintain physical distance from others and wear a face covering at the event, as is required in every other circumstance. 
Contact Tracing, Isolation, Self-Quarantine
Despite the many reasonable steps Eastern University is taking to prevent the transmission of the virus, the presence and transmission of COVID-19 on campus is possible. Therefore, the university has developed protocols for isolating people who have COVID-19 and helping people who may have been exposed to COVID-19 to self-quarantine.

The university has contracted with

degree analytics to conduct contract tracing to keep the community safe.

  

Those identified as having been exposed to COVID-19 through close contact will be required to participate in the self-quarantine protocol described below. All students are required to cooperate with the contact tracing process, participate in isolation or self-quarantine when directed, and share information requested by public health authorities, contract tracing staff, and Health Services in order to facilitate this important aspect of limiting the spread of COVID-19.

Isolation will mean temporarily moving residences to avoid infecting others and remaining in the isolation location until medically cleared to leave. 

In contrast to isolation, self-quarantine is a way for students who may have been exposed to COVID-19 through close contact with an infected individual to limit their contact with others while time passes, which will determine whether they have COVID-19. Isolation and Quarantine will be in a designated location Doane Residence Hall and the Gate House. No student will be allowed to isolate or quarantine in their residence hall room. 
Travel
Students will generally not be permitted to participate in university-sponsored travel, this is subject to change at discretion of the university. 

Students from across the United States and around the world will be welcomed back to campus this spring 2021 semester. Once the term begins, Eastern University requires students to refrain from all non-essential travel until such time as they return home or move elsewhere after the spring  semester has concluded. Questions regarding essential travel should be directed to Jackie Irving, Vice Provost for Student Development. This means that students should refrain from travel over weekends, on holidays, or otherwise from the time they arrive at the start of the fall term until the time they depart at the end of the semester.

Essential travel is defined as leaving campus for a job, academic requirement (i.e. a field experience, internships, student teaching, clinicals, or practicum), health-related activities (i.e. trips to the pharmacy, doctors' appointments, urgent care visits, etc.), and emergencies.  Traveling home or to spend time with a friend for the weekend is not considered an essential activity.  If you are unsure of whether an activity is essential, please check with your Resident Director.  
Facilities 
Reservations will be required to access some particularly high-traffic facilities, including the Fitness Center. Other facilities may require reservations.

To provide for physical distancing, it may be necessary to design and implement a new "flow" of people through many buildings. Signs, floor markings, and other directions indicating this new flow will be installed in many buildings and residence halls. Students are required to adhere to all signage and directions that support physical distancing.

All residential students are encouraged to clean high touch surfaces in their room frequently.  All residential students living in semi-private and suite style housing are required to clean their bathroom and all other shared spaces, such as living rooms daily.  
Daily Symptom Monitoring 
Students will be required to monitor themselves for symptoms associated with COVID-19 and consult with a health-care provider when appropriate. 

To help students monitor their daily symptoms, students will be required to download the application

Campus Clear

.  Campus Clear will record answers to daily health screenings and is required to be completed by all students before entering campus if commuting or leaving their room if residential. The daily health screening will require students to take their temperature and answer questions regarding any symptoms they may be experiencing.

Students who report a fever or other symptoms that may be associated with COVID-19 will be directed to the Health Center for further evaluation. 
Self-Reporting Symptoms and COVID 
If a student returns physically to Eastern University in 2020–21 and develops any symptoms, or comes into close contact with a person who has COVID-19 (or is suspected to have COVID-19), the student is required to call the nurse at 610-341-5955 during business hours (M-F, 7am to 3:30pm) and 610-710-9583 (EU Nurse's Cell Phone) after hours as soon as possible. This will allow the university to take appropriate steps to begin contact tracing and to alert individuals to any potential exposure.

If a student is sick with COVID-19-associated symptoms or believes that they have been exposed to the virus, they should not leave their residence (i.e. bedroom if residential or place of residence off campus if commuting). Instead, the student should contact the Health Center via phone at 610-341-5955 for assessment and further guidance. At the direction of the Health Center or another healthcare professional, the student may be assigned to isolation until they are cleared by a health-care provider to return to classes, or the student may be asked to self-quarantine to avoid exposing others while waiting to see if symptoms of COVID-19 develop.  In some cases residential students may be asked or permitted to return home until cleared by a medical professional to return to campus. 
Visitation
Eastern University is closed to non-essential visitors.
Resident students should follow the posted phase guidelines, see RA for details. 
University residence halls are closed to non-residential students and visitors.
Commuters are not permitted on residential floors or to visit resident rooms, subject to change based on current phase guidelines. 
Commuters are only permitted in the residence halls to attend university authorized class. Immediately after class, commuter students must exit the building.
Overnight guests are not permitted in the residence halls as a safety precaution. An overnight guest is an individual utilizing the room/apartment of a resident student as a place of temporary lodging; an individual who is not assigned to that location. For example, if you live in Eagle, you are prohibited from staying overnight in Sparrowk. 
Residential students who violate the visitation policy will be suspended from the residence hall for the remainder of the semester.
Commuter students who violate the visitation policy will be charged with trespassing and suspended from the campus for the remainder of the semester.
Reporting
The policies included in the guide support the health and safety of the community. Failing to abide puts all members of the community at risk. Potential violations may be submitted through the following:
Submit a conduct report to the Resident Director or Director of Student Conduct.




This report will be submitted to the Office of Student Development for review and appropriate follow-up

Contact Office of Student Development




Please call 610-341-5823 to speak with Mrs. Sally Kapner for questions or request a meeting with 

Jackie Irving, VP for Student Development, jirving@eastern.edu

Contact residential life student staff




Incidents occurring in residential locations may be reported to appropriate Residence Life staff members on call. Please contact your RA or RD to make a report.
*Due to the unpredictable nature of the pandemic policies are subject to change.