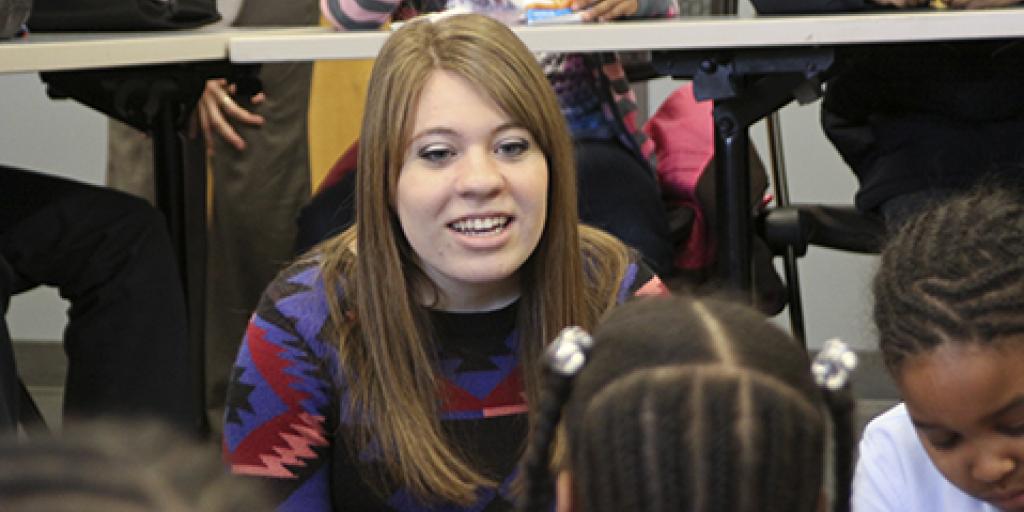 Poet Nancy Thomas has mentored Emily Marks. Nancy writes: In 1992 a colleague of mine in the education department and I were exploring the question of social capital in the public schools of Philadelphia. What could Eastern do to expose our students to practical experiences, transformative relationships with teachers and children whose learning environment was radically different from theirs? Out of this question was born the Barry Elementary School/Eastern University partnership. While the education department focused on professional training, we initiated bringing fourth graders to campus three times a year for a day of learning workshops led by Eastern students, faculty, and staff. We were intentional about redistributing the resources we had more equitably and bearing witness to connections between faith and racial justice as we interacted with the children and learned about their world.
Out of these visits a weeklong summer enrichment camp was developed with EU students as counselors. Our students, like Emily Marks below, have acquired skills in collaborative leadership, imaginative and practical planning, perseverance, an understanding of developmental and affective factors in education, and  joy that comes of implementing a vision of the way things could be. 
Emily describes her experience as formative: "Working with the Barry children has been one of the most formative experiences in my life because their lives and learning opportunities were drastically different from my own. I had space to raise questions of justice, such as why there were not enough books and resources for all of the students in a classroom. When I saw what some of them ate for lunch, the problem of food distribution in the city was glaringly obvious, which is now what I would like to dedicate my life to eradicating. I am so thankful to Nancy for asking me to be part of this journey; she has alerted me to issues of justice that my voice may be able to change and has even set the groundwork for the Lord to show me His calling for my life."