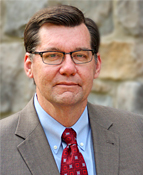 Dear Friend,
As inaugural dean of the College of Business and Leadership, I'm delighted to offer this greeting.
Building on Eastern's rich tradition and distinctive history of service and advocacy, the College offers serious programs that serve the talent demands of contemporary enterprise. We nurture academic and professional excellence, a startup spirit, the mindset of a servant leader, and a compelling platform for producing transformative change. We are proud of our current students who excel in the classroom and our alumni who are difference makers in corporate and social sectors throughout the Mid-Atlantic states, across the U.S., and around the globe.
At Eastern, you can work toward a degree on a full or part-time basis. Classroom based programs are offered at our flagship campus in St. Davids, PA and at convenient regional locations in Center City, East Falls, and North Philadelphia. For the utmost accessibility, our online programs make it possible to pursue a degree from anywhere via the Web.
The College's greatest resource is our faculty. Its priority is on dynamic learning that translates into the knowledge, technical skillset and self-awareness for fulfilling careers in the marketplace, in the public square, and in service to others. Our instructors and staff, deeply engaged and well connected in academic and professional circles, go to great lengths to ensure our efforts are always aimed at student success. As a result, our graduates are equipped to achieve their dreams toward lives of significance.
I invite you to learn more,
Douglas P. Clark
Dean, College of Business & Leadership