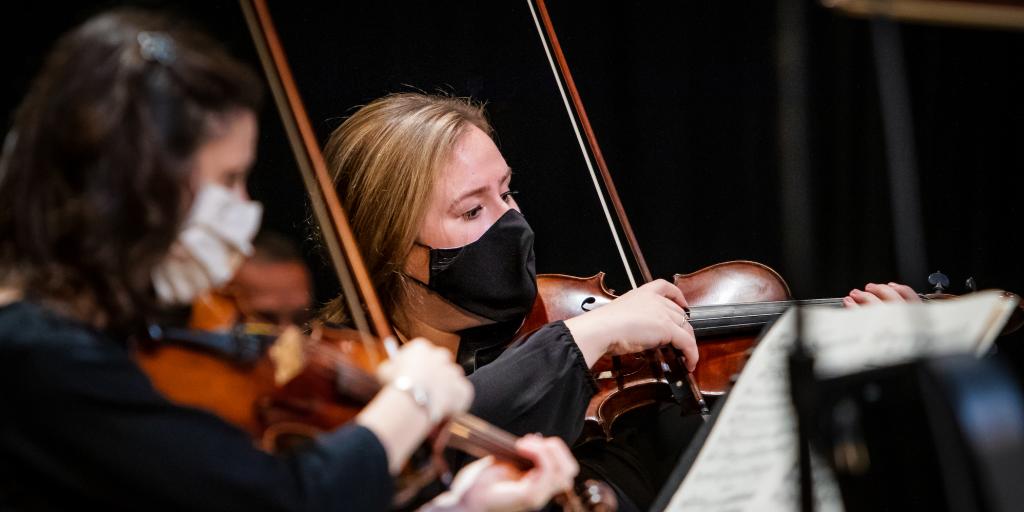 2023-2024 Scholarship
The Eastern University Department of Music is pleased to announce its first annual String Quartet Scholarship Program. This is an extraordinary opportunity for an emerging string quartet ensemble to 1) have a dedicated focus on the art and practice of chamber music, 2) expand string quartet and chamber music repertoire, 3) receive coaching and mentorship from the world renowned string music faculty, 4) engage in performance opportunities both on and off campus in the greater Philadelphia area, and 5) experience and contribute to the Christian values and vision of Eastern University. Any and all pre-formed and self-selected string quartet ensembles are encouraged to apply (US and/or international undergraduate).
Scholarship
Upon acceptance as a music major to Eastern University each individual string quartet member of the selected ensemble will receive the String Quartet Program Scholarship for the coming academic year (i.e. 2023-2024, fall and spring semesters combined). Scholarships may be renewed for subsequent academic years through graduation - upon performance reviews and maintaining good standing with Eastern University and Department of Music academic standards and code of conduct. String quartet members may also be eligible for additional academic scholarships.
In order to be considered for this program, students must submit and complete their Application for Admission to Eastern University. This is a separate application process than the one outlined below. Learn More.
Application  
Submission
Any candidate string quartet ensemble may submit a completed application (must be received by June 30, 2023), inclusive of:
Letter of Interest (i.e. cover letter)

Individual member biographies (minimum 250 words each; include how long have been playing, key influences, teachers, milestones, performances and ensemble experience).

Ensemble Vision Statement (minimum 150 words; include short and long term goals, purpose, and aspirations).

3

Letters of Recommendations

(recent - within the last calendar year upon date of application submission) from chamber music coaches (maybe also be private string teachers) and/or orchestra conductors. 

Video links (i.e. Youtube of excerpts of the following repertoire categories:


- 

Mozart (K. 387 or later) or early Beethoven (Op. 18): complete 1st movement


- 

Romantic Era (e.g. Schubert, Mendelssohn, Schumann, Smetana, Dvorak, Tchaikovsky, Brodin, etc.) any complete movement


- 

20th/21st-Century (e.g. Shostakovich, Barber, Ravel, Debussy, Bartok, Hindemith, etc.) any complete movement

Any other additional materials that will support the ensemble's candidacy.
Eligibility

 
Chamber ensemble to be a pre-formed and self-selected traditional string quartet (2 violins, viola, cello).

Each individual of the string quartet ensemble will be at an

advanced

level of proficiency
- 

Violin: Mendelssohn Violin Concerto (or equivalent).


- 

Viola: Hoffmeister Viola Concerto (or equivalent).


- 

Cello: Lalo Cello Concerto (or equivalent).

Each individual of the string quartet ensemble may be either a US or international student.


- 

All international students to meet the Eastern University

English Language Proficiency Requirements.

Each individual of the string quartet ensemble to have completed a US high school diploma (or equivalent) upon enrollment at Eastern University.

Each individual of the string quartet ensemble to enroll in a music performance or music education degree at Eastern University (undergraduate).

Each individual of the string quartet ensemble to maintain good standing with the Eastern University and Music Department academic standards and code of conduct.

Each individual of the string quartet ensemble to be in residence (room & board) at Eastern University (St. Davids campus) for the duration of each academic year semester.
Meet & Greet
Selected candidate string quartet ensembles will be invited to a virtual Meet & Greet (i.e. Zoom) with the String Quartet Program faculty and Scholarship Committee to perform live the above excerpts (may substitute equivalent excerpts), and have a round table discussion on collective and individual experiences and aspirations. Follow-up discussion may be requested as needed.
Submit Applications & Inquiries