I want to use EBSCOhost from home! Can I access the Eastern University databases from off campus?
Yes, you can access our databases on and off campus simply by putting in your EU login and password information when this box comes up: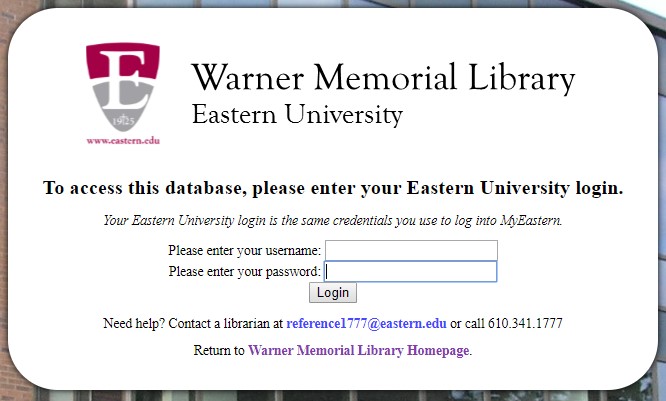 Can I find out which journals are available through the Library?
You can locate journal titles by using the A to Z Journal List Link available on the library's homepage under the gray Database Button. Click off "Journals Only" and search by title. There is also a Subject Browse area.
What are the operating hours for Warner Library?
Is there a list of the databases available through the Library's website?
How do I find books, videos, and other items available at Warner Library?
On the Library homepage, click on Find Books & Media. The results screen will allow you to see items of all media types as listed on the left menu under "Format."  Most books in this tool are print and held at Warner Library.
E-Books can be searched under Databases, format – E-Book.
How long do books and other items circulate?
For current students, print books can be borrowed for 28 days and can be renewed one time. DVDs are circulated for 7 days, with no renewals. Reserve Materials have a 3 hour loan period and must stay in the library.
Do overdue items accrue fines?
Warner Memorial Library will fine patrons with overdue materials. Check the information under Circulation to see the policy.
How do I place a hold on an item in the catalog?
You can place a hold within the Warner Library catalog after logging into your library account and clicking the button 'Place Hold.'
Warner Library doesn't have the book/article that I need! Can I still get it?
Yes, you can use EZ Borrow for books and RAPID ILL to get articles. Both tools have a very quick turnaround time, most times within a few days. If you are having trouble with either tool, please contact the library: reference1777@eastern.edu or 610-341-1777, and we will assist you.
Can I schedule an appointment with a librarian?
Yes you can! Use the form located on the library's homepage, or go to Warner Library's LibCal site to schedule a one-on-one research consultation with one of the librarians on staff.
Can I reserve a study room?
Yes you can! Use the form located on the library's homepage, or go to Warner Library's LibCal site to reserve one of the ten study rooms available in the library.