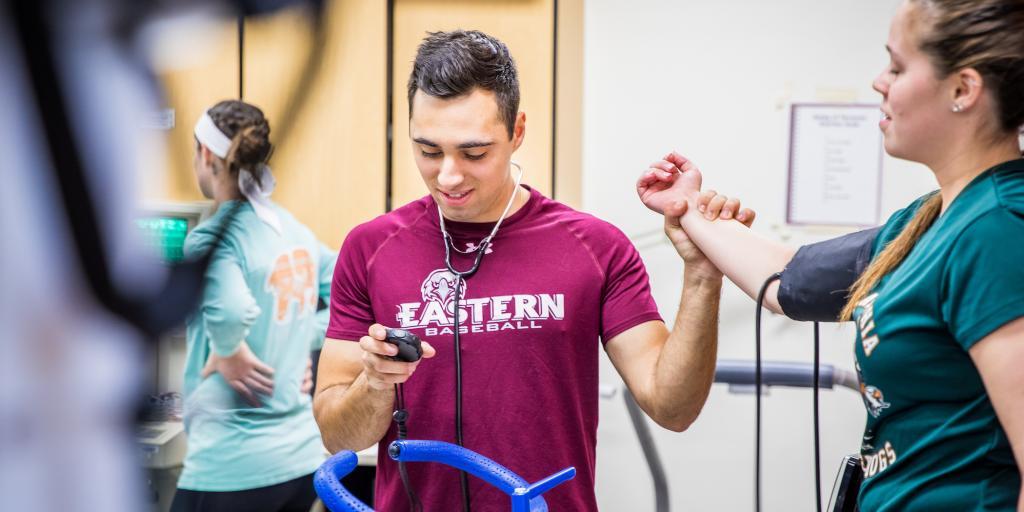 Important Announcement
We are no longer enrolling new students in the BS in Athletic Training due to accreditation standards requiring it become a masters program. Instead, we are offering a Pre-Athletic Training professional track. Ask your Admissions Counselor for more information!
Why Major in Athletic Training?
The Athletic Training Program (ATP) at Eastern University focuses on the preparation of competent entry-level Certified Athletic Trainers with regards to the educational competencies and clinical proficiencies developed by the National Athletic Trainers' Association's Executive Committee for Education.  The ATP's goal is to educate students in preparation for entry-level careers in athletic training and allied health settings.
Athletic Training students work alongside dedicated faculty in small classroom settings and in the Kinesiology laboratory. Eastern's ideal location just outside of Philadelphia provides students with an array of athletic training practicum experience(s) with local universities, high schools, hospitals, and private practices.
The Athletic Training Program (ATP) has been fully accredited by the Commission on Accreditation of Athletic Training Education (CAATE) since 2006. The ATP incorporates a liberal arts foundation, introduces and advances evidence-based practices, and promotes professional development of athletic training students. The program prepares students to sit for the Board of Certification Exam in order to be nationally credentialed as a Certified Athletic Trainer (ATC).
Why Choose Eastern?
Accreditation: Accredited by the Commission on Accreditation of Allied Health Education Programs (Exercise Science) and the Commission on Accreditation of Athletic Training Education (Athletic Training).
Faculty: Dedicated faculty bring integrity, expertise, commitment and Christian faith to the classroom. Faculty research includes obesity, low carbohydrate diets, body image, vascular responses to physiological stress and pathophysiological states, exercise-induced cardioprotection in a model of spontaneous hypertension.
Facilities: State-of-the-art laboratory houses a variety of equipment: Wingate Peak Monarch Cycle Ergometer and software; Cardiac Science Q Stress treadmill; metabolic cart; hydrostatic weighing tank; "BodPod" and a full spectrum of therapeutic modalities.
Curriculum and Practicum Experiences: Each program is enriched by major requirements that intentionally attend to verbal and written discourse in the discipline and research literacy. Students have opportunities to participate in practicum or internship experiences to gain proficiency in the clinical skills of their respective disciplines.
Preparation for Graduate Studies in Occupational and Physical Therapy: Regular, comprehensive, and individualized student advising of all pre-professional students ensures the required course study and timely submission of the graduate application.
Board of Certification Examination Passing Rate
| Academic Year | # Graduates | # Graduates Taking BOC Exam | # Graduates Passing on First Attempt | EU First Attempt Pass Rate on BOC Exam | National First Attempt Pass Rate on BOC Exam |
| --- | --- | --- | --- | --- | --- |
| 2019-2020 | 9 | 8 | 3 | 38% | 77% |
| 2018-2019 | 4 | 4 | 3 | 75% | 81% |
| 2017-2018 | 9 | 9 | 8 | 89% | 81% |
| 2016-2017 | 8 | 7 | 6 | 86% | 85% |
| 2015-2016 | 8 | 8 | 8 | 100% | 81% |
| 2014-2015 | 7 | 7 | 7 | 100% | 78% |
| 2013-2014 | 3 | 3 | 3 | 100% | 82.85% |
| 2012-2013 | 5 | 5 | 5 | 100% | 80.85% |
Learn More:
Frequently Asked Questions