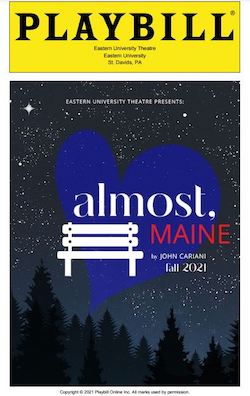 Welcome to Almost, Maine, a place that's so far north, it's almost not in the United States. It's almost in Canada. And it's not quite a town, because its residents never got around to getting organized. So it almost doesn't exist. One cold, clear, winter night, as the northern lights hover in the star-filled sky above, the residents of Almost, Maine, find themselves falling in and out of love in unexpected and hilarious ways. Knees are bruised. Hearts are broken. But the bruises heal, and the hearts mend—almost—in this delightful midwinter night's dream.
View the playbill for Almost, Maine
Almost, Maine is a free live production. You must "purchase" a ticket online in order to receive the link to view this performance virtually or in person.  $5 Suggested Donation.  A limited number of tickets will be available. Face masks that cover the nose and mouth are required to be worn at all times by guests.  COVID-19 Safety Protocols for the live performance.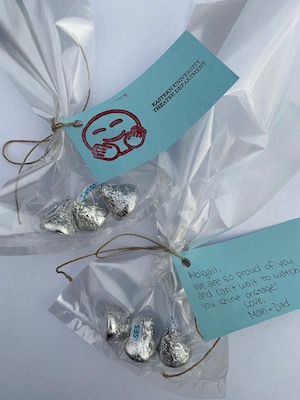 Celebrate the Cast and Crew by sending them a virtual "Hug" and write them a note to encourage them! View the link for tickets and purchase "HUGS" for individuals or the entire cast and crew! 
It is $1.00 to send a "Hug" to an individual or you can "Hug" the entire cast for $10.
You will be asked for the performer(s) name(s) and your personalized note at checkout. 
Get Tickets Now!
November 11th, 2021 at 7:30pm
November 12th, 2021 at 7:30pm*
November 13th, 2021 at 2pm and 7:30pm
*Friday's Performance will be the only one with a live stream option.