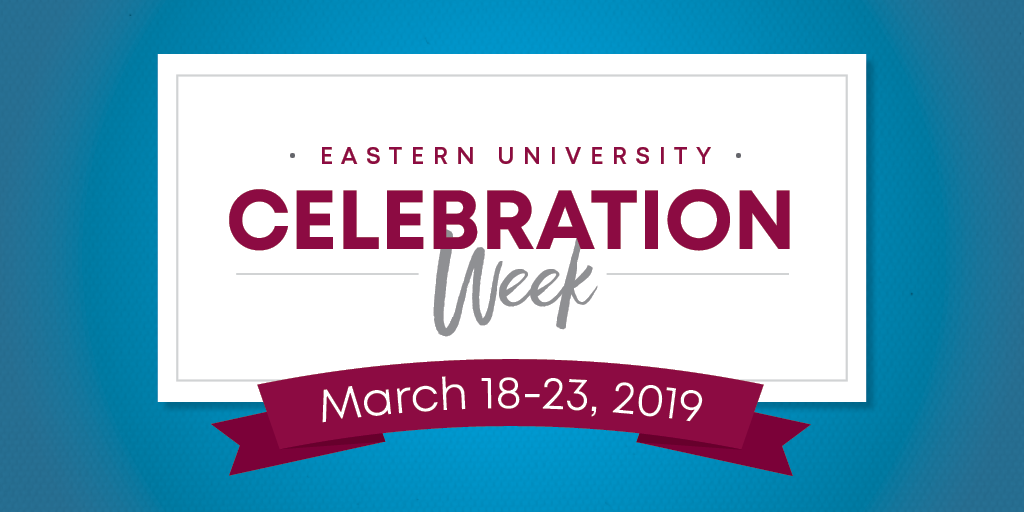 Join us for a week of festivities as we celebrate the rich history and future of Eastern University.
Daily Events
Pop-Up Music Performances
In celebration of President Matthews' Inauguration Celebration, Cunningham Piano has loaned our campus a Yamaha S7X Grand Piano for our McInnis Hall lobby for the week!
All this week, the Music Department and SGA have arranged pop-up performances during class changes on Monday through Thursday (8:50am-4:00pm).  We hope that you enjoy what our Music students and faculty have prepared for you, and that hearing the music will be a reminder of this week's celebration!
 
Prayers for the President
Watchmen Prayer Ministry, an Eastern University student ministry, has written prayers for President Matthews and the EU Community for each day of Celebration Week. Please join us this week in praying these daily prayers!
Monday, March 18 - Eastern University Spirit Day
Wear & Share Your School Spirit
Wear Your Spirit: Show off your school spirit by wearing your Eastern maroon!  Pull out your Eastern gear, team hoodie, campus club or, EU mission trip t-shirt and wear it proudly. If one of our EU Spirit Agents see you, they will enter you in a drawing to win an EU Sweatshirt Blanket!
Share Your Spirit (Student Contest): Post a picture on social media of you or your friends showing off your school spirit in your favorite spot on campus for a chance to win a meal from Chick-Fil-A for you and 6 friends!  Be sure to tag Eastern University and use #MyEasternU to officially be entered into the contest.  The winner will be announced by 4 pm on 3.18.19.
Alumni: Share your spirit, too!  Post a picture on social media of you showing off your school spirit anywhere in the world!  Please use the hashtag #MyEasternU.
When: 7pm
Where: Warner Library
Opening Night will be hosted by Dr. and Mrs. Matthews. All are welcome! Artisan Refreshments will be served.
The full Art Show will run March 18-24.
To celebrate the visual artists of our community, we will be hosting a week-long art show in the Warner Library.  All members of the Eastern community (student, faculty, staff, alumni, etc.) are welcome to enter a piece into this show. Pieces may be inspired by Eastern University (its spirit, mission, campus), the inauguration theme ("Transformational Love"), or any other theme that inspires you!
For more information on how to participate, visit the Art Show page.
Special Performance by Blaze and Audacity
When: 8pm
Where: Warner Atrium
As part of the Art Show Opening night, we will have a special performance by members of the University Step Team Blaze. They will perform a piece created in honor of Dr. Matthews and his Inauguration as well as other original work.  We will also hear from Audacity our University Spoken Word and Poetry group.
Don't miss the opportunity to see some amazing students in action!
Contact: Pascal Guerrier
Email: pguerri1@eastern.edu
Tuesday, March 19- Founders' Day
In honor of Eastern's founding in 1925, we invite you to join us for 1925 Minutes of Giving. Be a part of Eastern's amazing legacy! Learn More.
Men's Baseball vs. Cabrini University
Palmer Theological Seminary Panel: Past, Present, and Future
When: 6pm
Where: Warner Atrium
Seminary Students and Faculty make a point to gather weekly for Chapel and Chew. In honor of Founders' Day, all are welcome to join them in the Warner Atrium to explore the wonderful legacies of the past, in light of the current blessings, and excitement of how the Lord is using our Seminary, with great anticipation of what the Lord has in store for us in the future!
 Participants:
Dr. Manfred Brauch, former Dean and President of Eastern Baptist Theological Seminary (now Palmer!); 

Dr. Horace Russell, Emeritus Professor of Historical Theology and Dean of the Chapel

Dr. Carol Schreck, Emeritus Associate Professor of Marriage and Family

Dr. Peter Schreck, Emeritus Professor of Pastoral Care and Counseling

Dr. Marsha  Brown Woodard, Senior Lecturer in Christian Ministry and Director of Supervised Ministries

Shawna Adams, Student Assembly Moderator

Nikki Toyama-Szeto, Executive Director of Evangelicals for Social Action/Sider Center
Contact: David Bronkema
Email: dbronkem@eastern.edu
Bread-Making for Homeless Ministry with the President (Opportunity #1: For Students)
When: 7:30 pm
Where: Dining Commons
Students are invited to roll up their sleeves, don their aprons, and join Dr. Matthews in the Dining Commons as we make bread for "the least of these" (Matthew 25:45).
Wednesday, March 20 - Day of Prayer, Worship, Fasting, and Service
When: 10 am
Where: University Gym
Dr. Harold Dean Trulear of Howard University Divinity School
In collaboration with the Day of Giving, a freewill offering at chapel will benefit the Eastern Mission Fund, which helps provide resources for Eastern students participating in mission opportunities locally and globally.
Bread-Making for Homeless Ministry (Opportunity #2: University-Wide)
When: 3-5pm
Where: Walton Dining Commons
Calling all Staff, Faculty and Students to the Walton Dining Commons. With a generous donation from Sodexo, we have the opportunity to gather together and make bread for the Homeless Ministry. So roll up your sleeves, don your aprons, and let's put love into action and feed those in need (Matthew 25:45).
To ensure we have enough supplies, please sign up.
Men's Lacrosse vs. Widener University
Esperanza International Blessing and Commissioning
When: 6pm
Where: Esperanza College Campus 
4261 N. 5th Street, Philadelphia, PA 19140
Our friends at Esperanza will be hosting an International Blessing and Commission service for Dr. Matthews. All are welcome.
When: 6:30pm
Where: Warner Atrium
Hosted by ISI Montaigne Society with the Templeton Honors College
Dr. Michael Ward from the University of Oxford, will be presenting on C.S. Lewis and his work
On Reason & Imagination in Science & Religion
For more information: james.davenport@eastern.edu
Grow Groups - Transformational Love:  Love in Action
During inauguration week, Grow Groups will focus on the inaugural theme of Transformational Love  with an emphasis on "love in action". For more information regarding your Grow Group, reach out to your student chaplain.
Contact: The Office of Faith and Practice
Email: ofp@eastern.edu
When: 10pm
Where: Dining Commons
Join us for a student-led time of worship and special opportunity to bring light in to the darkness. "You are the light of the world. A city built on a hill cannot be hid. No one after lighting a lamp puts it under the bushel basket, but on the lampstand, and it gives light to all in the house. In the same way, let your light shine before others, so that they may see your good works and give glory to your Father in heaven" (Matthew 5:14-16, NRSV).
Contact: The Office of Faith and Practice
Email: ofp@eastern.edu
Thursday, March 21 - Justice Day
"From Liberty to Captivity" Documentary Screening
Please join Eastern University's Campus Chapter of International Justice Mission (IJM) for a screening of "From Liberty to Captivity." 
When: 6:30 PM
Where: Warner Library Atrium
Join us for a moderated discussion about calling & vocation, faith & law,  and life lessons on leadership.
When: 7:30 PM
Where: Baird Library
Refreshments will be served.
Co-sponsored by the Campolo Center, Philadelphia Commons Institute, Templeton Honors College, Office of Faith and Practice, SAGE, and other student groups.  
This will be a relaxed and informal setting with the opportunity to hear Amada Tyler's personal story before she speaks in Windows on Friday.
o   For more Information contact Robert Gauthier: rgauthier@eastern.edu
Friday, March 22- Inauguration Day
Inauguration Windows on the World
When: 10 am
Where: McInnis Auditorium
In collaboration with the Campolo Center for Ministry
Amanda Tyler, J.D., Executive Director of the Baptist Joint Committee for Religious Liberty in Washington, DC
"The Good, the Bad, and the Complicated Realities of the First Amendment Religion Clause"
The first 16 words of the First Amendment to the U.S. Constitution protect religious liberty in a unique way that has served the country well, guarding against violent inter-religious conflict that has plagued –and continues to plague – many other parts of the globe. Yet in both the past and present, the United States has failed to live up to the Constitution's ideals of freedom for all. In this lecture, Tyler will survey the history of how our Constitution protects religious freedom, exploring the contributions of colonial Baptists to its language, and discuss some of its shortcomings as interpreted and applied by the U.S. Supreme Court. She will highlight some of the most complicated and nuanced areas of concern for religious liberty today, including what we even mean we say "religious freedom."
Luncheon: Following the particular presentation, the Provost's Office will host an informal luncheon in Baird Library (Walton Hall, 2nd floor) from 11:30 a.m. – 12:45 p.m. to extend the conversation over a meal. Sodexo offers a discounted meal rate of $6/person, payable at the door. Luncheon attendees should go through the Dining Commons line and bring their lunches back to Baird Library.
Shuttle to the Ceremony & Reception Site Info
Where: McInnis Lower Lot near HHC
Due to limited parking at the church we are requesting all faculty, staff, and students to take the bus shuttle from Eastern's St. David's campus.
The buses will be picking up from lower McInnis lot near the HHC Door. 
Buses will be departing at the following times:
Faculty and Delegates 
Shuttle #1 at 12:45pm
Shuttle #2  1:15pm
Staff, Students, and other Guests: 
Shuttle #1 at 1:45pm
Shuttle #2  2:00pm
Please reserve your seat on the bus. 
RSVP is not required, but requested to ensure enough vehicles will be provided. 
After the Ceremony buses will take folks either directly to the reception at VFMA or return them to campus
Buses will also be running from the reception site back to campus until 7:45 pm.
Please call Meggin Capers at 610.341.5902 with questions.
When: 2:30 pm
Where: St. David's Episcopal Church
763 Valley Forge Rd, Wayne, PA 19087
More details on the ceremony available here.
You may also join us virtually via Livestream.
Men's Baseball vs Wilkes University
When: 5:30 p.m.
Where: Mellon Hall of Valley Forge Military Academy 
800 Radnor Street Rd., Wayne, PA 19087
You are invited to a reception immediately following the Inauguration at Mellon Hall of Valley Forge Military Academy, adjacent to Eastern's St. Davids Campus. The event parking lot is across the street from the St. Davids Golf Club entrance and adjacent to the football field. For GPS, the address is 800 Radnor Street Rd., Wayne, PA 19087. Please walk across the crosswalk and follow the signs to Mellon Hall, just beyond the Chapel.
We look forward to celebrating with you.  Business or business casual attire is requested.
Location:  Dining Commons
Time: 9:00 pm - 2:00 am
Description: Conquer the Night is a night of communal worship where the student body can come together to Praise the Lord in Spirit and in Truth. This will include worship through song, speech, dance, and prayer.
Saturday, March 23 - Day of Service and Celebration
Day of Service and Beyond
Times: Various
In honor of the Inauguration of our 10th President, Ronald A. Matthews, Eastern University will be hosting a variety of events to celebrate the history, legacy, and impact of Eastern on the world. To celebrate our commitment to service and local and global impact, several service project opportunities will be available for students to participate in.
Join a student-led ministry or one of our community partners such as YACHT (Youth Against Complacency and Homelessness Today) Club, Habitat for Humanity, or Cityteam. Learn more and sign-up! 

For those who can't join us Saturday, check out the service opportunities on Tuesday and Wednesday above!
Men's Volleyball vs. Arcadia University & Widener University
Come out and cheer on Men's Volleyball!
Eastern Eagles vs. Arcadia University
When: 10:00 am
Where: Gymnasium
Eastern Eagles vs. Widener University
When: 2:00 pm
Where: Gymnasium
Contact: Paula Hedderick
Email: phedderi@eastern.edu
Women's Lacrosse vs. Widener University
Campus Wide Inauguration Block Party Celebration – All are welcome!
When: 4:30 -7pm
Where: Parking lot between Sparrowk, Fowler and Eagle
BBQ Dinner

Food Trucks

Rockwall

Houdini Escape Room

Inflatable Obstacle Course

Henna Tattoos

Tye-Dying, first 200 get and EU tee otherwise bring your own!

Corn Hole

Giant Jenga

Nonstop music with a  variety of Live Bands and DJ Smooth Honey

And more….
Eastern Through the Years