Windows on the World: Carolyn Nichols
St. Davids Campus, 1300 Eagle Road, St. Davids, PA 19087
This presentation is Friday, 10 a.m. in McInnis Auditorium (St. Davids campus).  It is sponsored by the Office of the Provost and open to the public.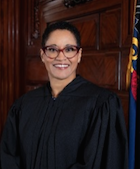 Carolyn Nichols, EU Alum, MBA Class of 2002, Superior Court Judge of Pennsylvania 
"Slay Your Life: A Guide to Self-Confidence and Empowerment"
Real talk on developing self-confidence and empowerment in your life and career by defeating self-doubt, and low self-esteem aggravated by micro aggressions, gaslighting, and subtle discrimination.
Luncheon
Following this particular presentation, the Provost's Office will host an informal luncheon in Baird Library (Walton Hall, 2nd floor) from 11:30 a.m. – 12:45 p.m. to extend the conversation over a meal. Sodexo offers a discounted meal rate of $6/person, payable at the door. Luncheon attendees should go through the Dining Commons line and bring their lunches back to Baird Library.