Windows on the World: Derrick Jamison
St. Davids Campus, 1300 Eagle Road, St. Davids, PA 19087
This presentation is Friday, 10 a.m. in McInnis Auditorium (St. Davids campus).  It is sponsored by the Office of the Provost and open to the public.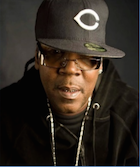 IN COLLABORATION WITH RED LETTER CHRISTIANS 
Derrick Jamison, Death Row Exoneree, WITNESS TO INNOCENCE https://www.witnesstoinnocence.org/
Shane Claiborne was co-host this presentation and interview Derrick. Derrick was an innocent man who spent nearly 20 years on Ohio's death row for a murder and robbery he did not commit. Minutes before he was set to be executed, Derrick received a stay which eventually led to his conviction being overturned and all charges against Derrick dismissed. Derrick was released 20 years to the day after the date he had been unjustly sentenced. Derrick now enjoys traveling the country to speak and educate others about the flaws of the justice system and "giving this message about how we can do better without the death penalty. The death penalty is not a deterrent." He particularly likes to speak to children. When he lived in New Orleans, he participated in a Voices from Death Row project, speaking to local students and empowering them to get involved alongside fellow exonerees. In 2017 and 2018, Derrick participated in the Journey of Hope tour throughout Oklahoma and Texas. He is promoting a book published in 2019 called The Deprived and works to create community amongst other exonerees in Tampa Bay, Florida where Derrick now resides.
Following this particular presentation, the Provost's Office will host an informal luncheon in Baird Library (Walton Hall, 2nd floor) from 11:30 a.m. – 12:45 p.m. to extend the conversation over a meal. Sodexo offers a discounted meal rate of $6/person, payable at the door. Luncheon attendees should go through the Dining Commons line and bring their lunches back to Baird Library.