Windows on the World: Rev. Dr. Charles Howard
St. Davids Campus, 1300 Eagle Road, St. Davids, PA 19087
Windows on the World is intended to stimulate personal involvement in and knowledge of some of the crucial and controversial issues facing Christians today. Through these forums, the campus community is exposed to Christian thinkers and activists who model our motto of "the whole gospel for the whole world."
This presentation is Friday, 10 a.m. in McInnis Auditorium (St. Davids campus).  Sponsored by the Office of the Provost and open to the public.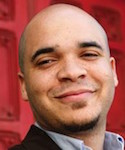 FAITH FORUM – REV. DR. CHARLES HOWARD, University of Pennsylvania
Reverend Howard (aka Chaz) will join us for Eastern's annual Faith Forum, speaking on a topic of discipleship that will help us in the journey of faith.
Luncheon
Following this particular presentation, the Provost's Office will host an informal luncheon in Baird Library (Walton Hall, 2nd floor) from 11:30 a.m. – 12:45 p.m. to extend the conversation over a meal. Sodexo offers a discounted meal rate of $6/person, payable at the door. Luncheon attendees should go through the Dining Commons line and bring their lunches back to Baird Library.