Windows on the World: Rev. Dr. George Mason
St. Davids Campus, 1300 Eagle Road, St. Davids, PA 19087
Windows on the World is intended to stimulate personal involvement in and knowledge of some of the crucial and controversial issues facing Christians today. Through these forums, the campus community is exposed to Christian thinkers and activists who model our motto of "the whole gospel for the whole world."
This presentation is Friday, 10 a.m. in McInnis Auditorium (St. Davids campus).  Sponsored by the Office of the Provost and open to the public.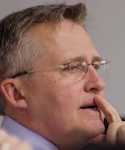 IN COLLABORATION WITH CAMPOLO CENTER FOR MINISTRY
Rev. Dr. George Mason, Pastor/Theologian at Wilshire Baptist Church in Dallas, Texas
"Christians without Borders: Toward a Trespassing Church"
In a time when the world lauds groups like Doctors without Borders, which goes everywhere and anywhere to bring lifesaving treatment and bear witness to human atrocities, we hear too many Christians these days defending the borders of nation-states and remaining silent about political cruelty, economic injustice and religious discrimination. Some Evangelical Christians defend the principles of the modern nation-state, along with hallmarks of it such as nationalism, militarism and capitalism, as if these carry biblical authority. The consequences in human misery are seen on the southern border of the US, the intractable stalemate in the Holy Land, and the sweatshops of southeast Asia, to name but a few. Naming idolatry is the first step in repentance, but the fruits of repentance will be seen in renewed commitment to a kind of spiritual transnationalism that at the same time honors diverse cultures and promotes full human dignity and flourishing in the name of Jesus.
Luncheon
Following this particular presentation, the Provost's Office will host an informal luncheon in Baird Library (Walton Hall, 2nd floor) from 11:30 a.m. – 12:45 p.m. to extend the conversation over a meal. Sodexo offers a discounted meal rate of $6/person, payable at the door. Luncheon attendees should go through the Dining Commons line and bring their lunches back to Baird Library.