Amy & Brian Ballard, Class of 2013 and 2010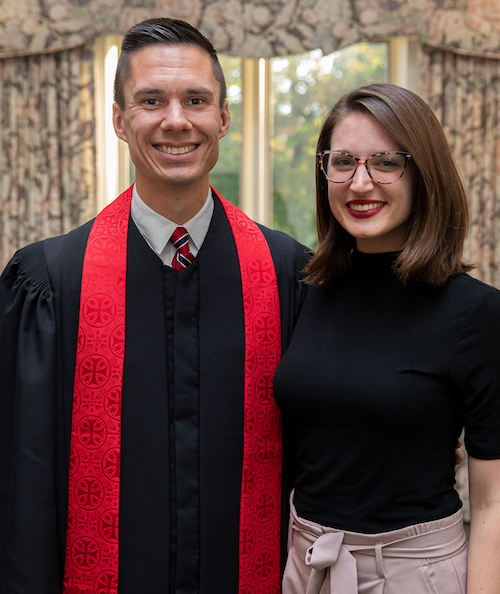 Amy '13 and Brian '10 Ballard met on a Spring Break trip. This wasn't your typical Spring Break trip, however. The two were serving on a mission trip to the Dominican Republic through a partnership with Food for the Hungry. In the moments between construction work and helping with the community's VBS program, they managed to forge a bond with each other that first grew into friendship and later blossomed into life partnership. So, it's arguably not a hyperbole when Brian exclaims that Eastern "changed everything" about his life.
The couple found so much more than each other at Eastern University, however. For Amy, now working in higher education, an opportunity to work with an Eastern-affiliated learning site in Norristown is what actually launched her vocation. And for Brian, who is now serving as Associate Pastor for Pastoral Care & Senior Adults at Bryn Mawr Presbyterian Church, Eastern University provided a solid foundation of faith and activism that thrives in him still today. In fact, both Amy and Brian speak passionately about Eastern University's "vision of community-informed faith" and focus on "activism and its compelling narrative of faith that influences public life." It's one of the main factors that inspired both Ballards to initially choose Eastern—and it's what catalyzes them to keep choosing to be active members of Eastern University.
"It's exciting to see how Eastern has been continuing to expand online and in Center City, growing in ways to reach people where they are."
"And I think that's what our world is desperately in need of—lovers, people who are building deep, genuine relationships with fellow strugglers along the way, and who actually know the faces of the people behind the issues they are concerned about."— Shane Claiborne, The Irresistible Revolution: Living as an Ordinary Radical
It's hard to describe that special, powerful, unparalleled Eastern fellowship to those who haven't experienced it themselves, but one conversation with the Ballards will get you halfway there. "Eastern gave me a new lens through which to look at the world," Brian enthusiastically explains. "It gave me a way to perceive how God is at work in the world, as well as a whole new group of friends. I still have close friends that I met in my two years at Eastern." Amy elaborates, speaking affectionately about the bond Eastern students share with each other, even long after their time on campus. "It's a funny thing when you run into other people from the Eastern community," she says. "It's like you're meeting someone else who's been raised in the same family."