BA in Organizational Leadership
The Bachelor of Arts in Organizational Leadership is designed for working adults who desire to enhance their capacity to understand and lead strategic change and renewal in organizations. Students will be trained to identify an organization's strategies for optimal functioning, diagnose needs, and develop cost-effective proposals in a wide variety of contexts from business to non-profit to government.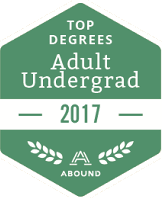 Eastern University's BA in Organizational Leadership was named an Adult Undergrad Top Degree!
Quick Facts
*Blended/hybrid options allow students to receive face-to-face instruction one night a week while the rest of the coursework is done online.
Distinctives
Equips you to lead organizations through complex, infintely changing environments. Learn more on Leadership vs. Management

.

Challenges you to apply critical thinking and collaborative skills while working with stakeholders to identify the costs and consequences of planned change
Distinguished Faculty: Our professors, who are also business practitioners, create a professional learning environment with a Christian focus on areas of faith, reason, and justice.
A Compelling Vision: Our goal is to cultivate innovative, strategic and successful business leaders who are ethically and economically responsible.
Full Accreditation: We are a non-profit, fully accredited university by the Middle States Commission on Higher Education.
Small student to faculty ratio (<15:1): You will receive support from staff, faculty, and fellow learners in cohort-style classrooms.
Why Choose Eastern?
EXCELLENCE: Eastern is a nationally-recognized Christian university, honored as one of U.S. News & World Report's Best Online Programs, named one of 50 Best Colleges for Older Students by BestColleges.com, named a Top Degree for Adult Undergrad by Abound: Finish College, and ranked in the Top Tier of North Regional Universities.
SUPPORT: As an Eastern University student, you are assigned a student success advisor who specializes in supporting and guiding you through your degree program. The advisor will work with you to answer questions, assist with course selection, and ensure you remain on the right path to reach your educational goals. Students (and alumni) can also leverage Eastern's individualized career advancement training

 at no additional cost.

AFFORDABILITY: As one of the more affordable bachelor's degree programs in the Greater Philadelphia area, we are committed to making your education possible. View our competitive tuition here. Access Tuition Discounts through Eastern's higher learning institutions and corporations partners/alliances.
Alumni Testimonial
Contact Your Enrollment Counselor