About Eastern University
Who We Are
Eastern University is a co-educational, comprehensive Christian university that integrates faith, reason and justice for its 3,616 students. This university located near Philadelphia, Pennsylvania offers undergraduate and graduate programs for college students, and strives to provide the very best. Eastern is affiliated with the American Baptist Churches USA and has an interdenominational Christian student body, faculty and administration.
Videos
Eastern At A Glance
3,616
Enrollment
146
Full-time Faculty
10:1
Undergraduate Student/Faculty Ratio
3.82
Average Entering GPA in Honors College
Locations*
St. Davids, PA: A scenic 114-acre suburban main campus just west of Philadelphia, PA
Philadelphia, PA: Esperanza College; Campolo College; Falls Center
Harrisburg, PA: Campolo College site
Valley Forge, PA: Palmer Seminary site
Ripley, WV: Palmer Seminary offers the Master of Divinity here.
Rwanda, Africa: The Campolo College of Graduate and Professional Studies offers two programs in Rwanda.
*Additional instructional sites at numerous suburban and international locations.
Mission Statement
Eastern is a Christian university dedicated through teaching, scholarship, service, spiritual formation, student development and societal involvement to the preparation of undergraduate, graduate and Seminary students for thoughtful and productive lives of Christian faith and service. Read more here.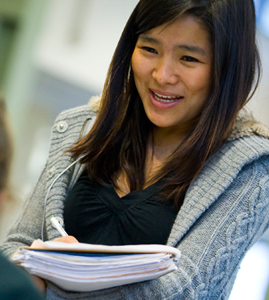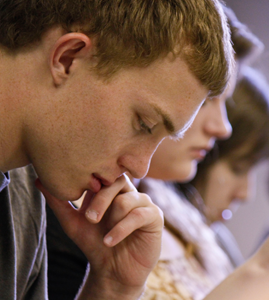 The Templeton Honors College
The Templeton Honors College offers graduate-style undergraduate education for the most academically-gifted students.
The Campolo College of Graduate and Professional Studies
Esperanza College of Eastern University
Esperanza College is Eastern's junior college which operates in partnership with Nueva Esperanza, Inc. and aims to serve the Latino community in Philadelphia, PA.
Academics
Calendar: A two-semester academic year, fall and spring, with two summer sessions. Adult and graduate programs offered throughout the calendar year.
Academic Programs and Degrees: Associate of Arts, Bachelor of Arts, Bachelor of Science, Bachelor of Social Work, Bachelor of Science in Nursing (for registered nurses and second degree students), Master of Arts, Master of Business Administration, Master of Science, Master of Education, Master of Theological Studies, Doctor of Philosophy, Doctor of Arts, Doctor of Ministry.
Undergraduate: 45 majors and 37 minors; 11 Education Certifications; 7 Pre-Professional programs, including dental, medical, occupational, physical, physician assistant, podiatric, and veterinary.
Graduate: 22 Master's Programs and 3 Doctoral Programs in CCGPS; 4 Master's Programs and 2 Doctoral Programs in Palmer Seminary.
Study Abroad: Council for Christian Colleges and Universities, universities including Oxford University and the University of St. Andrews, student teaching, and various other programs.
Eastern University offers many Online and Blended Online Programs.

Faculty
146 full-time University & Seminary faculty
80% (Arts and Sciences) hold earned doctorates or highest professional degree
Over 300 faculty publications
Honors and Recognition
Alumni and faculty of Eastern University have received the MacArthur Foundation Award, Olaf Palma International Justice Award, Regional Emmy for PBS Documentary, and Lindback Awards for Excellence in Teaching.
Retention
Surveys like the Student Satisfaction Inventory administered annually to ensure continual improvement of student services.
Undergraduate retention rate of 80%
SAT Scores of First-year Students
Mean: 1056
Templeton Honors College: High school grade-point-average 3.82; mean of 1331 SAT scores.
International and Multi-ethnic Enrollment: 43.6% of all undergraduates (including Esperanza).
Facilities
Library Resources
Harold C. Howard Center/Warner Memorial Library: ranked "A" by the Association of Colleges and Research Libraries. Houses 165,000 books; 850,000 micro forms; and 19,000 audio-visual materials. Access to over 17,000 online periodicals through databases EBSCOhost, SAGE,  Proquest. Over 65 million books available by Interlibrary Loans.
St. Davids Facilities
Eight Academic and Administrative Buildings
The Bradstreet Observatory and Julia Fowler Planetarium
Residential: Eight residence halls house 1,200 students on campus.
Athletic: Gymnasium, tennis courts, pool, multi-purpose baseball field, softball field, turf soccer/lacrosse and practice field
Resources
Financial Aid
96% of students receive academic and need-based scholarships and grants.
Tuition and Costs
2015/2016: College of Arts and Sciences
$30,250 for tuition
$340 for Fees (plus $50 for one time transcript fee for entering students)
$10,188 for on-campus room and board
For tuition information Adult Undergraduate and Graduate Programs, call 1-800-732-7669 or 1-800-597-9324; for Palmer Seminary programs, call 1-800-220-3287.
Grants
Barnabas Foundation
Comloquoy Charitable Foundation
EAPE Kingdom Works, Inc.
Eden Charitable Foundation
HBE Foundation
Huston Foundation
Stewart Huston Charitable Trust
National Institutes of Health
National Science Foundation
PA Department of Education
PA Higher Education Foundation
Sodexho Marriott Services, Inc.
W.W. Smith Charitable Trust
U.S. Dept. of Education
Engagement
Strategic Alliances
Transfer articulations with two-year schools/colleges
Activities and Ministries
Habitat for Humanity, touring drama and choir groups, prison ministry, homeless ministry, U.S. and overseas missions trips. First-year students contributed nearly 9,000 hours last year to service projects. 
The Leadership Fellows Program accepts 40 outstanding high school leaders annually.
Accreditation
Middle States Commission on Higher Education, Council on Social Work Education for the Baccalaureate major in social work, Commission on Collegiate Nursing Education, Association of Theological Schools in the U.S. and Canada, Commission on Accreditation of Athletic Training Education, Commission on Accreditation of Allied Health Education Programs.
Community
Governance
Board of Trustees
Chair: F. Ardell Thomas, M.D.
President: Dr. Robert G. Duffett
History
Eastern was founded in 1925 as Eastern Baptist Theological Seminary. The collegiate division began in 1932 and was chartered as a four-year college in 1952. The college became Eastern College in 1972 and Eastern University in 2001. The Seminary was renamed Palmer Theological Seminary in 2005.
Athletics
Eastern Eagles
Men: baseball, basketball, cross country, golf, lacrosse, soccer, tennis, track and field
Women: basketball, cheerleading (club), cross country, field hockey, golf, lacrosse, soccer, softball, tennis, volleyball, track and field
Visit http://www.goeasterneagles.com
Alumni
26,000 in 50 states and 88 countries
93-99% of graduates in the last decade have found employment, full-time volunteer work, or begun post-graduate studies  within the first six months of graduation (based on the percent of students who responded in each year). Full Report.
Archived Post-Graduation Reports