Eastern students, faculty, and staff have unlimited access to a beautiful, state-of-the-art fitness center. The two story, 8,200 square foot fitness center maintains regular hours throughout the year and is enjoyed by athletes and non-athletes alike.
Weight Training & Indoor Turf
The first floor of the facility features Hammer Strength weight training equipment and includes 8 olympic platforms with drop zones, 4 dumbbell racks with customized dumbbells and plates and 16 weight machines for upper and lower body workouts. There is also 94' of indoor turf and a stretching area.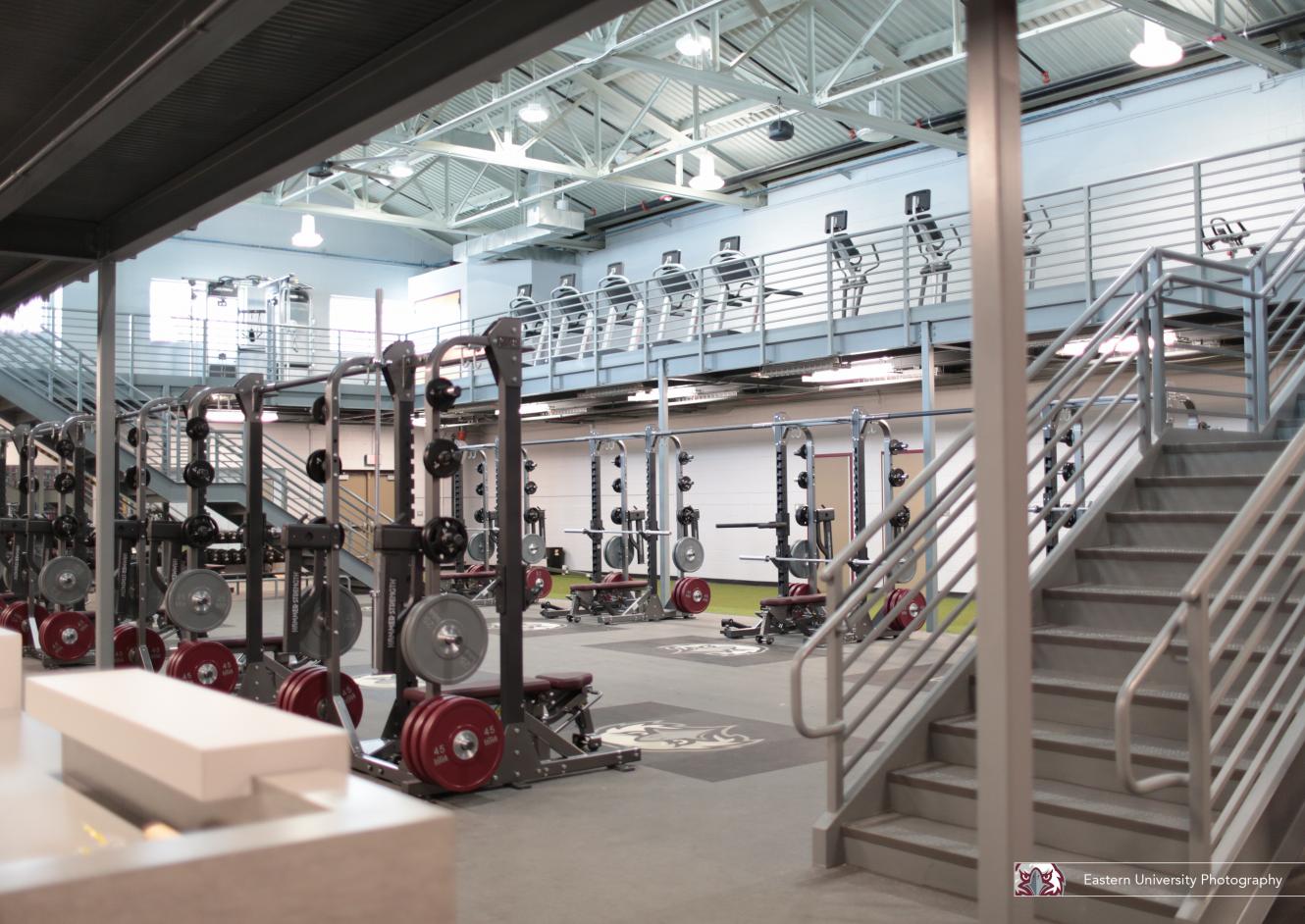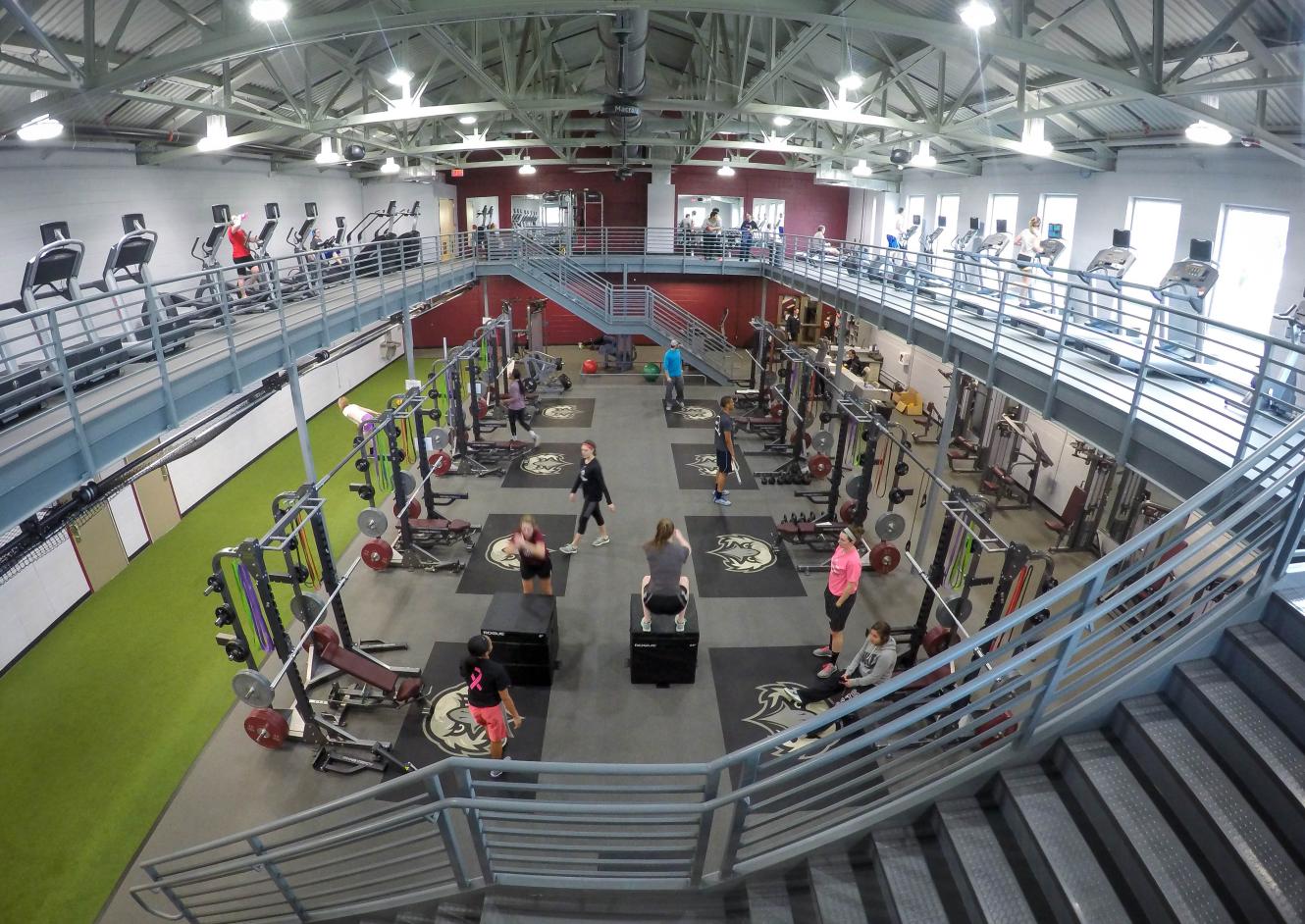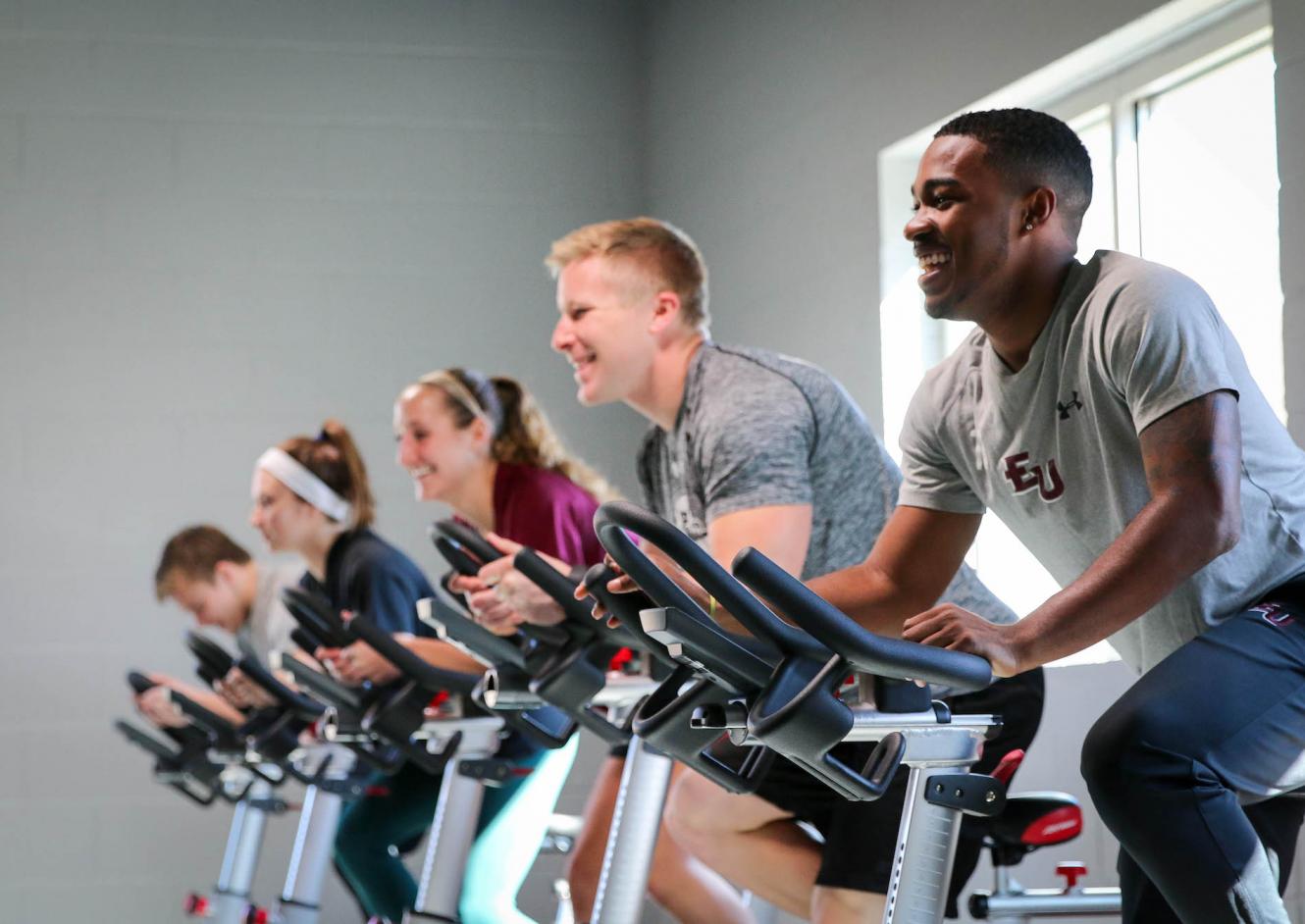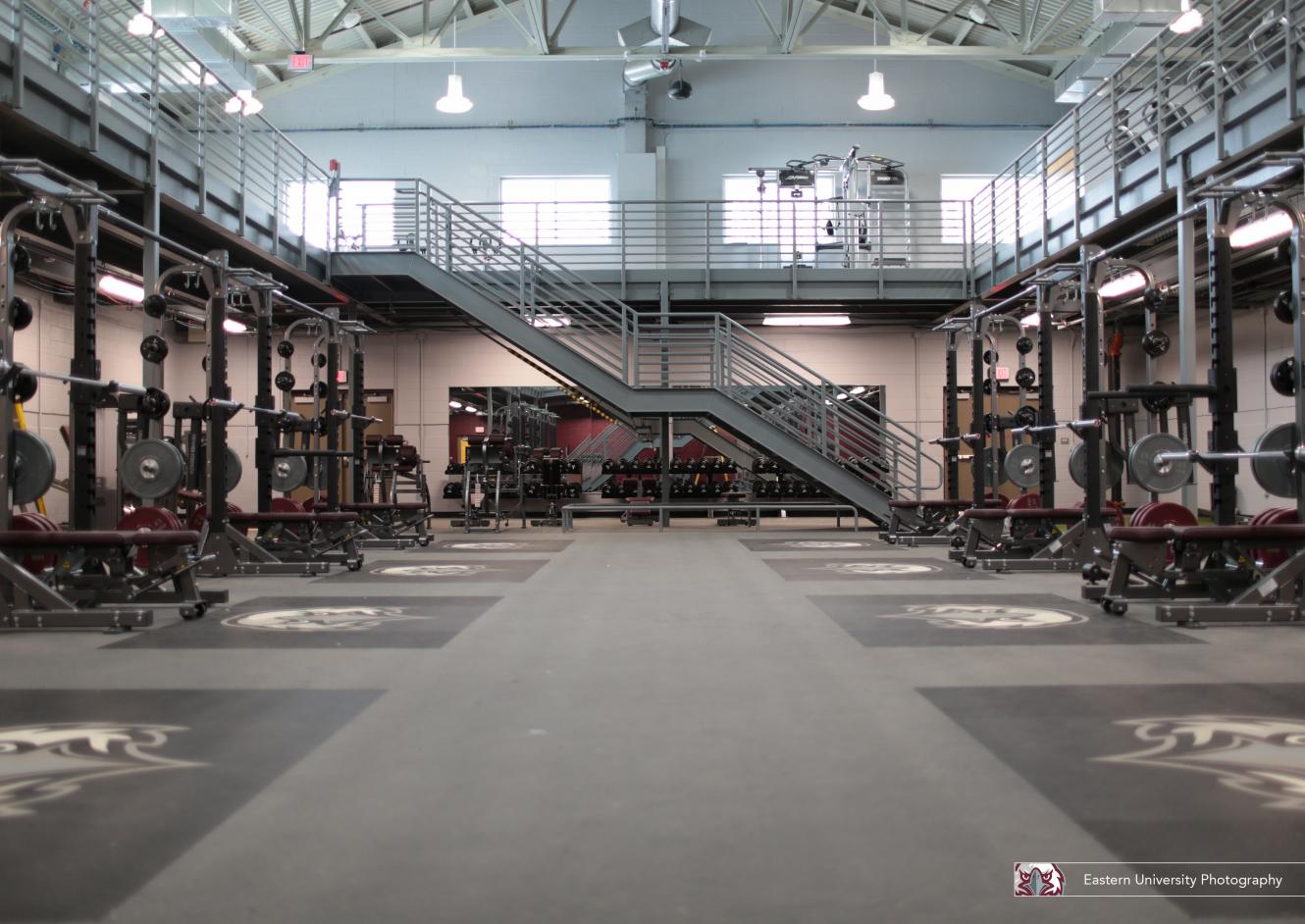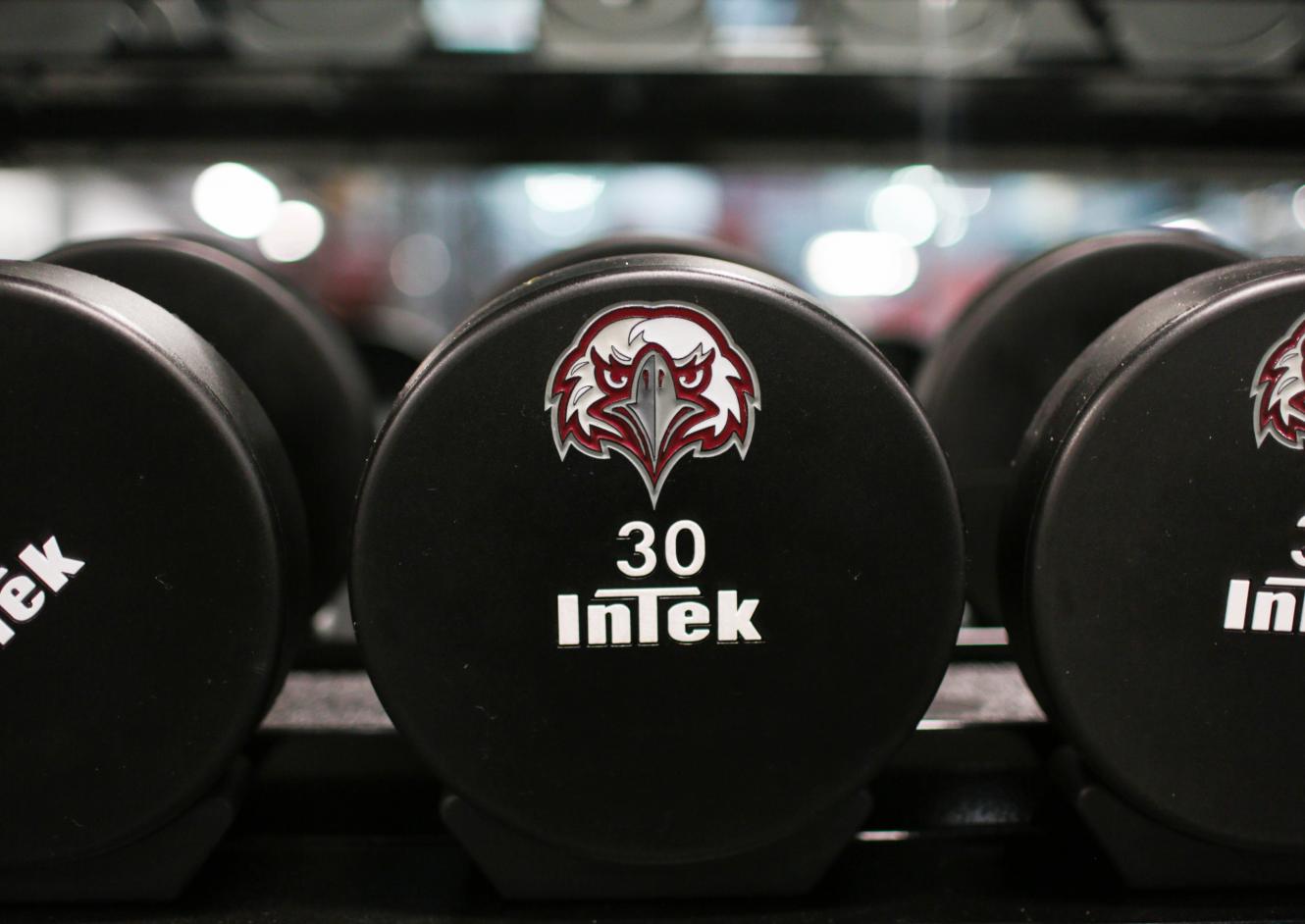 Cardio, TVs & Music
The Life Fitness cardio equipment is positioned on the second floor with picturesque views of campus from 9 treadmills, 6 ellipticals, 2 stairclimbers, 4 rowing machines, 6 spin bikes with foot clamps and 5 stationary bikes. The treadmills, ellipticals and stationary bikes all have personalized cable televisions. A welcome desk with storage cubicles, 2 flat screen televisions, and a sound system complete the experience.
Semester Hours & Information
Due to updated guidance from the NCAA and Eastern University, the Fitness Center will be changing operating hours to best accommodate the health and safety of our campus recreation users and student athletes.  We will be creating Varsity Hours designated for Athletics use only.  During varsity hours, only varsity, developmental and athletics coaches will be permitted to use the Fitness Center.  Sports Medicine will also be using this time to conduct rehab and return to play sessions with injured athletes.  In return,  Strength and Conditioning/Athletics staff will not schedule any strength and conditioning activities during recreation hours.    Please see below for hours of operation, capacity limitations and reservations.  This policy is subject to change and schedule will be adjusted accordingly.  
Hours of Operation:
Varsity Hours Monday-Thursday: 6-3, Friday 6-12 (Closed Wednesday 10-11 for Chapel)

Recreation Hours Monday-Thursday: 3-10, 12-6

Saturday 9-5

Sunday 12-8
Capacity and Reservations:  
At this time reservations will not be required and there are no capacity restrictions.  
Masking:  
Will be implementing the "Red" Protocol asking recreation users to wear masks during exercise regardless of vaccination status. 
Contact Us
Contact the Fitness Center: 610-225-5048