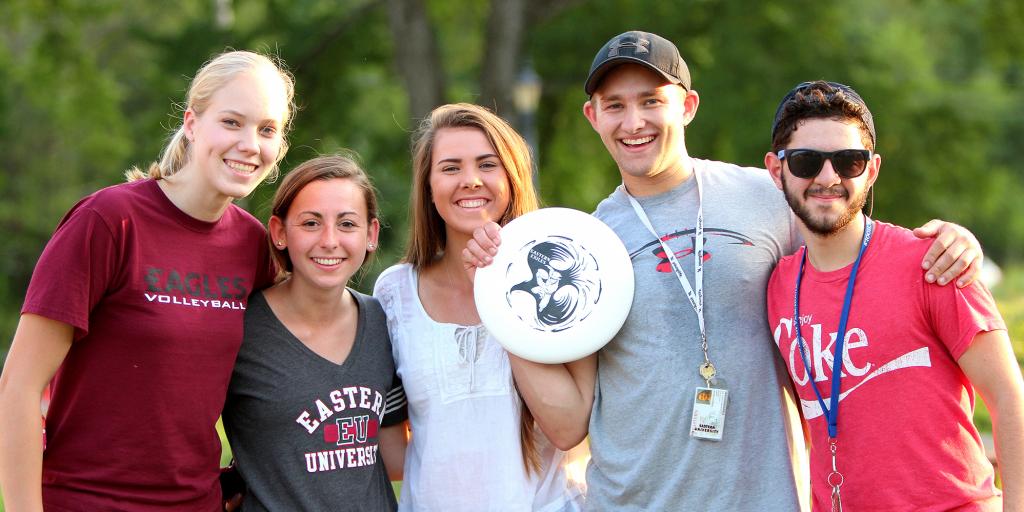 Whether you're looking to sing, dance, go hiking, or help others we've got a club that's right for you.  If you don't see something that excites you, connect with our student activities staff and they'll help you start your own club.
Academic Honor Societies
International Honor Society in Business
International Honor Society in Education
National Communication Association Honor Society
National History Honor Society
Foreign Language Honor Society
American Political Science Association
National Honor Society in Psychology
National Collegiate Hispanic Honor Society
Sigma Theta Tau International
National Science and Mathematics Honor Society
Theta Alpha Kappa, The National Honors Society for Religious Studies and Theology, maintains a vigorous national program of scholarship awards and fellowship competitions. Inductees must have a 3.5 GPA in Religious Studies and/or Theology and a 3.0 GPA overall. Its primary publication, the Journal of Theta Alpha Kappa, offers an annual prize and the publication of outstanding student papers. Learn more.
Academic Interest
The mission of the Eastern University Chemistry Club is to facilitate the praxis of chemical education within a Christian framework to both the campus community and to children in area elementary schools. The club strives to do this primarily through service projects, including hands-on chemistry activities with disadvantaged children, social gatherings, fundraisers, and campus seminars.
Eastern Engineering Society
The Eastern Engineering Society is an integral part of student success in the 3/2 and 4/1 Engineering Program. This organization bridges the gap between Eastern and Villanova and helps students navigate through the occasionally tricky 3/2 and 4/1 Engineering logistics. Along with functioning as a weekly study group, the members learn marketable skills like building resumes, writing cover letters, and professional communication. They also seek out opportunities to use their Engineering skills in Christian ministry and missions.
Environmental Science Club (ESC)
The purpose of the ESC is to help educate Environmental Science majors and others interested in fields relating the environment, environmental policy, sustainable energy, or some sort of field biology. The club is focused on networking with employers in these fields, increasing campus environmental awareness, and pushing for more sustainable policies at Eastern.
EU Philosophical Society (EUPS)
EUPS seeks to facilitate conversation in philosophical topics by hosting lectures featuring EU professors as well as off campus academics.
EU Student Athletic Training Association (EUSATA)
EUSATA provides professional development for those pursuing a career in Athletic Training through a variety of skills, programs, and educational opportunities. EUSATA provides a platform for the professional development of its members by offering the opportunity to attend national, state, and local conventions and seminars, and sharing personal work experiences relating to a career in athletic training.
All voting members must maintain active pursuit of a career in athletic training or related field.
The mission of the Exercise Science Club is to advance the study of human movement (biokinetics) as an important evidence-based academic pursuit, a preparation for careers in the fitness and allied health professions, and a manifestation of God's hand in creating and upholding life. They promote knowledge and skills that embrace the life of the body, the mind, and the spirit, and educate the whole person to bring "the whole Gospel to the whole world."
Health and Medical Club (EUHMC)
The EUHMC is a source of support and a resource for a large group of students on Eastern's campus. EUHMC organizes events that will help Eastern's pre-health students (including Pre-Med, Pre-Vet, Pre-Dentistry, Pre-PA, Nursing, and more) to come together as a community for organized "study break" events, to build Christian character through volunteering within our local community, to learn more about various career options, and to provide insight and resources to assist students with the application process to schools for health professionals. The group also organizes events that target the greater Eastern community.
Student Nurses Association of Pennsylvania (SNAP)
Eastern University's chapter of SNAP promotes nursing students in their professional development, socialization as a nurse, and also embraces holistic nursing care, a cornerstone of our nursing program here at Eastern.
All Junior and Senior Nursing Majors are members
Student Social Work Association (SSWA)
SSWA is a community of social work students that exists as a support system for fellow social work students. They also exist to educate others about the profession of social work and engage in community work.
The Theological Society at Eastern University is a group dedicated to fostering theological conversation and exploration on campus. The group does this in a variety of ways, including a weekly discussion group, faculty lectures, film screenings with subsequent talkbacks, and more.
Arts and Performance
Angels of Harmony Gospel Choir
Angels of Harmony is a Gospel choir that performs at various EU functions and travels to local churches to perform. The goal of the group is to uplift, encourage, and inspire listeners with traditional and contemporary Gospel music.
Blaze Step Team strives to bring diversity to the Eastern University Campus by introducing a new form of dance. Students are able to form a bond and a family by participating in the group. Blaze performs at various basketball games as well as other on campus events. Auditions required for membership. Members must maintain a 3.0 GPA.
The mission of the Eastern Dance Club (EDC) is to bring students together who love dance, and build community. The EDC will also provide technique classes in various dance genres (e.g. ballet, tap, jazz, modern, hip-hop, world) based on student desirability, as well as coordinating other non-dance events (e.g. movie night, dinner out, etc.). The group serves to facilitate student and faculty fundraising for the American College Dance Festival Association.
Audition required for membership.
Eastern Dance Ministry is a club that meets once a week for Bible study and choreographing dances. These worship dances are used to minister in chapel three times a semester. As a group they challenge one another to become more like Christ.
Audition required for membership.
The Music Guild exists to encourage community and foster student awareness and participation in music events and programs. Additionally, members of the guild have performed around campus in music showcases. The guild is open to all students at Eastern University.
The members of Precious Movements commit themselves to lives of worship, including, but not limited to, the Spirit-led movement of their bodies. In addition to mime and praise dance, the members of Precious Movements desire to live out the original purpose of the group as being a spiritual outlet for women. The members of Precious Movements often perform in chapel.
Redefined is a high energy, crowd pleasing, hip hop dance team that performs at halftime for the Basketball games and other events during the school year. Redefined seeks to redefine negative stereotypes associated with Hip Hop. Everyone is welcome to audition.
Society of Art and Illustration
The Society for Art and Illustration provides the environment and supplies for visual artists to begin or continue their creative projects and pursuits. Supplies for drawing, painting, sculpting, and other media are provided, and students are encouraged to share their skills and learn from one another. The group hosts events throughout the year such as an all-night art-making event, tutorials led by students, and a charitable art auction. Students of all experience levels are welcome to come and enjoy creating something.
The Spoken Word club is a space for writers and those who want to write spoken word. Our goal is to hone our writing skills for the purpose of impacting lives through Spoken Word Poetry - a form of prophecy and performed poetry.
Transformed is a traveling drama ministry. During the first semester, the group learns sketches and skits which it then performs as they travel around to churches during the second semester. The goal of the group is to spread the gospel focusing on the truths that all Christians need to hear again and again.
Auditions required for membership.
Faith and Spirituality
The purpose of the Anglican Fellowship is to offer an opportunity for liturgical worship on campus in the Anglican tradition. Each week we worship according to the liturgy for Evening Prayer published by the Anglican Church in North America in the tradition of the Book of Common Prayer. Our services are open to all students, regardless of denomination; in fact, most of our attendees are from a non-liturgical background. Our meetings last no longer than half an hour.
EU Orthodox Christian Fellowship
We believe in growing as Christians within the Orthodox community, strengthening and encouraging each other in the Faith, and learning about our beliefs under the guidance of the Church. We meet every other Tuesday during the semester to discuss questions about Orthodoxy, to hold evening prayer, and to enjoy fun activities as a group. Anyone is welcome to join as we discuss the components of the ancient Faith and create lasting friendships.
The Watchmen Prayer group strives to help facilitate a prayerful and thoughtful community open to learning different forms of prayer, interceding for others, and making time for quiet reflection. We hope to be a prayerful people dependent on God, leaning on the power of prayer to supplicate authenticity to our faith and diversify our interactions with God and other believers.
Our group aims to provide a holistic worship experience through student-led music and prayer on a weekly basis. The weekly worship sessions run for about an hour. They are open to anyone who wants to come and join in worship or serve in other ways on the team.
Media and Publications
Published annually, Inklings solicits submissions of creative writing, art, and photography. Students make up the editorial board, developing skills as critics and publishing design and layout.
The Waltonian delivers Eastern news, both local and national via the university newspaper, which is bi-weekly and student run.
Multicultural
American International Cultural Exchange (AICE)
AICE offers a safe and open environment for students so that they can experience and learn about different cultures on campus. They are devoted to creating experiences that bring awareness of different cultures to the club members. This club provides a place for students to come together and learn from each other through conversation, events, and engaging in different activities. International students who seek assistance in learning the English language are given an opportunity, through this club, to do so with other members of Eastern's community.
Black Student League (BSL)
BSL exists to promote and educate EU community in black and African American history through events, service, lectures, and activities throughout the academic year.
Caribbean Student Organization (CSO)
The CSO aims to promote cultural awareness. We serve the campus community with the knowledge of Caribbean history, culture, and people. This is accomplished by hosting informational programs and lectures, coordinating and carrying out social events, providing membership for all who desire to be educated about the Caribbean culture, assisting with the promotion of further education to high school students, strengthening and extending the system of support to all fellow Caribbean students. We hope to eliminate the stereotypes that have plagued the Caribbean people and live strong through our motto, "L'Union fait la force" ("through unity we find the strength").
Heart of Africa is a group that studies the various artifacts and cultures of many different African tribes and nations.
Latinos Unidos exists to focus on not only having a foundation of Christ but being able to spread that to others in the EU community. They are committed to sharing their heritage with others and educating the EU community.
Multicultural Awareness Advisory Committee (MAAC)
MAAC consists of a diverse group of student leaders who plan activities and events for students to enhance cultural competency, provide multicultural awareness, and education. MAAC offers students the opportunity to serve as Student Ambassadors. Student Ambassadors assist with co-curricular learning activities and program events.
Service and Philanthropy
Our club seeks environmental sustainability both on and off campus through a variety of avenues. On campus students regularly participate in working in our garden, monitoring our bee hives, and improving our recycling system. Off campus we seek to involve ourselves in the greater environmental problems of our time, both by being well educated and going on informational trips. Earthkeepers is dedicated to being proper stewards of the earth. As a part of this commitment to learning we visit off-campus farms, communities and other sites that promote sustainable growth.
Habitat meets every week to plan workdays with local Habitat affiliates and works to raise on-campus awareness of what Habitat for Humanity is and does. The group spends many Saturdays at Habitat work sites and Restores, helping in whatever way they can. The EU Habitat club is a campus chapter and has ties with Habitat for Humanity of Montgomery County.
Operation Net facilitates fundraising activities to raise money to buy mosquito nets in countries around the world, boosting the local economy, while saving lives. It also strives to create awareness of this great need to the EU campus and the local community.
Prison Ministry seeks to imitate Christ by sharing the gospel with inmates, those in halfway and ¾ houses, and each other through prayer, worship, Scripture and fellowship. They also plan activities to educate the EU community about the prison system and the Christian imperative to minister to those who have been affected by it.
Students Against Human Trafficking (SAHT)
SAHT exists to fight against oppression and injustice in the following ways: raising awareness, advocating, praying, and making efforts towards eradicating forced labor, sex slavery, and prostitution both locally and abroad.
Students Against Violence Everywhere (SAVE)
SAVE aims to increase awareness to issues related to bullying and violence on campus. SAVE presents activities and programs to educate the student body on bullying and violence.
Youth Against Complacency and Homelessness Today (YACHT)
The members of the YACHT club travel into Philadelphia on Thursday nights and Saturday mornings to distribute food to and hang out with homeless folks. All Eastern students (and friends of students!) are welcome to join for an outing whenever able: no one actually has to be a 'member' of the club to tag along. YACHT also hosts events on campus, including Family Meetings every other week where they talk about experiences in the city and issues of homelessness and social justice around the world.
Special Interest
Enactus is a community of student, academic and business leaders committed to using the power of entrepreneurial action to transform lives and shape a better, more sustainable world.
Recommendation by Enactus alumni required for membership.
E.T.H.E.L.S. club is a group devoted to teaching, practicing, and performing the art of Swing dancing. Specializing in East Coast style and Lindy-hop dance, E.T.H.E.L.S. gives students an opportunity to dance to live big band music. E.T.H.E.L.S. helps build the Eastern Christian community by bringing students together to participate in an exciting and enjoyable form of dance in a non-pressured atmosphere.
The members of KIN are committed to the promotion of healthy and natural hair, body, and life practices. We welcome discussion targeted at expelling natural hair myths while also encouraging and sharing hair regimens and healthy hair practices, all in the effort to breed a lasting sense of self-actualization within our Eastern communities on campus and beyond.
Model UN is designed to prepare students to participate in the annual Harvard Model UN conference.
The members of Refuge are committed to creating an atmosphere of support for those who are lesbian, gay, bisexual, transgender, or questioning their sexuality; educating other students at Eastern University about sexual orientation and gender identity issues through community and conversation; and working towards understanding how students should respond to one another and incorporate what they have learned as members of the Eastern University community.
Students Advocating for Gender Equality (SAGE)
SAGE aims to increase awareness of issues related to gender, sex, and sexuality on campus. SAGE gathers weekly to discuss such issues, and invites anyone on campus to join the conversation. SAGE also organizes campus-wide events to educate the student body on gender-related issues.
Threadheads is designed to build community and to learn about different ways to change lives through yarn design.
Sports and Recreation
The Cheerleading Club helps to foster school spirit, promote teamwork, and encourage good sportsmanship at all athletic games. We display a positive attitude, pride, and respect within our school and community and strive to represent Christ through our words, actions, and spirit. "From him the whole body, joined and held together by every supporting ligament, grows and builds itself up in love as each part does its work" (Eph 4:16). We meet once or twice a week to learn and review cheers, motions, stunts, and routines. During this practice, members will participate in a team workout including cardiovascular and strength training. Members will practice in the fall semester to prepare for participation at Eastern University's Men's and Women's basketball games in the spring semester. All students, experienced or not, are welcome to join the cheerleading club.
The Recreational Activities club offers a variety of sports and playground style activities on and off campus for all students.
Student Athlete Advisory Committee (SAAC)
SAAC is a group of student athlete leaders that strive to represent the voice of the athletes both on campus, in our conference, and in the community.
SAAC tries to display a positive image of Eastern Athletics through their various events, including fundraisers, community service projects, and activities that unite members of all of Eastern's 16 intercollegiate teams.
Must be an athlete in a varsity sport to be a member.
The Ultimate Frisbee club, affectionately named the Eastern Exiles is open to all students. Unlike other sports, we are able to play all year long which gives many opportunities to learn and grow as an ultimate player. Each week we hold practices. During the fall and spring semester we travel to one or two ultimate tournaments. We also host one tournament during the fall and spring. Ultimate Frisbee is played on a field about the size of a soccer field. Each team has seven players on the field and the objective is to pass a disc amongst your teammates until someone catches it in the endzone for a score. Ultimate Frisbee is a unique sport because it combines different elements from other sports, making it enjoyable for all. Around campus, the group plays the relaxing game of disc golf, pickup games, and encourages others just to throw around for fun.
Wilderness Adventure and the Great Outdoors (WAGO)
WAGO leads off-campus adventures that are focused on encountering nature and being active. Such adventures include hiking, rock climbing, snowboarding/skiing, camping, surfing, and many more.
Student Body Advocates
Student Activities Board (SAB)
SAB Plans, organizes, and facilitates numerous events for EU students throughout the entire year.
Application process to be a member, volunteers welcomed throughout the year.
Student Government Association (SGA)
SGA gives students the chance to be more involved in policy making, procedural structure and decision making. Members of SGA give students a voice on committees around campus as well as voicing the concerns of fellow classmates on campus.
For More Information Contact:
Ben Howard
Assistant Dean of Residence and Student Life
Office: Walton 5
bhoward@eastern.edu
610-225-5575