Featured Alum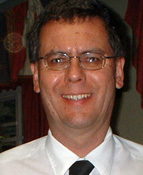 Luke Pretorius '08, MA Organizational Leadership
Cathedral of the Anglican Diocese of St. Mark the Evangelist
Anglican Church of Southern Africa
Luke Pretorius, a 2008 MA Organizational Leadership graduate of the South Africa Cohort, has been appointed the first Dean of the new Cathedral of the Anglican Diocese of St. Mark the Evangelist in the Anglican Church of Southern Africa. The Southern African Anglican Church includes South Africa, Namibia, Angola, Mozambique, Lesotho, Swaziland and the Islands of the Southern Atlantic Ocean: St. Helena and Ascension. The Diocese of St. Mark the Evangelist is situated in the northernmost corner of South Africa and borders with Botswana, Zimbabwe and Mozambique. The northern half of the Kruger National Park also falls into this Diocese. The Diocese extends to the outer reaches of Pretoria. 
The existing church of Christ Church, Polokwane (formerly Pieterburg) will on June 18 be made the Cathedral, and Luke Pretorius will be inaugurated as its first Dean. An Anglican Cathedral exists as the primary church within a Diocese and is expected to lead by example and provide training and encouragement to the other churches of that Diocese. This implies that a Cathedral is a working church that takes a lead in all matters of spiritual and socio-political significance in the Diocese. As such it functions as the "seat of the Bishop" -- the "cathedra" -- and becomes a place of teaching and training for the Diocesan Bishop.
The Dean is the next in command in the Diocese and plays an important role in leading the ministry of the Cathedral to the host City and wider community, and in supporting the ministry and role of the Diocesan Bishop.
Luke moves from his present parish, situated in Tzaneen and covering some 20,000 square kilometers of territory, to Polokwane in May in order to make the final preparations for the start of this new chapter in the life of the Diocese.
Testimonials
Beau Abdulla
MA Organizational Leadership, Class of 2014
Global Program Advisor on Sustainability | Living Water International
"Impactful, relevant and manageable."
"I have grown spiritually and professionally through the Eastern MA Organizational Leadership program.  As the country director for an International NGO, I find the courses to have been tremendously helpful and relevant.  While working full-time and having family responsibilities, the Eastern MA program has been challenging but very manageable."
Anu George
MA Organizational Leadership, Class of 2014
Director, National Interventions India | International Justice Mission (IJM)
"The subjects add a great amount of value to my constant learning as a leader and equip me in many ways."
Personally I have found this course and its content extremely useful especially as it greatly complements the leadership role that I now have with a diverse project in International Justice Mission. The subjects add a great amount of value to my constant learning as a leader and equip me in many ways by providing insights on Christian leadership, exercises on accounting and finance, discussions and reflective studies with many from similar roles across similar organizations, opportunity to discuss leadership and the many faces it represents in different organizations, interaction and exposure to various organizations, nationalities that have helped me understand and work with the complexities in organizational structure across cultures.
Pablo C. Villeda
MA Organizational Leadership, Class of 2012
Vice President of Regional Operations, Latin America |International Justice Mission (IJM) 
"The Masters in Organizational Leadership at EU provided me with several frames of reference on leadership that I had not considered before."
It helped me understand the dynamics of my organization and to identify how I could make a better contribution. The courses' content and reflections exposed areas in my life in which I needed significant transformation in order to lead my teams with integrity and efficiency.
The deep interaction with professors and other students is very enriching. I feel I learnt as much from them as I did from the courses' content; it really felt as mutual learning.
Whether you are in a situation in which you will lead by position, by influence or by expertise you will really need a holistic set of skills and this program will provide you with that. It has a good balance of courses which help develop the whole of what a Christian leader should have: practical skills (finances, research and evaluation), analytical skills (strategic thinking, change management) and soft skills (human resources, spiritual formation, leadership).
I strongly recommend this program to anyone who is interested in leading.