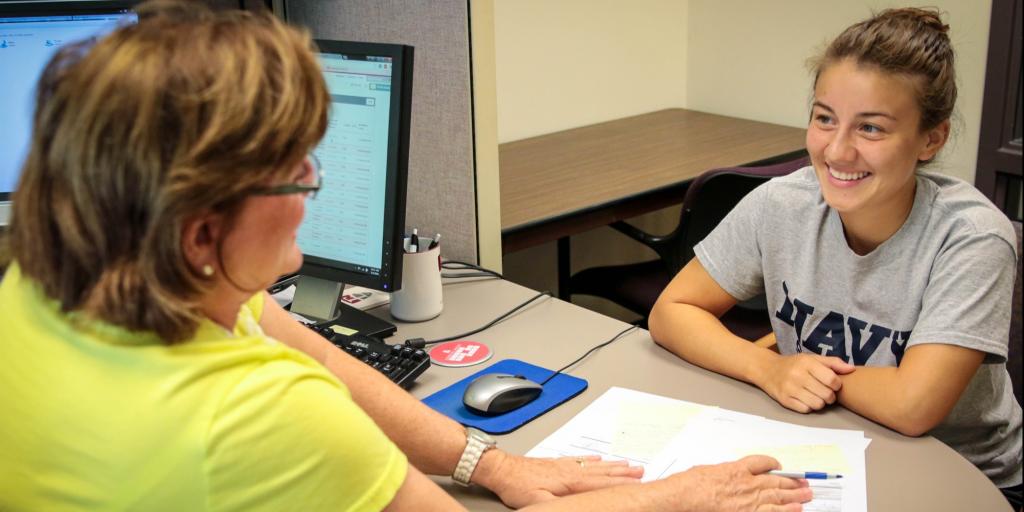 Writing Center
Located in the Cushing Center for Counseling and Academic Support, Walton Hall 205
If you've ever said, "I wish someone else were available to look at this paper before I hand it in" or "I wonder if my writing will make sense to anyone else," then the Writing Center is for you!
At the Writing Center, writing assistants work with students in a personal, one-on-one environment, helping students improve writing basics such as punctuation, structure, and documenting sources. In addition, they identify areas of strength and weakness, and solve problems with written expression. The goal is to help students improve their writing skills and become more proficient in reviewing and revising their own work.
The goal of the Writing Center is to help students improve their writing skills and become more proficient in reviewing and revising their own work.
Access the Writing Center
During the summer, the Online Writing Center for undergraduate and graduate degree-seeking students is able to provide online support for all your writing needs! Whether you want to send and receive feedback through email or through a Zoom chat, we are here to help! We offer help throughout the entire writing process, whether you're on the first draft of a 10 page paper or the third draft of a reading response! 
To submit your paper for asynchronous feedback, please email a Word draft to euwrites@eastern.edu and fill out this Google Form. When using this service, Please allow a minimum of 48 business hours (not including weekend hours) for the turn-around of an average-sized paper of 7 pages or less.
To schedule a Zoom session, please make an appointment on our Google Calendar here, send your paper to euwrites@eastern.edu, and fill out this Google Form!
If you have any questions, please contact us at euwrites@eastern.edu, or contact John Nordlof, the Writing Center Director at jnordlof@eastern.edu.
Our Mission
The Eastern University Writing Center is committed to equipping students with lifelong writing skills and, accordingly, desires to facilitate student learning rather than merely to "edit" student papers. We have a knowledgeable, enthusiastic, and compassionate staff who enjoy talking to students about their ideas and writing. In fact, you can visit the Writing Center at any point in your composition process--from brainstorming to documenting sources to final editing!
The Writing Center staff is happy to see students on either a drop-in or appointment basis. Please call the Writing Center at 610-341-5884 or stop by during our hours.