This email was sent by President Matthews to the Eastern Community in December 2021. 
Dear Eastern Community,
It's December! This is the last month of the calendar year and the last month of our fall semester during which we have written each month to introduce another core value. So far, we've explored E – Excellence, A – Authenticity, and S - Stewardship. You can read descriptions on this webpage. This month we're looking at T - Thoughtfulness.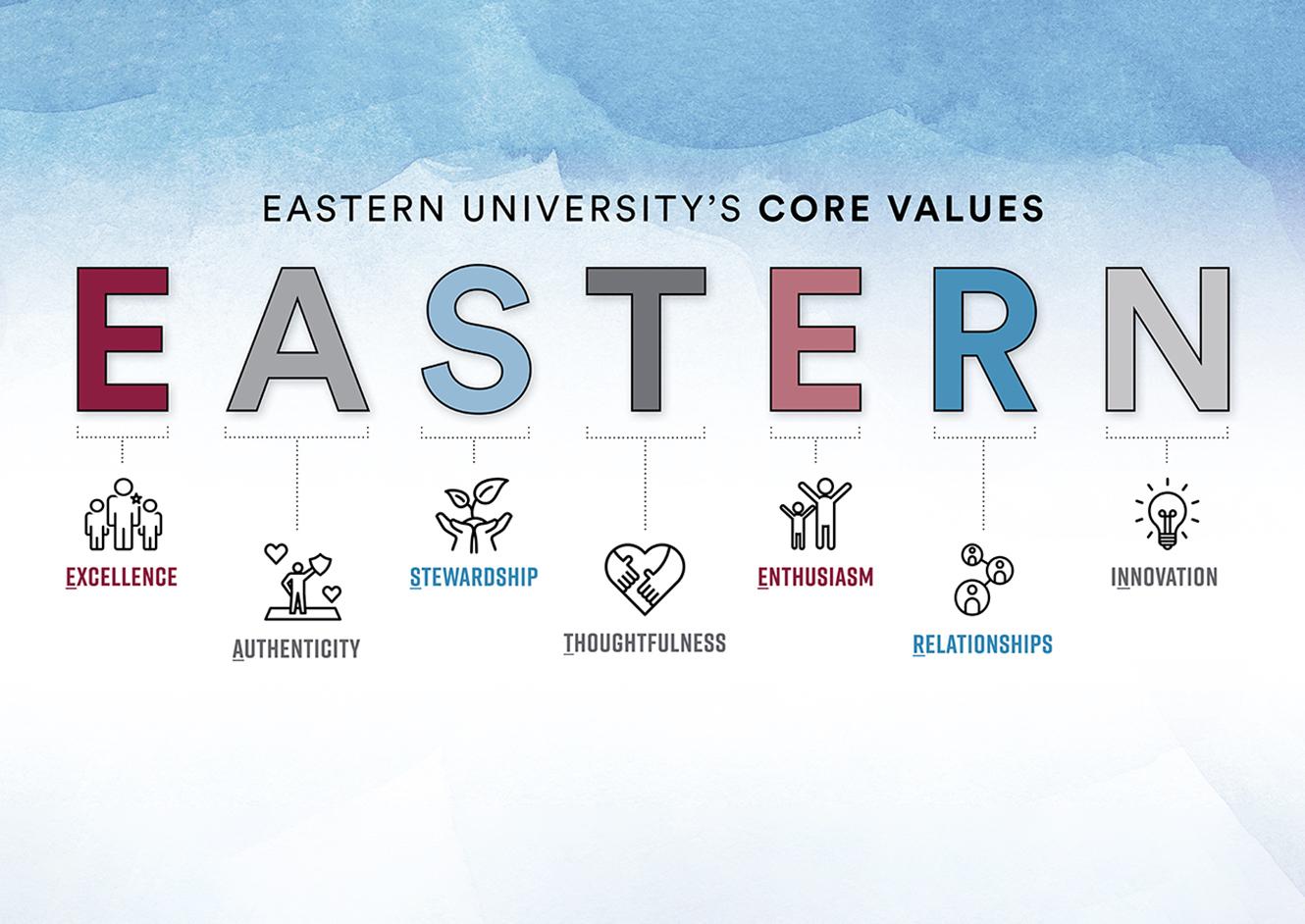 We've defined thoughtfulness this way:
T- Thoughtfulness:
Inspired by our commitment to truth, we think deeply, holistically, and critically about the world God has given us, benefiting from the insights offered by each individual in our rich learning community.
Proverbs 25:2 states: "It is the glory of God to conceal a matter; to search out a matter is the glory of kings." Curiosity and inquiry are a noble part of thoughtfulness. In Colossians 2: 2-3, Paul writes: "My goal is that you may be encouraged in heart and united in love, so that you may have the full riches of complete understanding, in order that you may know the mystery of God, namely, Christ, in whom are hidden all the treasures of wisdom and knowledge." Mystery and relationship with Jesus are part of the fulness of thought or thoughtfulness.
Our community has been richly blessed with so many minds that help us ponder, explore, and understand the beautiful mysteries of God and the world around us. Through such knowledge, giftings, and passions, we are able to catch glimpses of and engage with the "hidden treasures of wisdom and knowledge" Paul mentions. What glory and joy to uncover and cherish these treasures together within our vibrant learning community.
One rich example of the thoughtfulness of our community is the "Voices on Wonder" feature published in the Spring 2019 edition of EASTERN magazine. In this series, faculty and staff from different areas of specialty shared about times they experienced a feeling of wonder in their field. Their reflections express what it means to think deeply, holistically, and critically about the world around us.
Thoughtfulness is an integral piece of a healthy and thriving learning community. As we seek to grow in thoughtfulness together this December, I invite you to reflect on these questions below. You might consider journaling through these questions or using them for discussion at team or group meetings.
December Reflection Questions: T - Thoughtfulness
What are the connections between study, contemplation, faith, and thoughtfulness?

How am I currently practicing thoughtfulness in my life?

Have I observed thoughtfulness in our EU community? Where?

How can I contribute to a thoughtful community that seeks to understand the mysteries of God and creation?
I'm praying for us all as we explore Thoughtfulness and its implications this December. Thank you for bringing your thoughts and thoughtfulness to our Eastern Community. Have a wonderful December!
With appreciation, 
Ron
Dr. Ronald A. Matthews
President
P.S. Core Values Cards: We still have some extra core values cards in the President's Office if you don't have one yet and would like one. Feel free to place the card on your wall or near your desk to help familiarize yourself with these values. (You can also download and print it here.)