This email was sent by President Matthews to the Eastern Community in September 2021. 

Dear Eastern Community,
I'm excited to share with you that after a long process of prayer, reflection, and discussion, we as a community have finished revising our Eastern Core Values. Many of you have been part of this collaborative process which included a variety of working groups, and we are extremely grateful for your input and insight.
To help familiarize ourselves with the Core Values, I'd like to invite you to join us in focusing on one value per month with us over the next 7 months. 
Here's a glimpse at the core values, each of which corresponds to a letter in our name. You can also read descriptions on this webpage.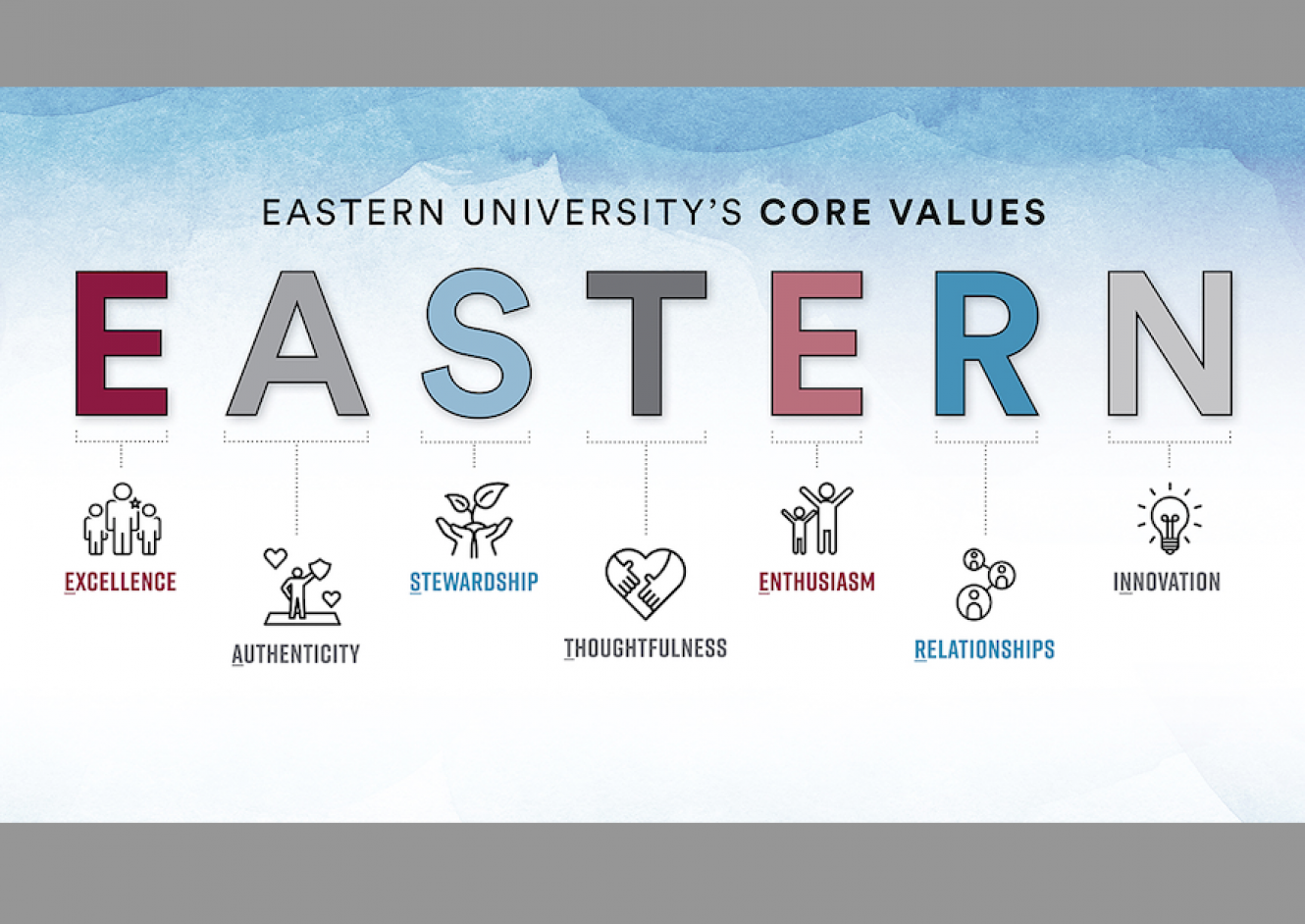 This week, we are kicking off the month of September with our first value: Excellence. We've defined it this way:
E - Excellence:
We strive to achieve the highest standards in serving our community through distinctive academic experiences, student services, and community life.
1 Corinthians 10:31 urges us, "Whatever you do, do it all for the glory of God."  What an honor to partner with God's redemptive work in the world through our work and learning here at Eastern.
To illustrate this value of Excellence, I'd like to share a story from the most recent EASTERN magazine of three Counseling alumni who came together to form their own local clinical practice. 
TJ Walsh, MA '16, the founder, was inspired by the arts and dreamt of creating a safe, therapeutic space for individuals that would be different from other counseling experiences. He decided to turn his dream into a reality by opening his own counseling practice, inviting fellow alumni Emily Jubeck, MA '16 and Tim Massaquoi, MA '15 to join him.
Excellence involves putting our whole hearts into the work we do, knowing that what we do matters to God and others. Whether you're a student, a professor, a staff member, alumni member, or a friend of Eastern, I invite you to reflect on these questions below throughout the month of September. (Perhaps consider using these for discussion at team or group meetings!)
September Reflection Questions: E - Excellence
Where do I see Excellence already around me?
How can I help bring Excellence in a greater way?
I'm praying for you as we press into this value and these questions this month. We are surrounded by so much Excellence already at Eastern, embodied in all of you. Thank you for energizing each other toward Eastern Excellence. Have a great month!
With appreciation, 
Ron
Ron Matthews,
President, Eastern University
 
P.S. Core Values Cards: Over the last few days, our office has been delivering cards around campus that highlight the new Core Values. Please be on the lookout for one in your campus mailbox. (You can also download and print it here.)
Feel free to place the card on your wall or near your desk to help familiarize yourself with these values. I hope they will encourage and motivate us throughout the year! If you did not receive a card, feel free to contact the President's Office or stop by to get one.