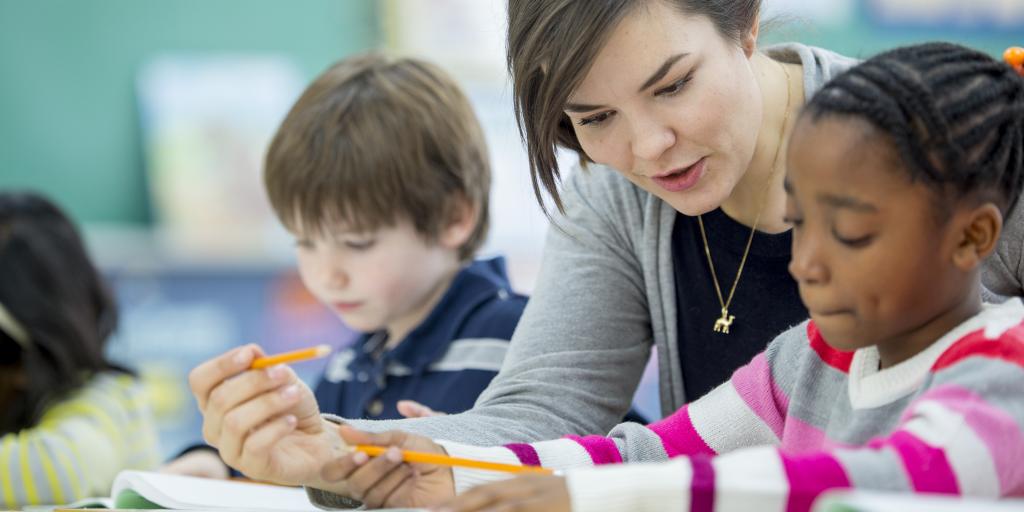 The program is designed for students who are interested in pursuing a BA in Elementary Education with certification in both elementary and early childhood education.  
Education majors may pursue a minor in any subject area by fulfilling appropriate departmental requirements for a minor although it is not required. 
Admissions & Retention Requirements
Tracking Sheet:
Course Requirements
For course descriptions, see our course catalog.
CORE COURSES (30 CREDITS)
| Course Number | Course Name | Credit |
| --- | --- | --- |
| EDUC 200 | Foundations of Education | 3 |
| EDUC 201 | Introduction to Special Education | 3 |
| EDUC 234 | Child and Adolescent Development | 3 |
| EDUC 301 | Assessment and Evaluation | 3 |
| EDUC 306 | Science and Health for Children | 3 |
| EDUC 308 | Teaching Social Studies | 3 |
| EDUC 310 | Mathematics for the Teacher | 3 |
| EDUC 328 | Early Childhood Education | 3 |
| EDUC 380 | Communication Arts | 3 |
| EDUC 382 | Methods of Classroom Management | 3 |
| EDUC 384 | Inclusive Education | 3 |
| EDUC 400 | Early Literacy Foundation | 3 |
| EDUC 408 | Education Seminar w/ Field Experience (110 hrs) | 3 |
| EDUC 412 | Teaching English as a Second Language | 3 |
| EDUC 417 | Multicultural Education | 3 |
CERTIFICATION TRACK CORE COURSES (15 CREDITS)
| Course Number | Course Name | Credit |
| --- | --- | --- |
| EDUC 410 | Student Teaching | 12 |
| EDUC 420 | Seminar in Student Teaching | 3 |
AUGMENTED CORE COURSES
| Course Number | Course Name | Credit |
| --- | --- | --- |
| ENGL 102 or 103 | College Writing (Skilled in the Written Word) | 3 |
| FAPA 300W | Arts Integration in the Classroom (Aesthetically Literate) | 3 |
| BIOL 105 | General Biology or any lab science (Knowledgable About the Natural Sciences) | 4 |
| PHYS 205 or CHEM 111/113 or 115 | Introduction to Physical Science (Knowledgable About the Natural Sciences) | 3 |
| GEOG 201 or ANTH 201 | World Geography or Anthropology (Knowledgable About the Social Sciences) | 3 |
| POLI 103 or 104 | American Government or State/Local Government (Knowledgable About the Social Sciences) | 3 |
| MATH | 2 Mathematics courses | 6 |
| ENGL | 1 English Literature course | 3 |
| HIST 201 or 202 | American History | 3 |
SPECIAL EDUCATION REQUIREMENTS (18 CREDITS)
| Course Number | Course Name | Credit |
| --- | --- | --- |
| EDUC 385 | Emotional and Behavioral Disorders | 3 |
| EDUC 386 | Autistic Spectrum Disorders | 3 |
| EDUC 389 | Early Intervention and Transition Planning | 3 |
| EDUC 401 | Literacy Foundations for Intermediate Grades | 3 |
| EDUC 402 | Reading and Learning Differences | 3 |
| EDUC 405 | Teaching Techniques for Low Incidence Learners | 3 |