Majors and Certifications
College of Education Mission Statement
Eastern University's Undergraduate and Graduate Programs in Education affirm the mission statement of Eastern University with its commitment to fostering academic excellence and professional training through innovative instruction, evidence-based practices, rigorous curriculum and comprehensive subject area knowledge.  We seek to develop individuals with a clear understanding of the University's mission of faith, reason, and justice so that they are capable of:
improving the learning of all students;

pursuing educational equity and justice through creative solutions;

demonstrating sensitivity to multicultural and global issues;

modeling Christian thought and action;

serving public and private institutions of learning as change agents.
Eastern University meets the needs of its students to assume positions in this society through undergraduate and graduate programs.
"Eastern equipped me for the field of Education. I was able to enter my student teaching placement and current position with confidence and encouragement from professors and my advisor."
Student Spotlight
Alexcia McKinney, DVEC Hannah Amgott Memorial Scholarship Winner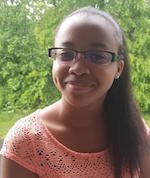 Alexcia McKinney, a junior Early Childhood Education major with English as a Second Language in Eastern University's College of Education, has been awarded a Hannah Amgott Memorial Scholarship from the Delaware Valley Education Consortium (DVEC). Alexcia is the fourth Eastern University student to ever win this scholarship in its 17-year history, which is given annually to selected promising students who will be entering their final year of study toward their education degrees. Winners receive a $2,500 scholarship.
Alexcia is a Goode Scholar, serves as an RA, a student worker in the College of Education, the President of Precious Movements, and a member of the Educational Honor Society Kappa Delta Pi. She's also a Sunday School teacher, has been a host with City Service Mission in Philadelphia, and a children's entertainer at Sesame Place.  
The Delaware Valley Education Consortium is made up of 26 colleges and universities in the Philadelphia area, including Eastern, who are dedicated to assisting students and graduates pursuing teaching careers. Each year, the scholarship applications are judged on merit, a strong academic record, excellent written communication skills, and genuine interest in and commitment to the field of teaching. The scholarship honors the late Hannah Amgott (Widener University) who helped launch the scholarship 17 years ago.