Upcoming Health Center Events
Weekly 
Motivational Mondays
Wellness Wednesdays 
Fit Fridays
April 
Sexual Health Workshop April 3rd 
Wellness Week April 24th - 27th
Follow our Instagram Page @healthcentereu
Fit Friday's: New Classes Offered Every Friday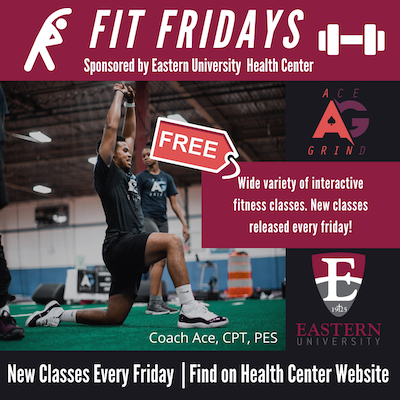 Access our digital library of various exercise classes ranging from bootcamps, to stretching/meditation classes. Find what works for you and stay tuned as new classes are released EVERY FRIDAY. These classes welcome All Fitness Levels, giving options for beginners as well as elite athletes. No equipment is needed, so you are able to participate from the safety of your dorm, home, or office! 
Trainer: Austin Carroll (Eastern Alumni), MBA, B.S. Exercise Science, CPT, PES
BEFORE participating in any group exercise class, please be sure to fill out your Physical Activity Readiness-Questionnaire and return it to Damona.wilson@eastern.edu. If you have any questions, please consult with your physician PRIOR to participation. 
EU Digital Fit Program
Follow along to complete 3 rounds of 6 different exercises, giving the complete full body workout experience. Typically following an Upper,Lower, Core/Cardio theme, you'll feel the burn in one muscle group, as the other is resting! 
Complete 4 rounds of 6 exercises, building up the "work"/rest time for the first 3 rounds to get to the top, and then coming back down for round 4. Gradually increasing intensity through the Ace Grind Pyramids gives your body enough time to learn and perfect the movements to receive maximum benefit.
In this format you will have 4 different stations where you alternate between two exercises 3 rounds starting at the most intense. Each exercise in the station has a different body focus, allowing for time efficiency in completing. The 4th and final round includes all 8 exercises, one time consecutively to complete the workout!
Ace Grind Flip Flop (40/20)
This format has 4 different stations alternating between two different exercises (A/B), but for different work periods. Round 1 is 40 secs of (A) and 20 secs of (B), round two the work time is flip flopped. The final round is all 8 movements one time consecutively to complete the workout. 
This format is the self care that your body needs in order to refresh and reset mind and body. Our Ace Grind style mobility routine primarily includes full body stretches with select balance and core exercises to help promote stability. Enjoy the low impact routine to cool down and recover, or to jumpstart the body for the day!