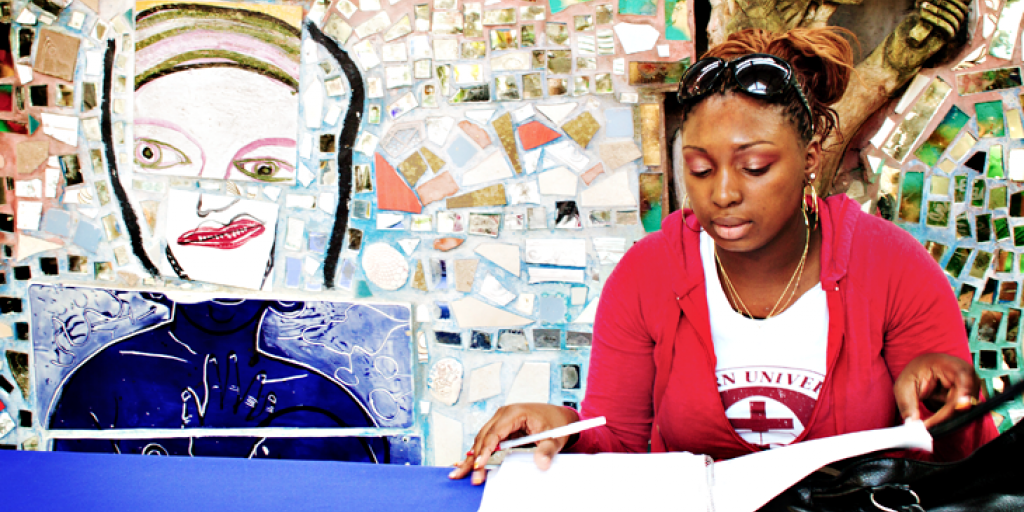 Enjoy the following stories about English students outside the classroom.
Experience Stories
Transforming an inner-city elementary school
The Barry School
Poet Nancy Thomas has mentored Emily Marks. Nancy writes: In 1992 a colleague of mine in the education department and I were exploring the question of social capital in the public schools of Philadelphia. What could Eastern do to expose our students to practical experiences, transformative relationships with teachers and children whose learning environment was radically different from theirs? Out of this question was born the Barry Elementary School/Eastern University partnership. While the education department focused on professional training, we initiated bringing fourth graders to campus three times a year for a day of learning workshops led by Eastern students, faculty, and staff. We were intentional about redistributing the resources we had more equitably and bearing witness to connections between faith and racial justice as we interacted with the children and learned about their world.
Out of these visits a weeklong summer enrichment camp was developed with EU students as counselors. Our students, like Emily Marks below, have acquired skills in collaborative leadership, imaginative and practical planning, perseverance, an understanding of developmental and affective factors in education, and  joy that comes of implementing a vision of the way things could be. 
Emily describes her experience as formative: "Working with the Barry children has been one of the most formative experiences in my life because their lives and learning opportunities were drastically different from my own. I had space to raise questions of justice, such as why there were not enough books and resources for all of the students in a classroom. When I saw what some of them ate for lunch, the problem of food distribution in the city was glaringly obvious, which is now what I would like to dedicate my life to eradicating. I am so thankful to Nancy for asking me to be part of this journey; she has alerted me to issues of justice that my voice may be able to change and has even set the groundwork for the Lord to show me His calling for my life."
Seeing a Shakespeare play brought to life at a local theater
People's Light and Theatre
Shakespeare's The Winter's Tale is a rich text for Dr. Lemay's interests in theology and aesthetics.  Dr. Lemay writes, "I am currently writing an article on the phenomenological use of gifts in this play, and I also teach an entire seminar on Shakespeare's The Winter's Tale. Holly is my teaching assistant, and we have been discussing different teaching philosophies as well as diverse pedagogical techniques to use in the classroom. I have really enjoyed my conversations with Holly in our weekly meetings and appreciated her real talent for leading class discussion."  
After seeing the performance and working closely with Dr. Lemay, Holly writes: It was a hugely rewarding (not to mention entertaining!) experience to go to the People's Light performance with our Winter's Tale seminar. I have been completely immersed in this play since August, when I started working with Dr. Blue to do research for the senior seminar. Through this process, I have not only gotten to pursue my interest in teaching by seeing what it takes to put together a course, but I have also begun discovering what it is to engage with a work in a scholarly way. It is a fascinating, new experience to take in so much scholarship on a single play and then to attempt to join that conversation as I begin to write my thesis on the same! Although it is certainly intimidating, Dr. Blue's insistence that scholarship should be a process of wonder has helped to form my understanding of what it means to be a student, a scholar, and a teacher.
Learning to write through Philadelphia's art scene
Writer and composition instructor, Rebecca Gidjunis visits the Magic Gardens with her students. Rebecca shares her stories about writing: As a kid, I was an avid reader.  I would get my hands on whatever books I could -- Shel Silverstein's poetry, a stack of my dad's Hardy Boys books, or instant classics like Roll of Thunder, Hear my Cry. I found a mysterious beauty in books -- the kind of beauty you can smell when you walk into a quiet library or a giant art museum.  
But as a budding writer, I was overwhelmed by the power of art.  How would I ever be able to create something so riveting, so moving?
When students enter my writing classes, they often have a similar experience of being overwhelmed by the prospect of writing something good. So I take advantage of the world that is right on our doorstep at Eastern University, and we head to Philadelphia's Magic Gardens, an incredible installation of tiled mosaics by community artist Isaiah Zagar. Sometimes, Isaiah comes out to chat with us about his work. "Making art is like choosing what you want to wear on a date," he says.  
And he's right: we have so much invested in the experience of creation that it's easy to get overwhelmed. As my students and I sit in the midst of these glittering shards of mirrors and china with our journals in hand, we realize that there is really only one way to begin, and that is to simply begin.
Trips like these to the Magic Gardens help demystify the writing process. The help us realize that inspiration is literally "breath," the holy spirit's infusing of the world around us into our art, our work.