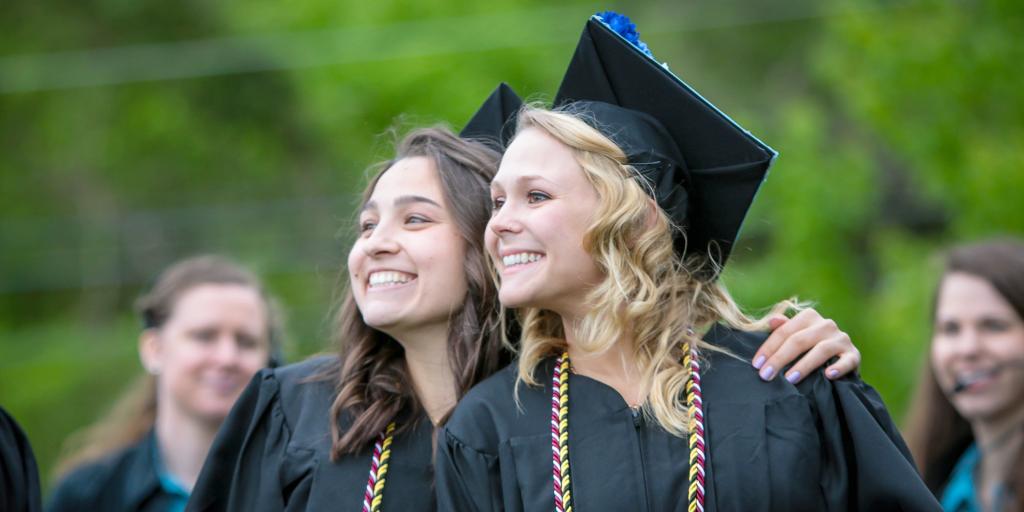 Katie Bubb
Spanish and Entrepreneurial Studies Major
Katie Bubb graduated from Eastern in May 2016 with degrees in Spanish and Entrepreneurial Studies. She currently works for the Ministerio de Educacion, Cultura, y Deporte of Spain as a language assistant in a bilingual school in Cordoba. Her job includes working alongside bilingual teachers to help them guide students in their English materials in subjects like Biology, History, Physics, Mathematics, and Music. She also works as a language and cultural amabssador of the U.S., preparing a variety of presentations and activities for students that teach them about American culture, holidays, and celebrations.
Katie shares, "Without a doubt, I can say that my time at Eastern and the relationships I built with my professors prepared me for any adventure God has planned for me!"
Lara Owlett
French Major, Spanish Minor
"Because the community at Eastern challenged me academically and spiritually, I felt confident to enter my chosen profession of teaching while also answering God's call on my life. Eastern's focus on faith, reason and justice has truly shaped the way I interact with the world and the way I present multicultural and global issues from the French-speaking world with my students. It is rare for a teacher in my region to reach the final round for this award. I feel especially honored to have this opportunity to represent my district."
Lara Owlett is one of twelve finalists for the Pennsylvania Teacher of the Year award. After being nominated, submitting an application and recommendations, and participating in a phone interview with the Pennsylvania Department of Education, her final step is to submit video recordings of her lessons. The winner will be selected in December.
Lara received a B.A. in French and a minor in Spanish from Eastern in 2009, and a M.Ed. in Multicultural Education/TESOL from Eastern in 2013. She currently teaches French in the Wellsboro Area School District.
Brittany O'Reilly
Spanish Major
"After graduating Eastern, I decided to move to Houston, Texas to really commit myself to being in an environment in which I would be using my Spanish. I packed up my car and drove down without a job or a place to live. But this time in life is for crazy adventures like this! I got a job as a customer service rep in the energy industry in Houston and spoke Spanish every day - all of my co-workers were Mexican and we did a decent amount of business with companies in Mexico so I made client calls and visits speaking only Spanish. I also found the best hole-in-the-wall Mexican restaurants and built relationships with people there and attended a Spanish-speaking church for a while. I structured my life here so that most days I actually didn't speak English. I have since moved on to a different position, one that requires my bilingual abilities on a more need-based level. Spanish is something I am so passionate about, something that feels so inherent to me (I often say I feel more "myself" expressing my feelings in Spanish than English) that I made an entire life-change to pursue. And so far I am thrilled with that change!"
Elizabeth Myers
-International Area Studies & Business Major
"I am the Head Study Abroad Coordinator at Travel & Education, and my job description includes: Promoting and organizing study abroad experiences for students in Castilla y Leon, Spain. Communicating details to students and responding to inquiries. Training and supervising interns in communications with students. Overseeing program coordination in Spain during the summer."
Thomas D'Adamo
-Spanish and Missions/Anthropology Major
"Eastern gave me the chance to combine two great majors. These studies, with the help of caring professors, equipped and empowered me to see the world through the eyes of cultures far different from my own. This was especially true when I had the opportunity to study in Peru, live with a host family, and return there as a volunteer during my senior year. I can honestly say that this has been the most enriching endeavor of my life."
Kara Stang
-Spanish Major & Education Certification
"Saludos!  Currently, I am working in Baltimore, Maryland in both a Middle and High School. My job title is Hispanic Achievement Liaison or Enlace para la Comunidad Hispana.  I work collaboratively with all staff from the school as well as Hispanic families and students to accelerate the academic achievement of all Hispanic students. My job requires of me to do any and everything possible to make sure that students are always being pushed to perform at the very top level and always encouraging them to look toward higher education. I not only serve as a communication link between the staff and families, but I also work toward facilitating the full involvement of Hispanic students and their families in many different activities both within and outside of the school. Additionally, I work to connect students and families to any resources necessary to promote social, physical, and emotional wholeness."
Ashley Kern
-Spanish Major & Education Certification
"I majored in Spanish and also received my certification to teach Spanish K-12 and ESL. I am currently teaching ESL to students in grades K-4 at Spring Grove Elementary School in York County, PA where I also advise the student council and hold a "homework club" for any current or former ESL student twice a week. I love my job and working with the Spanish speaking population as well as other minority populations in the district. In the summer, I travel and do missions work as much as I can!  I was in Costa Rica working with a child care organization called Roblealto. It was a great time to learn about what God is doing in other parts of the world as well as be immersed in Spanish again. Although I use it in my job all the time, I am still very immersed in English, so I love to get away to Latin America when I can, to serve and to experience life."
Valerie Ludwig
-Spanish Major & Education Certification
"Hola. I majored in Spanish and also received my certification to teach Spanish K-12 and ESL. I love being a teacher and being involved in a variety of activities with my students.  I was asked about being a class advisor and to help plan events for the students.  Last winter it became apparent that one of my senior students needed some serious attention in order to make sure she graduated.  Due to some unfortunate scheduling oversights, she was not scheduled for a class she needed to graduate and it was too late to add it.  We worked through a course by mail--(if anyone tells you that they are easy, they are just joking).  This endeavor pretty much encompassed all my free time in the spring---but watching her walk across the stage was more than worth it.  She was the first in her family to graduate high school--her mother could not have been more proud)!  This year, my job at York County School of Technology brings new challenges.  We have several students who are just beginning to learn English, so it is exciting to see their progress as the year kicks off.  I thank God for the fulfillment that He gives me through teaching and involvement in my student´s lives."