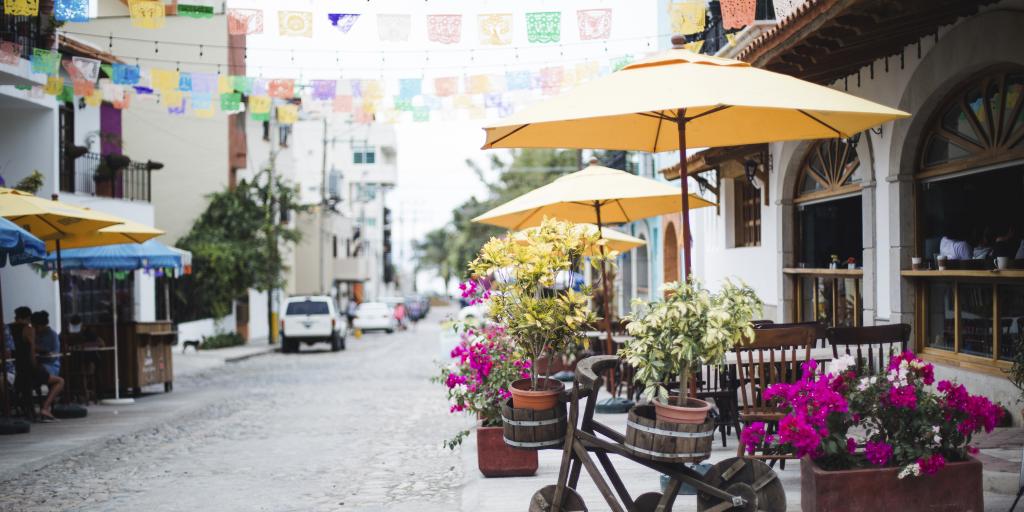 Design Your Own Study Abroad Program
Eastern has worked hard to make sure all of the programs with which we are affiliated are safe and accredited. We want to make sure that the level of academic excellence is maintained when a student studies abroad, and we also want to make sure the experience of every student is safe and secure. That said, the programs that we have ties with are all reflective of these values and should be considered very good options for any student. It is understandable, however, that a student may want to study in the country from which they came, or which has a special meaning to them. If this is the case, the students will work with Lori Bristol (lbristol@eastern.edu) of the Registrar's Office to design their program and make sure that it is safe, and acceptable.
Spanish Study Abroad Programs
Latin America Studies Program (LASP)
Through LASP students will not only expand on their knowledge of the Latin America and the language, but also submerge themselves into the culture and create relationships with the people. The students will stay with host families and become accustomed to the ways of life of the Latin American people. Students will come across difficult and challenging questions as they try to connect their faith with their life experiences they are facing. Both life and educational knowledge can be acquired through LASP.
The Center for Cross-Cultural Study (CC-CS)
CC-CS stands in the heart of the monumental and social centers of Seville, Spain; Cordoba, Argentina; and Havana, Cuba–each a perfect point of departure for stepping into a new world and for crossing over to a new culture. "As a pioneer in study abroad, CC-CS knows what it takes to make your experience academically, culturally, and personally rewarding. With a strong dedication to academic integrity and excellence, and an emphasis on each student's personal growth, CC-CS had developed a reputation for the superior quality and value of our programs.  As you learn more about us, you will get a sense of the excitement and wonder of living and studying in a foreign culture."
Universidad de las Américas Puebla (UDLAP)
Founded in 1940 in Mexico City with the name of Mexico City College, the UDLAP is "defined as a learning community that is pluralistic and inclusive, seeking both personal and professional development in all of its members." It consists of a student population of about eight thousand students in the undergraduate and graduate programs. UDLAP, now called the Universidad de las Americas, is located in Puebla which is one of the most dynamic urban centers in Mexico. Some places students will visit include La Plazuela de los Sapos, la Catedral de Puebla, el Barrio del Artista, el Barrio del Alto, el Barrio de San Francisco, the crafts market called "El Parian", el Centro de Convenciones , the Museo Amparo, the Museo Guadalupe, the Museo de Arte San Pedro, the Capilla del Rosario, los Fuertes de Loreto y Guadalupe, the Museo del Ferrocarril, and the Casa de Cultura de Puebla. For communicative purposes in Puebla, students will have access to telephones in their dormitorios as well as several computer labs found on UDLA campus some of which are open 24 hours a day.
French Study Abroad Programs
University of Strasbourg: Strasbourg, France
Spend a semester in Strasbourg, France with Accès Study Abroad.  Strasbourg, a beautiful metropolitan area in northeastern France, is the capital of the European Parlement and the Council of Europe.  Whether you live with a host family or a university residence at the University of Strasbourg, you will see daily improvements in your French.  All of the coursework is in French with an intensive language review and prep at the beginning of the fall semester.  While studying, you can intern at European non-profit organizations. Also, Accès Study Abroad organizes study tours to sites all over Eastern France, including Haut Koenigsbourg castle, Le Struthof nazi concentration camp and art nouveau sites in Nancy.  Strasbourg is a beautiful UNESCO world heritage site, and just a short bike ride away from the German border.  
University Studies Abroad Consortium: Pau, France
The University Studies Abroad Consortium is a program in Pau, France, where students study at the University of Pau.  Pau is located in the Béarn region of the Atlantic Pyrénées in southwestern France.  Students live with host families or in university residence halls.  Students may be of any language level and are tested upon arrival for placement.  Courses required are 12 credits in French language and literature as well as 3-6 credits in electives.
Student Testimonials from Abroad
Ben De Mora: Seville, Spain
"Monos. Montañas. Madrid. Oh my!  Studying in Seville, Spain was a phenomenal experience. If you're looking for diversity, it's here. Seville is located in Andalucía, one of the 17 different autonomous regions that divide Spain, a country that is roughly the size of Texas. These regions might as well be considered miniature countries of their own due to their salient cultural differences. In fact, if you're traveling to a northern region such as Barcelona, don't be discouraged if you can't understand the language... it's not Spanish, it's Catalán!"
Randi Pickett: Strasbourg, France
"Studying abroad in Strasbourg was simply magical. The program, thanks to a great director, is filled with cultural activities that included accordion lessons, traditional dancing, ancient castles, and incredible food. Getting involved with a church, small group, and a university dorm greatly improved my French and helped me understand the French culture. I loved it so much that I am going back to check out ministry opportunities there."
Nadia Lawrence: Seville, Spain
"I'm studying in Seville, Spain. I wanted to study abroad because I wanted to improve my Spanish and learn about a new culture. I love Sevilla! It's a beautiful city and it has so many things to do. My time abroad has been fantastic, and my program, CC-CS, is very good. My professors are nice and so helpful. My Spanish has improved greatly since I came here. The Spanish family that I live with is very pleasant and funny. Living with a Spanish host family has played a major role in improving my Spanish overall. Even though at times I doubt my ability to speak, or understand someone with a different accent, I always try to focus on understanding the main idea. While abroad, I've learned to not worry so much about speaking perfectly but instead to speak the best I can. And the food here is magnificent! My favorite is churros con chocolate-- a fried-dough pastry snack served with thick hot chocolate for sipping and dipping."
Chrissy Massaro: Puebla, Mexico
"The Language Department at Eastern has helped me to achieve so many of my goals. For years, I have wanted to really master the Spanish language and Eastern made it possible. In the fall 2010 semester, I studied at UDLAP in Puebla, Mexico and had a very rich cultural experience. I made so many friends that helped me to improve my Spanish and enjoy Mexico. The UDLAP was a great school and had a new Pre-Med internship that was perfect for me since I want to go to graduate school to be a Nurse Practitioner. I had hands on experience in local hospitals that taught me more than I could ask for. This program also allowed me to finish my Spanish minor and study my Psychology major simultaneously. Dr. Stewart was a huge help through the whole process, she is definitely one of the best Spanish professors I have ever had. I highly recommend involving yourself in the EU language department and choosing a study abroad program that will give you a rich cultural immersion experience like mine."