Auditions for Big Fish- Small Cast Edition: November 29, 2023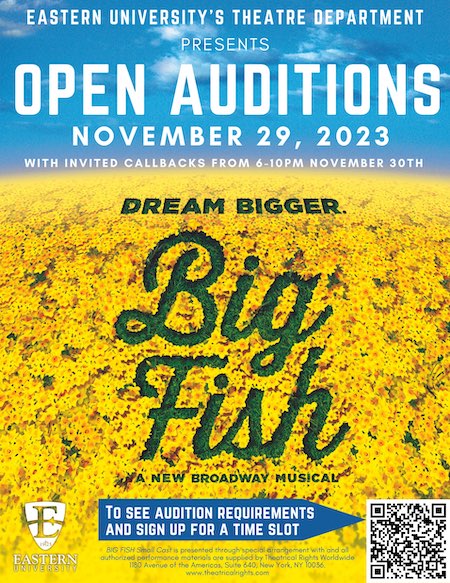 Eastern University's Theatre Department, along with Director Dr. Valerie Flower, Music Director David Schwartz, and Choreographer Jessica Bostock are excited to announce auditions for the March 2024 production of "Big Fish–Small Cast Edition." Book by John August and music and lyrics by Andrew Lippa.
All casting and open crew positions for Big Fish– Small Cast Edition are available to anyone, no exceptions.  We are seeking a diverse ensemble of artists who do not necessarily look like a "traditional" family.  Casting is open to students, faculty, staff, and community members of all genders, ethnicities, and body types.
Auditions for Big Fish will take place between 6-10pm on Wednesday, November 29th in McInnis Auditorium.  Those auditioning should sign-up for a 5 minute time slot. If you would like to audition, but are unavailable on November 29th, please contact Dr. Flower at valerie.flower@eastern.edu to make alternate arrangements. 
Please prepare a song (approx. 32 bars of music or less) in the style of the show and a 1-2 minute monologue, both post-1970.  An accompanist will be provided, so please bring sheet music for the accompanist to play. 
Character descriptions and more about our production of Big Fish- Small Cast Edition.
A headshot and resume at the audition are appreciated but only required for theatre majors and minors. 
Callbacks for Big Fish will be held on Thursday, November 30th from 6pm to 10pm, Callback notifications will be sent out by November 30th at 8am. There will be a dedicated dance section of the callback process. 
Please be prepared to submit all known conflicts at the time of auditions. The schedule will be based on both performer and production staff availability and most actors will not be needed at every rehearsal. A full cast read through is scheduled for December 3rd from 1pm-6pm. Eastern University's Theatre Department traditionally rehearses on weekdays from 6-10pm and Saturdays from 9am-5pm. This rehearsal schedule will begin on January 8th, after Eastern University's winter break. Tech week for Big Fish will be held Saturday, March 9th through Wednesday, March 13th, no conflicts will be accepted for these tech dates. 
Performances will take place March 14th at 10am, March 15-16th at 7pm, and March 17th at 2pm. 
If you have additional questions or would like to see a list of suggested audition songs, contact Theatre Program Coordinator, Bethany Miller at bethany.miller@eastern.edu
24-Hour New Play Workshop: January 2024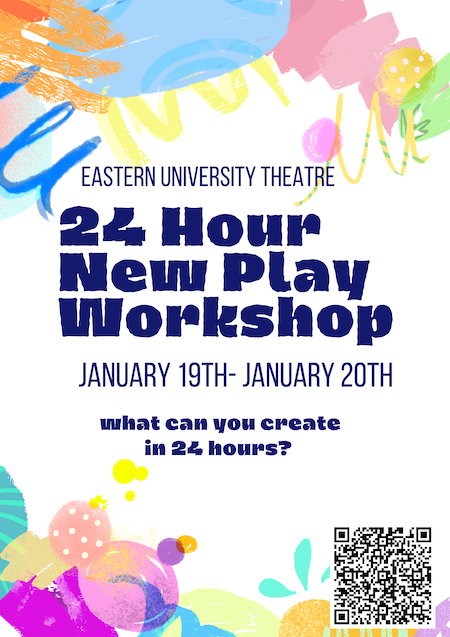 The time has come for EU alumni and students to sign up for Eastern Theatre's annual 24 Hour New Play Workshop happening in January 2024!  
What is a 24-Hour New Play Workshop?
The 24 Hour New Play Workshop (24 NPW) takes place over the course of 24 hours, where participants are placed into teams with the task of creating a brand new play to be performed at the end of the 24 hours. 
Teams consist of one writer, one director, and two actors who will be collaborating together to create a brand new short play from brainstorming to rehearsal to production. Throughout the event, teams will be thrown "curveballs" to provide creative challenges and more opportunities to collaborate in making something awesome.
This event will culminate with a performance that is open to the public at 7:00pm on Saturday, January 20th.
The Run-Down for this year:
Date: Friday, January 19th - Saturday, January 20th, 2024
Time: 7:00 pm on Friday until the end of the show on Saturday - (show normally ends around 9:15pm on Saturday)