Why Major in Political Science?
Political Science emphasizes the study of political institutions and processes of politics in historical, contemporary, domestic, foreign, and international contexts. This study prepares students for employment in various fields such as local government, nonprofits and NGOs, labor organizations, as well as lobbying and intergovernmental offices of businesses. Political Science is further a gateway to advanced studies in law, international relations, global studies, advocacy, public policy, public administration, international development and more.
Why Eastern?
Faith and Justice Integration: We explore the interplay between the biblical call to pursue justice and understanding contemporary political life from the perspectives of faith, reason and justice.
Faculty and Student Organizations: Faculty partner with student organizations, such as the Political Activism Club, American Enterprise Institute, Young Democrats, the Young Americans for Liberty and Pi Sigma Alpha, to create a climate of political awareness as well as thoughtful and considerate engagement.
Model U.N. Participation: Students may participate in the Model U.N. sponsored by Harvard University as well as join the Model United Nations (MUN) Club, which plans and hosts its own MUN conference for local high school students.
Internships: Internships are available with members of Congress, Congressional Black Caucus, World Vision, Hope International, the White House, US General Service Administration, in Pennsylvania state government, and various political campaigns as well as numerous issue oriented NGOs.
Hands-On Experience: Proximity to the City of Philadelphia and the state's capital, Harrisburg, PA, provides ample opportunities for hands-on experience in lobbying, field trips and engaging in social activism.
Study Abroad: Students further often study abroad in Spain, Oxford, England, Denmark and Uganda, East Africa.
Graduate in 3 Years!
Graduate in 3 years, lighten your course load, or easily double major with Eastern University FastPass.
Alumni Spotlight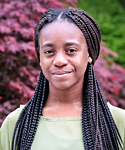 "The Political Science program at Eastern University exposed me to my passion for human rights. The professors really guided me to explore my research interests and gave great advice to help me not only make the best of the program but also become the best person I could be. I learned so much from my professors and classmates and both the academic and social experiences were amazing."
 Lola Obadina, EU Class of 2017
Current Student, MA in Human Rights Studies, Columbia University
Career Options
Our Graduates Are Now Working... 
As lawyers, teachers, professors, directors, law officers, intelligence officers, and program specialists.
With organizations such as Equal Justice Initiative, Philabundance, the Delaware County District Attorney's Office, the U.S. Air Force, and General Electric.
Graduates are admitted for continued studies through the Fulbright Scholars program, and to Oxford University, Columbia University, New York University and John Hopkins University, among others. 
View More Political Science Career Options