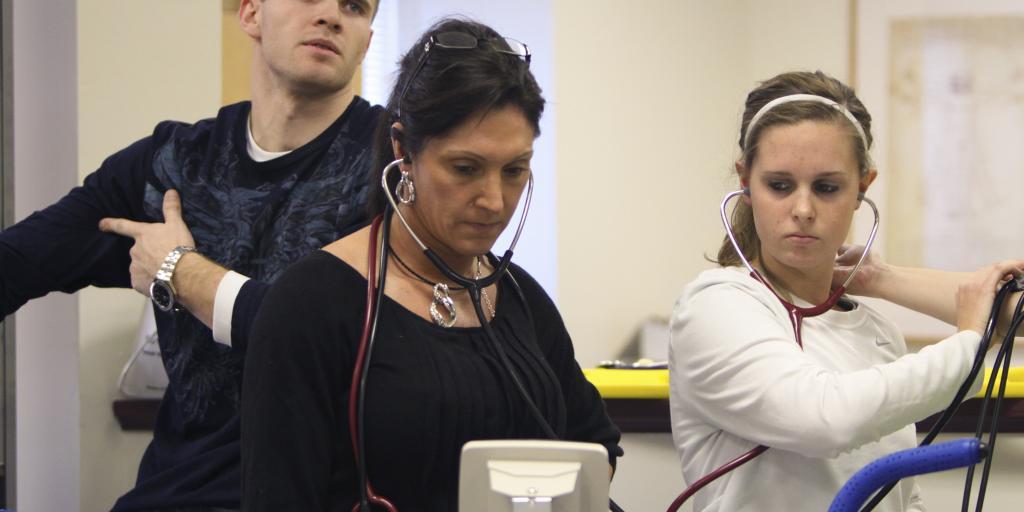 Why Major in Exercise Science?
The BS in Exercise Science program at Eastern University prepares students for entry-level exercise science careers, involving people on a broad continuum of health and physical fitness and in a wide variety of settings. The Exercise Science program is formed on the biological and physiological sciences and focuses on human work, which encompasses recreation, athletic competition, occupation, and medical therapy.
The rigorous Exercise Science curriculum at Eastern University builds upon the foundational study of health, fitness concepts, and nutrition to lead students through the more advanced study of exercise biochemistry, physiology, and prescription in populations that range from elite athlete to end-stage heart failure. The technical standards set forth by the program establish the essential qualities considered necessary for students to achieve the knowledge, skills, and abilities established by the American College of Sports Medicine (ACSM). The program is enriched by major requirements that intentionally attend to verbal and written discourse in the discipline, and research literacy. Read more about the ACSM Certified Heath Fitness Specialist Scholarship.
Recent graduates have careers as certified athletic trainers in a variety of settings, including high school and college athletics, as well as corporate rehabilitation, in personal training, corporate fitness, and health promotion settings. Others are pursuing advanced degrees in exercise science or physiology, nutrition, physical therapy, occupational therapy, nursing, or medicine.
"I will always appreciate the mentorship provided by my professors and the genuine care they brought forth every day throughout the course of my degree program. Eastern also provided me with the opportunity to intern with the Strength and Conditioning Department at Villanova University, which was the true beginning of my Strength and Conditioning Coach career. The experiences and people that I met through Eastern University progressively developed my work ethic and character, which I will always be grateful for."
Why Choose Eastern?
Highest Accreditation: Accredited by the Commission on Accreditation of Allied Health Education Programs (Exercise Science) and the Commission on Accreditation of Athletic Training Education (Athletic Training).
Faculty: Dedicated faculty bring integrity, expertise, commitment and Christian faith to the classroom. Faculty research includes obesity, low carbohydrate diets, body image, vascular responses to physiological stress and pathophysiological states, exercise-induced cardioprotection in a model of spontaneous hypertension.
Facilities: State-of-the-art laboratory houses a variety of equipment: Wingate Peak Monarch Cycle Ergometer and software; Cardiac Science Q Stress treadmill; metabolic cart; hydrostatic weighing tank.
Curriculum, Practicum and Internship: Each program is enriched by major requirements that intentionally attend to verbal and written discourse in the discipline and research literacy. Students have opportunities to participate in practicum or internship experiences to gain proficiency in the clinical skills of their respective disciplines.
Preparation for Graduate Studies in Occupational and Physical Therapy: Regular, comprehensive, and individualized student advising of all pre-professional students ensures the required course study and timely submission of the graduate application.