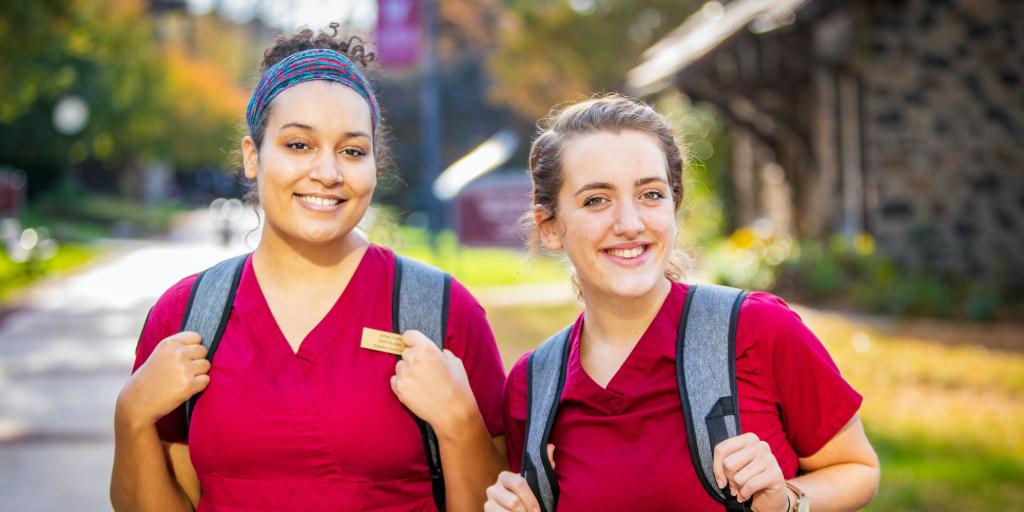 Why Major in Nursing?
Eastern University's Bachelor of Science in Nursing (BSN) traditional program provides exceptional academics, personalized faculty attention, and diverse clinical experiences. This is a full time, four-year program (8 academic semesters).  Graduates are prepared for successful completion of the NCLEX and licensing as a registered nurse.  
Our students develop and practice clinical judgment and decision-making in the School of Nursing's state of the art Nursing Resource & Simulation Lab while also gaining real world experiences in a wide range of clinical experiences within the community. 

Students complete over 600 hours of clinical experiences throughout the curriculum focused on a range of specialties including adult health, maternal/newborn, pediatrics, behavioral health, and community health nursing. 

Courses designed to emphasize leadership development and nursing research prepare graduates for their roles as professional nurses. Throughout the program, students will work with exceptional faculty and staff who are dedicated to guiding and mentoring them throughout the educational journey. 

Our small class size assures that each student has the opportunity to receive individualized attention to support academic success.

Christian values and ethics are incorporated into the program, and our faith-based community enriches student learning.
"The nursing program at Eastern helps you understand the disease process, but most importantly helps you see the patient and family as whole beings: body, heart and soul. Everything I learned at Eastern I still use in my practice today."
Why Choose Eastern?
Outstanding Licensure Exam Pass Rates:

The NCLEX-RN pass rate average 

for all Eastern University BSN students

 over the last five years is 95% (for first time candidates for licensure as a Registered Nurse.) Our dedicated faculty excellently prepare Eastern students to successfully sit for the NCLEX-RN exam and achieve licensure.

Expert Faculty; Personalized Attention: 100% of our full-time faculty hold at least one specialty certification and all are actively engaged in clinical practice within their specialty. With our small class sizes and 15:1 student to faculty ratio, students receive personalized attention and support from their professors. 
Nursing Resource & Simulation Lab: Our state-of-the-art nursing lab provides opportunities for students to learn through simulated hospital and practice experiences.
Clinical Experience: Students receive comprehensive hands-on clinical experience at regional hospitals, health care facilities, and community settings. Eastern nursing students have been awarded highly competitive paid externships at prestigious healthcare agencies, such as Children's Hospital of Philadelphia.
Student Nursing Organizations: Eastern offers active chapters of the Student Nurses Association of PA (SNAP) and Delta Tau Chapter-at-Large of Sigma Theta Tau International Honor Society of Nursing.
Holistic Endorsement: The School of Nursing at Eastern is endorsed by the American Holistic Nurses Certification Corporation. 
Well-Rounded College Experience: At Eastern, you can major in nursing while also competing as an NCAA DIII athlete, being part of the Leadership Fellows Program, or enjoying a wide variety of enriching clubs and activities. You'll gain the highest quality academic preparation while also making the most of your college experience. 
"Eastern's NCLEX-RN pass rate average for the last five years is over 95%, making Eastern one of the highest-scoring nursing programs in the state."
State-of-the-Art Nursing Lab
Learn more about Eastern's Nursing Resource & Simulation (NRS) Lab!
Accreditations and Approvals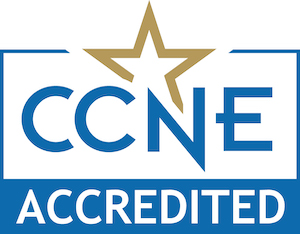 The baccalaureate degree program in nursing at Eastern University is accredited by the Commission on Collegiate Nursing Education (http://www.ccneaccreditation.org).
The baccalaureate program in nursing is fully approved by the Pennsylvania State Board of Nursing.
State Authorizations
Please check the State Authorizations page to determine if Eastern University's program fulfills your state credentialing requirements. Students who seek similar credentialing in states other than Pennsylvania are advised to contact the appropriate credentialing agency within their home state to seek information and additional guidance about credentialing in your state of residence. Additional state or local requirements may exist for field placements or practica in this state. Out-of-state student placements/practica cannot be guaranteed by the program or the College of Health and Sciences. Students are responsible for following all state and local requirements and regulations for their field placement/practica coursework.