Eastern's Master of Science in Nursing (MSN) Nurse Educator program prepares graduates to transform health and nursing education within a variety of settings including higher education, healthcare organizations and throughout the global nursing community. Advance into a wide variety of careers through training in the application of research, innovative teaching technologies, and individualized practicum experiences. 
Why Choose Eastern's 100 % Online MSN Nurse Educator Program?
Convenient Online Format:  Fully online, part time program offered in 7-week sessions using a cohort model allows busy students to maintain employment.
Personalized Practicum Experiences:  Tailor your practicum to fit your career goals! Students complete 144 hours of guided practicum experiences in a variety of settings including healthcare, higher education, and community organizations. 
Expert Faculty: Our carefully chosen professors bring years of experience to the classroom, as well as a passion for devoting individualized attention to each student. 
Accredited, Carefully Designed Curriculum: Our program is accredited by the CCNE and our curriculum is based upon key knowledge areas and best practices. Learn more.
Certification-Ready: Graduates are equipped to take the NLN Certified Nurse Educator (CNE) Exam and may choose to take the Advanced Holistic Nurse Board certification exam (AHNCC).  
Transformative Christian Values:  Prepares nurses to transform nursing education, practice, and research through a Christian worldview.
Meaningful Cohort Community:  The cohort model engages students in a meaningful learning experience as part of an online community of learners.
"Eastern has some of the most outstanding professors. They go above and beyond to aid their student's growth. Not only do they support students academically, but spiritually and emotionally. The faculty have shaped my nursing practice and me as a person in profound and beautiful ways."
Career Options & Advanced Degrees
Career Opportunities:  Graduates are prepared for Nurse Educator positions in hospitals, long term care, community and public health settings, academic institutions, healthcare business settings, consulting, health planning, pharmaceutical companies, managed care, quality improvement, policy development and marketing.
Opportunities for Advanced Degrees: An MSN in Nursing Education may also be an entry point to Advanced Practice degrees such as a Nurse Practitioner, Nurse Anesthetist, or Nurse Midwife, and doctoral degrees such as PhD, DNP, or EdD.
Important Information
State Credentialing Requirements
Eastern University's MSN Nursing Education Program program includes a required practicum.  Prospective students residing outside of Pennsylvania and/or intending to complete a practicum outside of Pennsylvania, should contact the  State Board of Nursing in their respective state to determine practicum restrictions prior to enrolling into the MSN Nursing Education Program.  Please refer to the State Authorizations page to secure state specific State Board of Nursing contact information.
Accreditation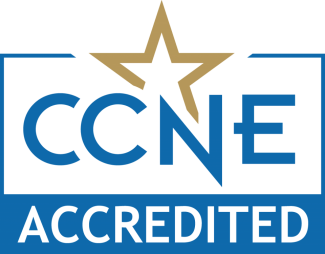 The master's degree program in nursing at Eastern University is accredited by the Commission on Collegiate Nursing Education, 655 K Street NW, Suite 750, Washington, DC 20001, 202-887-6791.