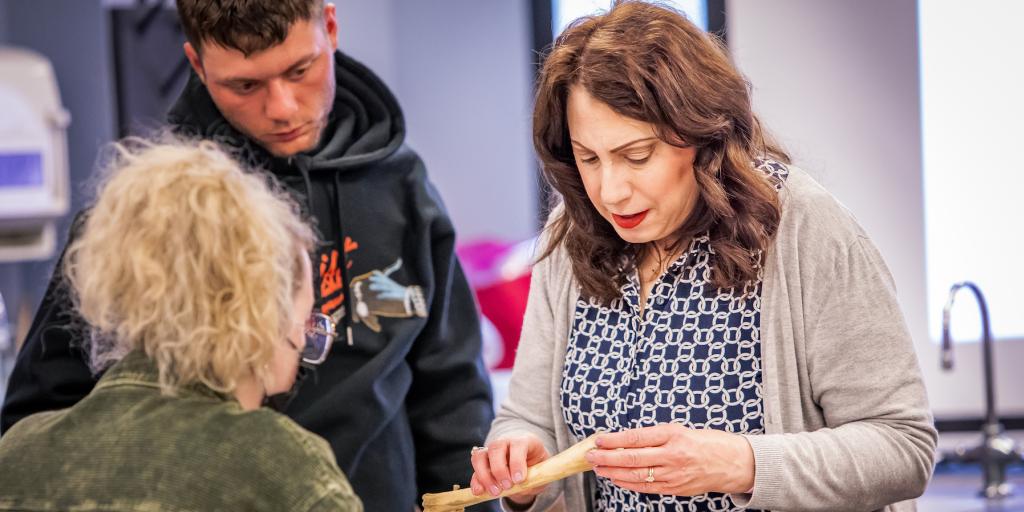 Why Choose Pre-Med at Eastern?
Academic Excellence, Faith-Inspired Compassion: Pre-med and other students preparing for a career in the health professions are challenged to strive for academic excellence in their chosen major, while cultivating a love for rigorous scientific thinking and a desire to be instruments of God's healing hands. Many of our students participate in this healing process through medical mission trips.
Small Classes, Unique Courses: Eastern's small class sizes facilitate learning, and unique course offerings such as Structural Basis of Human Disease enable students to holistically prepare for their future medical careers.
Proximity to Philadelphia: Near to Philadelphia, Eastern's ideal location close to three dental schools, a vet school, seven major medical schools, a variety of physician assistant programs, and numerous hospitals and research laboratories provide plentiful opportunities for internships and volunteer experiences.
Research Groups on Campus: Pre-med students can join a research group on campus in the biology or chemistry departments.
Amazing Advisor: Pre-med advisor Dr. Maria Fichera offers students step-by-step guidance and support for the following pursuits: pre-medical, dental, podiatric medicine, pre-vet, pre-optometry, and pre-physician assistant studies.
About Pre-Professional Programs
Pre-professional programs are areas of academic interest (not a major) for students who intend to enter a professional school after graduation with their bachelor's degree from Eastern.  Students must still select a major (i.e. biology or chemistry) while also pursing a pre-professional program.  Identifying the pre-professional program will enable the student's pre-professional advisor at Eastern to provide the student with a wide range of support to realize his or her next step of graduate school and vocation.
Eastern University Partners with PCOM for DO program
Eastern University has a new affiliation agreement with Philadelphia College of Osteopathic Medicine (PCOM) to provide a seamless transition into their Doctor of Osteopathic Medicine (DO) program.  PCOM will guarantee acceptance for up to three BS graduates from Eastern each year who meet the requirements. Learn More.  
For more information, contact Dr. Fichera at mfichera@eastern.edu. 
Medical Programs Our Grads Attend
Recent graduates of the Pre-Med track at Eastern have attended or are attending the following medical schools and programs:
Arcadia University

College of Health Sciences

(PA program)

A.T. Still University of Health Sciences/Kirksville College of Osteopathic Medicine

Ben-Gurion University of the Negev

Medical School for International Health

Des Moines University College of Osteopathic Medicine 

Drexel University

College of Nursing and Health Professions

(PA Program)

Eastern Virginia Medical School

Edward Via College of Osteopathic Medicine

Howard University

College of Medicine

Howard University

College of Dentistry

Lake Erie College of Osteopathic Medicine

Liberty University College of Osteopathic Medicine

Lincoln Memorial University College of Veterinary Medicine

Medical University of South Carolina (PA Program)

Nova Southeastern University College of Dental Medicine

 

Penn State College of Medicine

Philadelphia College of Osteopathic Medicine

Rocky Vista University College of Osteopathic Medicine

Rowan University School of Osteopathic Medicine

 

Rutgers Biomedical and Health Sciences

Seton Hill

University

(PA program)

St. George's University School of Medicine

Temple University Maurice H. Kornberg School of Dentistry

Temple University Lewis Katz School of Medicine

Temple University School of Pharmacy

Temple University School of Podiatric Medicine

Thomas Jefferson University College of Health Professions (PA Program)

Thomas Jefferson University -Jefferson College of Pharmacy

Tufts University

School of Dental Medicine

University of Georgia

College

of Veterinary Medicine

University of Iowa

Roy J. and Lucille A

. Carver College of Medicine

University of Missouri College of Veterinary Medicine

University of Minnesota

Medical School

University of

North Carolina School of Medicine

Weill Cornell

Medicine

- Qatar

Western University of Health Sciences (DO Program)

Xavier University School of Medicine