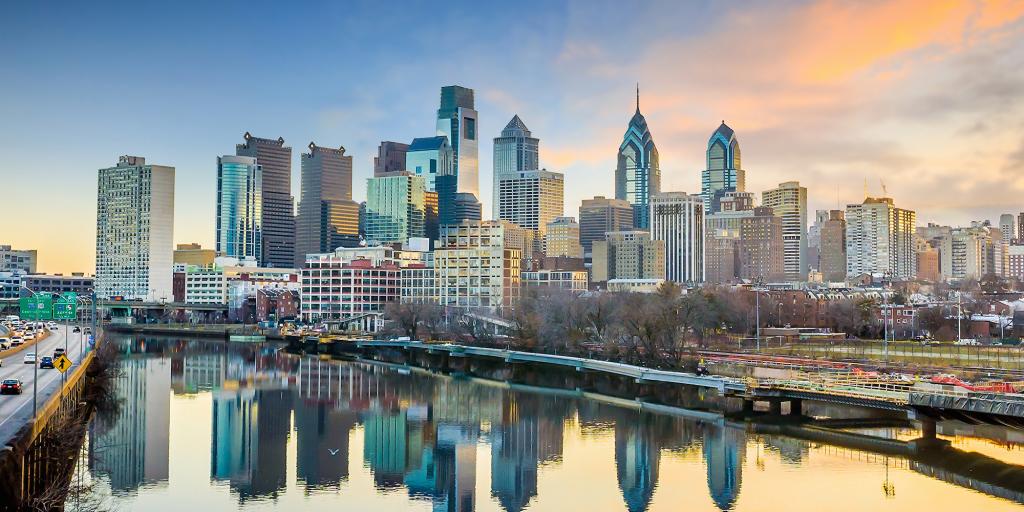 We know that having a great place to live is essential to having a great program experience. We have created this helpful list of on-campus and off-campus options for adult and graduate students. This list is by no means exhaustive, but it's a great place to start!
On-Campus: The Village Apartments
The Village Apartments are offered to Graduate Students and Traditional Undergraduate Students over the age of 23.
The Village Apartments are located in a secure, quiet, residential neighborhood about a mile from the St. Davids campus and close to public transportation. It is a mature and professional environment. All residents are subject to all policies within the Eastern University Handbook but with a more independent and autonomous living structure. We ask that you embrace this independent and mature living environment. The Village is an alcohol-free, tobacco-free, drug-free environment.
There are 3 apartment buildings with 4 apartment units in each building. See a sample floor plan.
The cost is $8615 per year with a contract extending from August 1-July 15, including break periods. No refunds are available for late move in or early move out. No subletting is permitted. The charges are posted to your student account in two installments ($4308 per semester). Overnight guests must be registered with the RD by 8:00 pm. Overnight guests of the opposite sex are not permitted at any time. 
Financial aid and/or loans may be applied to the  cost of housing (subject to individual financial circumstances and funding sources). Please note that the bill is posted according to the Academic Calendar and the contract is for one year.
Includes wireless internet, heat, hot water, other utilities, and is cable ready. Internet can be accessed by Wifi or ethernet. Ask your RA for the password. Cable can be acquired at the resident's expense by contacting Comcast. Coin operated washers and dryers are located in the basement of each building. The cost is $1.25 per load in quarters only. Please put all lint in the designated lint trash cans. 
Apartments house 4 same-sex individuals occupying 2 double occupancy bedrooms, a full bathroom, a kitchen (including refrigerator, stove, and sink), and a living room. One of the units house eight students in 4 double occupancy bedrooms with two full bathrooms. 
Bedrooms are furnished with a single bed, mattress, dresser, desk, and chair for each occupant.
Individuals can sign up and be placed with roommates or apartment mates can sign up together based upon availability.
The apartments are not air conditioned. Student residents are not permitted to install window units.
Opposite Sex Visitation hours are from 1:00 PM-1:00 AM. These hours are monitored and enforced. If you have a special request to extend or limit visitation, please contact the RD. Overnight guests must be registered with an RA by 8:00 pm. Overnight guests of the opposite sex are not permitted at any time. 
A Residence Life person (RD or RA) will reside in each building and can offer assistance to residents. Security can always be reached at 610-341-1737. 
Transportation is provided to the St. Davids campus or to the Radnor train station 24/7 by calling Campus Security at (610)341-1737. Rides are not immediate and we recommend you call well ahead of your arrival time. 
Parking is available by permit only. Students with a Village parking permit may park in any of the parking spaces with the exception of the spaces reserved for the Resident Director (RD).  Contact the Service Stop for details on how to obtain a parking permit.
Storage is not permitted at The Village. Furniture and other items stored or left in the basements or hallways without permission will become property of the University or will be removed from the premises/thrown away at the cost of the previous owner (see Student Handbook). If you would like to receive information about renting approved storage containers in the area, contact your RD via email. 
Bike racks are provided for you. Bikes cannot be stored in the basements or tied up to buildings or other building structures.
No pets are allowed at any time. Please see the EU pet policy before bringing a pet of any kind.
Residents should use the taller dumpster closest to the apartment buildings for trash and the shorter dumpster closer to Church of the Savior for recycling. There are also red biohazard trash cans in each building for blood or hazardous materials. Please contact an RA right away after using a biohazard can. 
Students residing in the Village are required to attend mandatory hall meetings. In addition, building and room inspections will be done in concert with EU Residence Life and Plant Operations protocols and procedures.
Off-Campus Options
Note: Eastern University does not have a relationship with the following housing corporations. We are not formally endorsing these options; we are simply providing a list of local housing opportunities. 
Off-Campus: Economical
Gulph Mills Village Apartments
Price range: Starting at ~$930
0-2 Bedrooms
1-2 Bathrooms
Cats allowed
Fitness center, pool, AC, dishwasher, laundry facility on-site
Address: 649 S Henderson Road, King of Prussia, PA 19406
Phone: (484) 483-2411 
Price range: Starting at ~$975
1-2 bedrooms
1-2 bathrooms
Cats allowed
Some units with stacking washer/dryer, A/C
Address: 30 North Waterloo Road, Devon, PA 19333 
Phone: (610) 644-3048
Belmont Village Apartments
Price range: Starting at ~$825
0-2 bedrooms
1-2 bathrooms
Cats allowed
A/C, dishwasher/garbage disposal, on-site laundry facility
Pool
Address: 200 Ross Rd, King of Prussia, PA 19406
Phone: (610) 265-2638
Off-Campus: Intermediate
Price range: ~$1345- $1445
0-2 Bedrooms
1-2 Bathrooms
Cats allowed
Laundry on-site, A/C
Pool/grill area, fitness center, game room
Address: 432 Strafford Avenue, Strafford, PA 19087
Phone: (888) 341-7813
Price Range: Starting at ~$1010
0-3 Bedrooms
1-2 bathrooms
Cats/Dogs allowed
In-home laundry, A/C, dishwasher/garbage disposal
Olympic sized swimming pool, sundeck, two dog parks, fitness center, playground
Address: 580 Lewis Rd, King of Prussia, PA 19406
Phone: (484) 685-1748
Off-Campus: Luxury
Radnor Preserve Apartments
Price Range: Starting at ~$1990
0-3 bedrooms
1-2 bathrooms
Cats/Dogs allowed
Newly renovated, large balcony or patio, in-home washer and dryer, hardwood floors, valet trash service at your door, stainless steel appliances,
Valet dry cleaning and laundry, Philadelphia Sports Club membership
Address: 313 Creek Drive, Radnor, PA 19087
Phone: (610) 557-0955
Price Range: Starting at ~$1218
0-3 bedrooms
1-3 bathrooms
Cags/Dogs allowed
Open floor plan, hardwood floors, in-home washer/dryer, A/C, chef-style kitchens
"We invite you to swim in our saltwater pool or suntan on the deck. You can enjoy gelato in a poolside cabana or a cappuccino at our on-site La Colombe™ coffee bar. An art gallery, library, bark park, playground, rooftop terrace, garden, collaborative workspace, and fitness center are just some of the luxurious amenities available to residents on our 26-acre property."
Address: 251 West Dekalb Pike, King of Prussia, PA 19406
Phone: (610) 265-5250
Price range: Starting at ~$1590
1-3 bedrooms
1-2 bathrooms
Open floor plans, hardwood floors, bathrooms with both tubs and showers, in-home washer/dryer
Resort Style Swimming Pool, Dog Run & Pet Spa,  Fitness Center, Bocce Court, Outdoor Kitchen & Grilling Stations, Sport Simulator,  Demo Kitchen, Game Room, Bike Storage & Repair, Media Bar, Electric car charging stations,  National Green Building Standard Bronze Certification
Address: 301 Village Drive, King of Prussia, PA 19406
Phone: (610) 590-4766