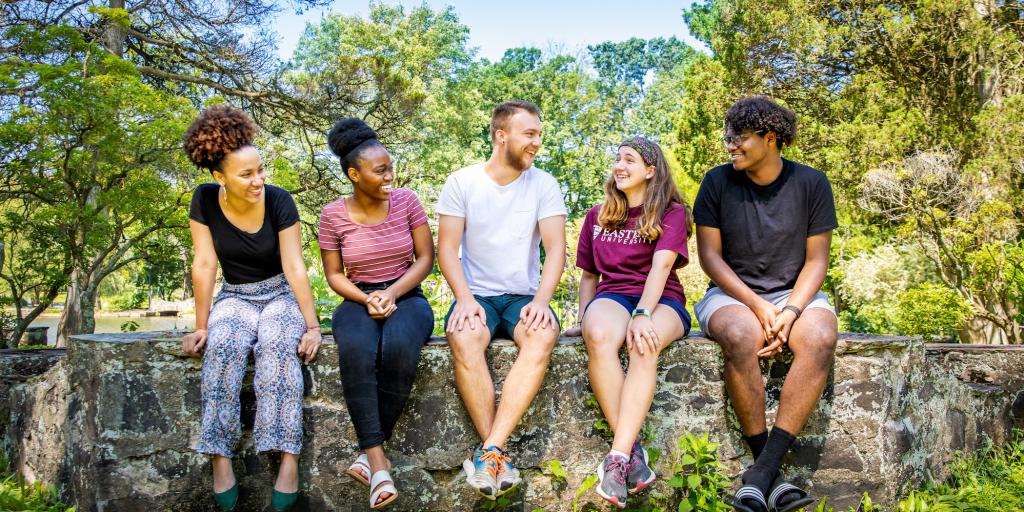 Scholarships are available only to full-time students. 
Scholarships & Grants
Eastern Awards (upon admittance)
Applicants are considered for one of the Eastern Awards based on their application materials
Name of Scholarship | Amount Awarded
Eagle Scholarship | $21,000.00
Trustee Scholarship | $18,000.00
Presidential Scholarship | $16,000.00
Provost Award | $14,000.00
Cornerstone Award | $12,000.00
President's Prestigious Programs*
Templeton Honors College Award
Up to full Tuition. While the average GPA of Templeton applicants is 3.8, any students who enjoy reading and writing are encouraged to apply.  Please note that a Templeton Honors College Award cannot be combined with any other Eastern University scholarships or grants. 
Leadership Fellows Award 
Up to $2,000. Eastern gives Leadership awards on a competitive basis to first-year students. Students who demonstrate previous leadership are encouraged to apply.
The Goode Scholars Award 
Up to $2,000. Eastern awards 20 hardworking, service-minded, first-year students demonstrating leadership qualities from urban areas the opportunity to prepare themselves as future leaders in the community. 
*Selected students are eligible to receive one President's Prestigious Program Award. 
Academic Majors Scholarships**
Fine & Performing Arts Scholarship
$25,000 to full tuition. Prospective FAPA majors may qualify for a FAPA scholarship. Contact Emily Pastin at epastin2@eastern.edu to arrange an audition. 
** Students who receive the Templeton Honors College Award are not eligible to receive any of these awards.  
Selected students are eligible to receive one Academic Major Scholarship.
Dreamers Scholarship (Beginning Fall '23)
Undocumented and International students who are interested in applying for need-based Institutional Financial Aid through the Financial Aid Office must complete a paper Free Application for Federal Student Aid (FAFSA). In addition, they must also supply copies of any Federal or Foreign Income Tax Returns and wage statements for the appropriate tax year (two years prior to the FAFSA they are filing). The student must also provide a signed letter or email from their Eastern email account explaining their situation in order to have proof of their citizenship status.  
Faith, Reason and Justice Distinctions*
Eastern Family Grant
$2,500. For families with two or more children enrolled as full-time, undergraduate students at EU concurrently. 
Legacy Award
$1,000. Awarded to entering students who reported they are children or grandchildren of EU alumni. 
Ministerial Discount
$1,000. For children of parents engaged in full-time ministry or mission work.
Phi Theta Kappa Scholarship
Up to $1,000. Offered to members of Phi Theta Kappa transferring to Eastern University from community college. 
Hero Grant
$2,000-$2,500. For students who are active duty military, retired military, former military, National Guard, or Reserve members, or the dependents thereof. 
Campolo Center for Christian Ministry Award
Up to $8,000. Students feeling God's call to ministry after college may submit an additional application for consideration for this award.  Contact Robert Gauthier at rgauthier@eastern.edu for additional information. 
Worship Team Award
$2,000. For students who are chosen to participate in EU worship teams. Contact Joshua Gunther at joshua.gunther@eastern.edu to arrange an audition. 
Dreamers Scholarship
Amount varies. International or undocumented students can apply for additional Eastern funds by completing a paper FAFSA and submitting it to finaid@eastern.edu. 
* Students who receive the Templeton Honors College Award are not eligible to receive any of these awards.
Church or Young Life Matching Award
Up to $2,000. If Young Life or a church donates money towards your educational costs, Eastern will match the funds up to $1,000 for a student who  has financial need based on the information provided on the FAFSA. Otherwise, the maximum matching amount will be $500. 
NOTE: Some scholarships, awards, grants, and discounts may not be able to be combined with others. Contact your admissions counselor for further details.
$2,000. Need and merit-based award to students from OH, NY, NJ, DE, MD, WV, or DC.  Students can apply by filing a FAFSA.
This exciting award is given to PA residents who meet the qualifying levels of academic merit and need-based aid. Your tuition will be fully covered!* 
To determine if you qualify, file your FAFSA using Eastern's school code: 003259. Talk to your admissions counselor about any questions you may have.
*Excludes room and board. Must live on campus. To qualify as a PA resident, applicants must be eligible for a PA State Grant per PHEAA. Effective for new, first-year students starting Fall 2020 in our Traditional Undergraduate programs. Awards are reevaluated each year based on EFC.
Do You Qualify For Need-Based Aid?
File your FAFSA to determine if you qualify for:
Pell Grant
State Grant
Federal Supplemental Educational Opportunity Grant
Eastern University Grant
Student Aid Fund Award
Federal Work Study
Pennsylvania Fostering Independence Tuition Waiver Program
Aid Opportunities Outside of Eastern
Important Aid Information
Combining awards: Some scholarships, awards, grants and discounts may not be able to be combined with others. Contact your admissions counselor for further details.
Modification of awards: The Eastern Financial Aid Office also has the right to modify your financial aid awards at any time during the award year. Some of the reasons this would happen are change of enrollment status, receipt of outside scholarship or loan, change in housing status, failure to make Satisfactory Academic Progress, or as a result of the Federal Verification process.