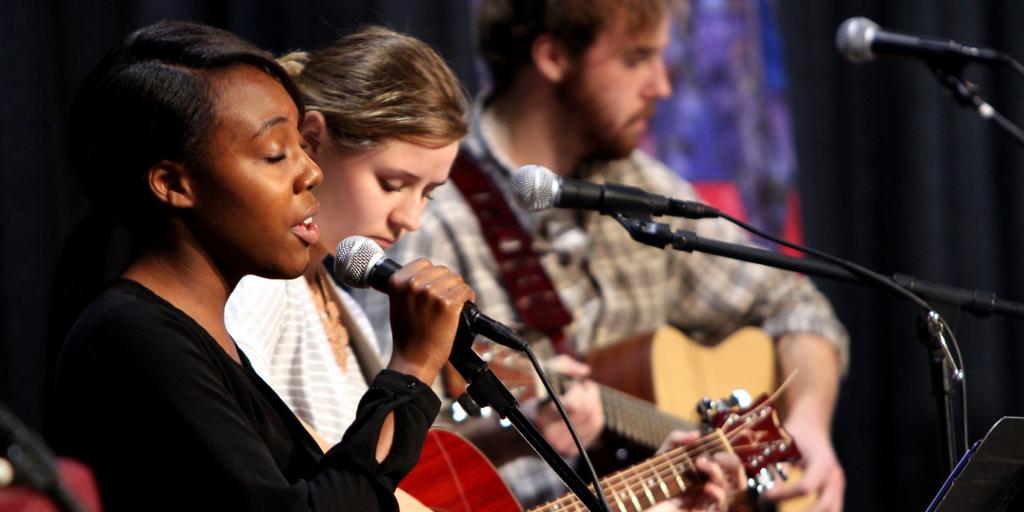 Eastern offers weekly voluntary chapel services with rotating, student-led worship teams and a variety of speakers. We invite you to join us every Wednesday morning during the Fall & Spring semesters at 10 AM on the St. Davids campus in the Gymnasium. Open to the Public.
Spring 2020 Chapel - On Zoom!
Chapel has moved to Zoom for the rest of the Spring Semester 2020.  Current members of the EU Community can watch live every Wednesday morning at 10 am EST via the Zoom link sent to your EU email.
Chapel Live Stream- Fall 2020
Chapel is held on Wednesdays at 10 AM on the St. Davids campus (Gymnasium). Press play to start stream.
If you're experiencing the following, stop the stream and click play again, or refresh your browser:
Stream is not displaying
Stream is buffering (loading) too long
You can hear audio, but you do not see video
The Office of Faith and Practice YouTube Channel
All chapels are archived so you may watch a Chapel that you have missed, or share with family and friends
Spring 2020 Schedule
If you would like to watch a chapel that took place in the past, click here for Spring 2019.
Topic--Glittering Vices
We hope that you will join us for our weekly chapel service every Wednesday morning at 10 AM on the St. Davids campus in the Gymnasium. Open to the Public.
January 15: Prayer & Praise
January 22: Dr. Joseph B. Modica, University Chaplain, Eastern University. Introducing the chapel series--Glittering Vices --emphasis on pride as the root of all vices
January 29: Vice# 1 (Vainglory) Dr. Brian Williams, Dean, Templeton Honors College, Eastern University
February 5: Vice #2 (Gluttony) Dr. Diane Chen, New Testament Professor for Palmer Seminary
February 12: Vice #3 (Avarice) President Ron Matthews, Eastern University 
February 19: Vice #4  (Envy) Dr. Kimberlee (K-lee) Johnson, Assistant Professor of Urban & Interdisciplinary Studies; Director of (1) Urban Studies; (2) The Center for Community Engagement; (3) Prison Education Program and (4) The Center for Urban Youth Development, Eastern University
February 26: Reconciliation Chapel (Ash Wednesday--beginning of the Lenten season)
March 4--NO Chapel (Spring Recess)
March 11: Vice #5 (Anger) Dr. Lindy Backues, Department of Business/Economic Development, Eastern University 
March 18: Faith Forum: Rev. Dr. Mae Elise Cannon, Executive Director of Churches for Middle Eastern Peace in Washington, D.C (www.maecannon.com) 
New CORE Conversation on Race
March 25: Vice #6 (Sloth) Theresa Noye, Director Goode Scholars Program & Multicultural Student Initiatives, Eastern University 
April 1: Vice #7 (Lust) Dr. Darrell Pearson, Professor of Youth Ministries
April 8: Holy Week Chapel, Meggin Capers & Labyrinth
April 15: Dr. Donald Hilliard
April 22: Rev. Dr. Kevin Cosby
April 29: Senior Chapel (Class of 2020)
Chapel Worship Teams
The Chapel Worship Team (CWT) consists of student instrumentalists and vocalists with a demonstrated lifestyle of worship and prayer. Worship teams provide music for the University's weekly chapel service. Worship teams also lead Conquer the Night, a late night worship & prayer experience each semester.
Looking for More Information?