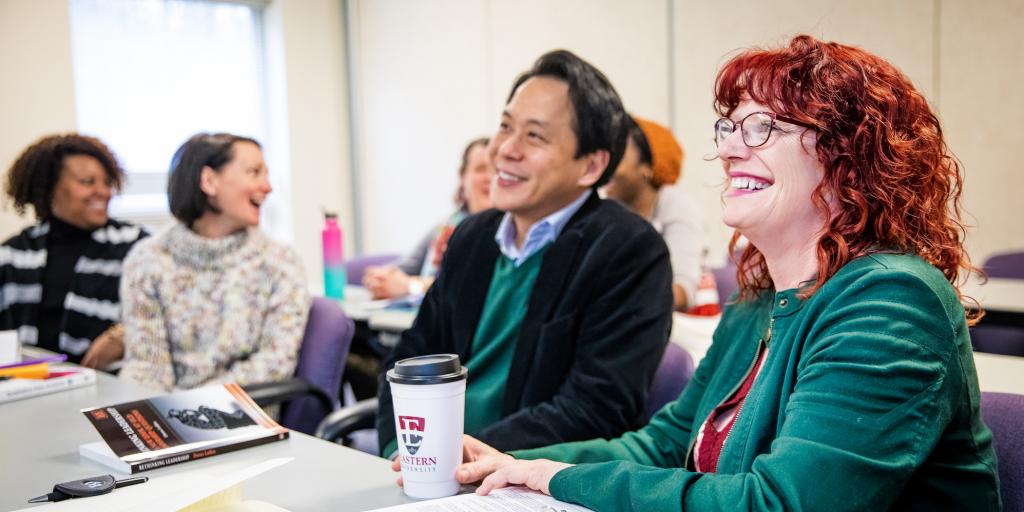 You will enter Eastern University's PhD in Organizational Leadership program in a cohort, completing a large portion of your studies with the same group of people. The program is delivered through a blended online model of residencies, online discussions, and individualized instruction. Each term begins with a three and one half day residency (Wednesday evening through Saturday afternoon) followed by significant online work and individual follow-up. A term is approximately 14 weeks in length.
During the residency session, students gather at Eastern University for two days of lectures, small group sessions and advising. The purpose of the residency is to offer students the opportunity to interact with faculty and each other and to introduce the two courses of the term. Syllabi for each term will be posted online near the end of the previous term and will include a complete list of required course materials so you can purchase your materials and begin reading well in advance of the start of class. 
The PhD in Organizational Leadership residency is followed by 10 weeks of online instruction, which utilizes our distance learning technology, Brightspace. At the end of each term, the last two weeks are devoted to a reading period when assignments are to be completed and students receive individual instruction.
The basic calendar framework is three years of coursework followed by research for the dissertation. There are three terms per year: August-December, January-April, May-August, and two courses (6 credits) per term. This calendar was designed to be sensitive to the working professional, while maintaining the integrity of PhD level work.
A main objective of the delivery system is to utilize existing resources to provide you with an educational experience derived from our strengths. Therefore, the program is built upon existing graduate-level program offerings and utilizes members of the Eastern University faculty in their areas of expertise.
Our delivery system is further supported by the excellence of Eastern's library resources.  In addition to the large collection of books, periodicals and multi-media materials available on campus, Eastern has also invested in numerous other resources, including online databases that provide access to 35,000 journals and articles. Dissertation Abstracts, an important resource for PhD students, is accessible through the OCLC First Search database. In addition, the library staff is compiling an online reserve library where faculty can request chapters of books and articles to be scanned and posted on Brightspace.