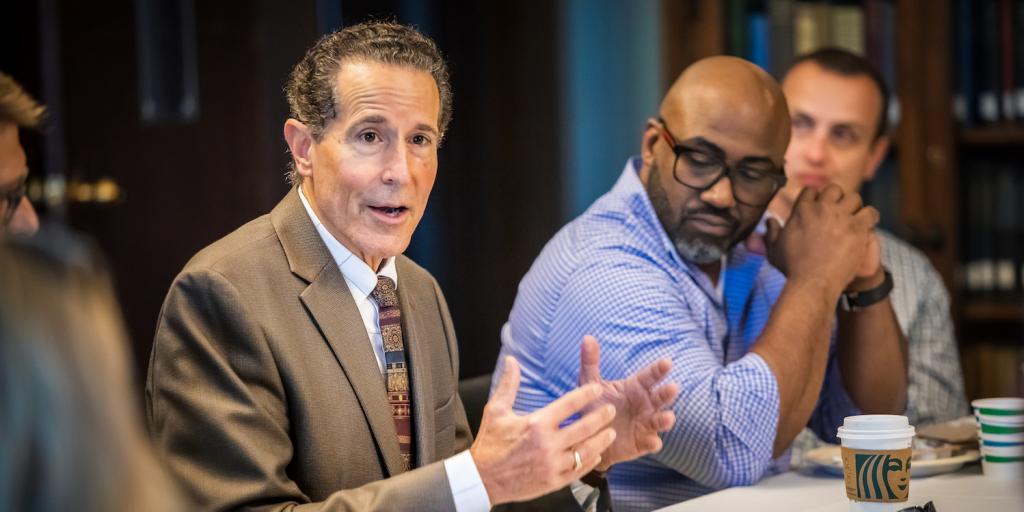 Next Start Date
Now accepting applications for the Fall 2023 cohort!
General Admissions Information
The delivery modality chosen for the PhD program reflects the professional needs of students in various leadership roles. Admitted students will have earned a master's degree from an institutionally accredited and endorsed by CHEA institution and will have graduated with at least a 3.2 grade point average on a 4.0 scale, or equivalent. International students from foreign institutions will be considered on a case-by-case basis, contingent upon specialized, national, or other accreditations of their institutions.
Students whose first language is not English will be required to complete the TOEFL exam. The PhD program's minimum TOEFL requirement is 550 (paper version) and 79 (internet version).  Detailed information for international applicants.
Since the program is designed for reflective leaders, students will be expected to demonstrate, via resume or curriculum vitae and supporting documents, at least three years of professional practice in a leadership capacity. This will provide both a context for the learning that takes place in the program and a means of contributing to the learning of others in the program. Professional practice could include teaching experience, mid-level to executive-level management within a for-profit or not-for-profit organization, public service in an elected or appointed position with legal or fiduciary responsibilities, company proprietorship, ministry experience that requires professional credentials, and educational administration.
There are no specific course prerequisites to be admitted into the program but students would be advised to have graduate level courses in statistics and research design prior to the beginning of their program. Applicants who do not have this background may be asked to strengthen their background through self-directed learning prior to the beginning of their first research methods course.
Once accepted into the program, students must submit a $150 deposit (if international student, please refer to international requirements for deposit) and register for classes. Once students are registered, they receive usernames and passwords for email and access to Eastern's online learning platform, intranet, and library resources.
Both acceptances and deferrals are only valid for one year. Students who choose to attend the year that they're accepted or defer to the following year must submit a $150 deposit to reserve a seat in the PhD Program. A new application must be submitted if students choose to defer beyond the one year limit.
All students are selected for admission to the PhD program based on academic preparation, leadership experience, and alignment with Eastern's mission. Candidates with superior academic qualifications will be considered for a $1,000 merit grant, to be applied to tuition in their first semester of enrollment. A limited number of grants will be awarded to selected applicants in each academic year.
Complete applications are reviewed for the following Fall cohort based on four deadlines: November 7th, January 16th, March 13th, and May 15th. Admissions committee decisions are issued no later than six weeks after each application deadline. Reviews will continue until the cohort and wait list are full for the fall cohort.
Official admissions decisions are mailed to the address stated on the application.
To apply for acceptance, a student must submit all of the following:
Application: The application form may be submitted online.
Official Transcripts: Official transcripts from an institutionally accredited and endorsed by CHEA must be submitted from all institutions of higher education that the applicant attended.
- How to Request a Transcript: View FAQs about requesting a transcript from your previous school(s).
Master's Degree Equivalency:  If the applicant does not possess a Master's degree from a regionally or internationally accredited higher education institution, the Master's degree equivalency statement with supporting documents must be submitted along with other application materials. 
Current Resume or Curriculum Vitae.
3 completed recommendation forms: Of these recommendations, at least one must be from an academic source. Forms must be accompanied by letters, preferably on letterhead.

Leadership Record Narrative (Approximately 1 page): Describe some of your most significant leadership experiences over the last three to five years.

Statement of Purpose (Approximately 1-2 pages):  In what ways are the goals of the PhD program aligned with your personal and professional goals for an earned doctorate?

Writing Sample: The writing sample should demonstrate the applicant's ability in research, writing, analysis, and problem solving. A copy of a research thesis or other research project that showcases the student's prior academic work will serve as an excellent writing sample. If the thesis or project is older than five years, it is recommended to provide an additional more recent writing sample as well.

Research Methods Record: A one-page document should highlight evidence of the applicant's research aptitude and/or experience. The document might reference coursework in qualitative and quantitative research, statistics, or mathematics; standardized test scores >50 percentile on the GRE (Eastern's test center code = 2220) or GMAT (Eastern's test center code = PND-SG-31); experience with quantitative tools, measures, or statistics; and/or a prior research project, report, or paper. Test scores and papers used as evidence should be included as separate documents. Download form for Research Methods Record.

Application Fee: A $75 non-refundable application fee is required for all applicants.
Review of completed application materials may result in an invitation for an interview with the program chair and/or other members of the Admissions Committee.
If we can be of further assistance to you, please contact us at: gpsadmissions@eastern.edu or 800-732-7669.
Since students are considered full-time graduate students (18 credits per year), low interest student loans may be available for US citizens. Please visit or call the Financial Aid Office (610-225-5201) for further information.