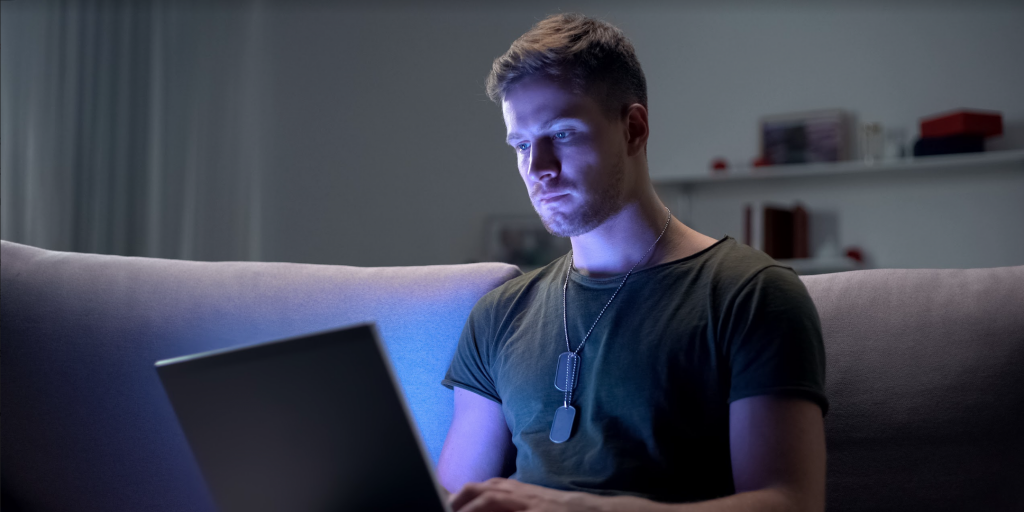 Eastern is proud to accept the following veteran benefits administered by the Department of Veteran Affairs, the Department of Defense, and the State of Pennsylvania.
If you are planning to use VA or military education benefits, please communicate this early in the admissions process to your admissions representative and to our veteran services team (vets@eastern.edu).
Chapter 33 (Post 9/11 GI BILL®) and Yellow Ribbon Program
Veterans with at least 90 days of aggregate active duty service after Sept. 10, 2001, and are still on active status, or honorably discharged or were discharged with a service-connected disability after 30 days, may be eligible for this program.
Depending on eligibility percentage recipients may qualify for up to 100% of tuition and fees, a yearly book stipend of up to $1,000, and a monthly living stipend of up to $2,175.
Eastern is also a proud participant of the Yellow Ribbon Program. The Yellow Ribbon Program is an enhancement to the Post-9/11 GI Bill® that helps participants cover expenses that remain after their Post-9/11 GI Bill® has been applied. With the Yellow Ribbon program, Eastern and the Department of Veteran Affairs work together to cover these remaining expenses. Only participants with a 100% eligibility rating for the Post-9/11 GI Bill® qualify for the Yellow Ribbon Program.
To learn more about if you are eligible for Military/VA Educational Benefits please contact your ESO, military counselor or Veteran Affairs.  Visit VA.gov for more information on how to apply.
 *GI Bill® is a registered trademark of the U.S. Department of Veterans Affairs (VA).
Montgomery GI BILL® (Chapter 30)
The MGIB-AD program provides education benefits to Veterans and service-members who have at least two years of active duty service. Benefits are generally payable for 10 years following your release from honorable active service. Learn more about and apply for the Montgomery GI BILL ®
Montgomery GI Selected Reserve (MGIB-SR Chapter 1606 & 1607)
The MGIB-SR program provides education and training benefits to eligible members of the Selected Reserve, including the Army Reserve, Navy Reserve, Air Force Reserve, Marine Corps Reserve and Coast Guard Reserve, and the Army National Guard and the Air National Guard. Eligibility for this program is determined by the Selected Reserve components and VA makes the payments. The payment amounts may vary.
Learn more and apply for this benefit
Vocational Rehabilitation & Employment (VocRehab Chapter 31)
Vocational Rehabilitation provides a range of benefits including financial support (similar to the Post 9/11 GI Bill®), for tuition, books and fees to veterans with service connected disabilities.
Survivors and Dependents' Educational Assistance & Fry Scholarship
The Survivors and Dependents' Educational Assistance (DEA, CFR Chapter 35) is offered to spouses and children of a family member lost while serving in the military. 
Marine Gunnery SGT. John D. Fry scholarship (Fry, CFR Chapter 33) is for surviving children and spouses.  This scholarship covers the full amount of state tuition at accredited universities. 
Learn more about survivors and dependents' educational assistance and fry scholarship.
PA National Guard Education Assistance Program (EAP)
Members of the Pennsylvania National Guard may be eligible to receive funding of up to 100% of tuition through this program. Learn more including how to apply.
PA National Guard Military Family Education Program (MFEP)
Similar to EAP, the MFEP offers spouses and dependents of PA National Guard service members financial assistance that may cover up to 100% of the cost of tuition. Learn more about eligibility and how to apply for this benefit.
Federal Tuition Assistance (TA)
Each branch offers Tuition Assistance benefits to its service-members to help finance undergraduate and graduate education.  In order to see if you qualify and to apply for TA benefits under your branch please visit the Military One Source page.   
Adult (Accelerated) Undergraduate Military students may be eligible for a discounted tuition rating! Contact our veteran services team (vets@eastern.edu) once you have submitted your TA application with your Branch of Service or with questions on how you can utilize these benefits at Eastern University.