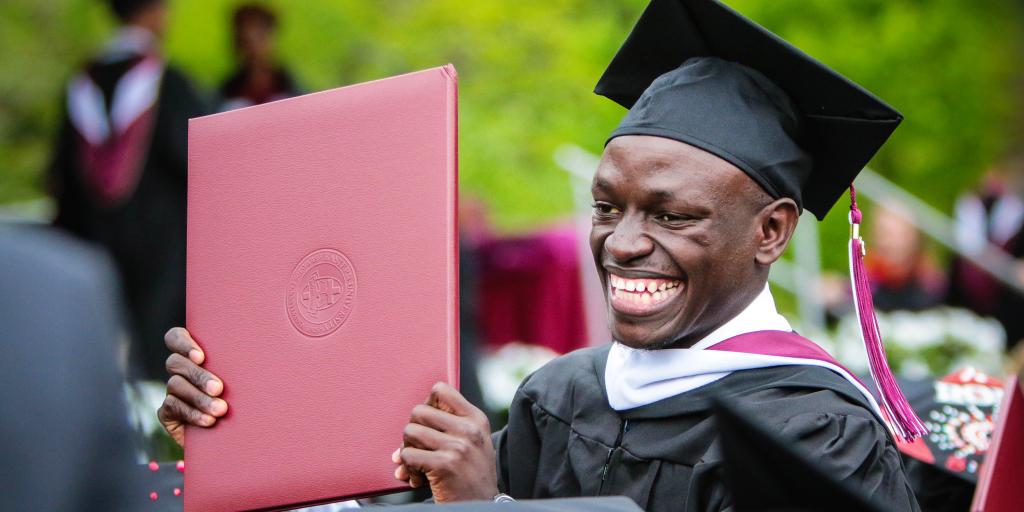 Academic Regalia
For Undergraduate and Graduate Students there is no cost to you, and the academic regalia is yours to keep.
The gown should hang loosely from your shoulder to your ankle.
DO NOT IRON. 
Once you receive your gown please hang it up and the packing wrinkles should dissipate in a few days.
You can pick your regalia up at the bookstore on the 1st floor of HHC. 
April 20 to May 6, Monday - Friday, 10:30am-4pm. Or 
Regalia Pick Up Saturday April 22nd 12p-2p
You can also order online and have regalia shipped home. Watch your EU email for more information! 
DEADLINE for online orders is April 11, 2023 
For PhD and DA students:
PhD and DA students must order their gown through the Herff Jones representative. Please email Chris Urban, Herff Jones College Division, at crusales@msn.com.  
Orders for custom gowns must be placed SIX (6) WEEKS prior to Commencement,  March 31st. The hood is supplied by the University. The cost of the gown is the responsibility of the student.
Additional Regalia Adroment
Additions to Commencement Regalia are limited to symbols of academic achievement or honors (i.e. cords, medals, hoods) or participation in University community organizations and programs (i.e. cords, stoles, pins, medals).  These items are acquired from the appropriate University department prior to the day Commencement.  Students wishing to add to their regalia are welcome to decorate the top of the cap.  No other items may be worn.  If a student, for cultural reasons, would like to dress in traditional regalia or ensemble, they may speak to the Executive Director of Special Events regarding these guidelines.
Any questions, please email graduation@eastern.edu, or call 610.341.5902.
Graduate Students cords and stoles are customarily worn underneath your hood.
Philanthropy Cords
Philanthropy cords are provided by the Advancement office and are for those that donate to the Senior Class Gift. To donate and receive your cord, please contact Sydney Tilley.