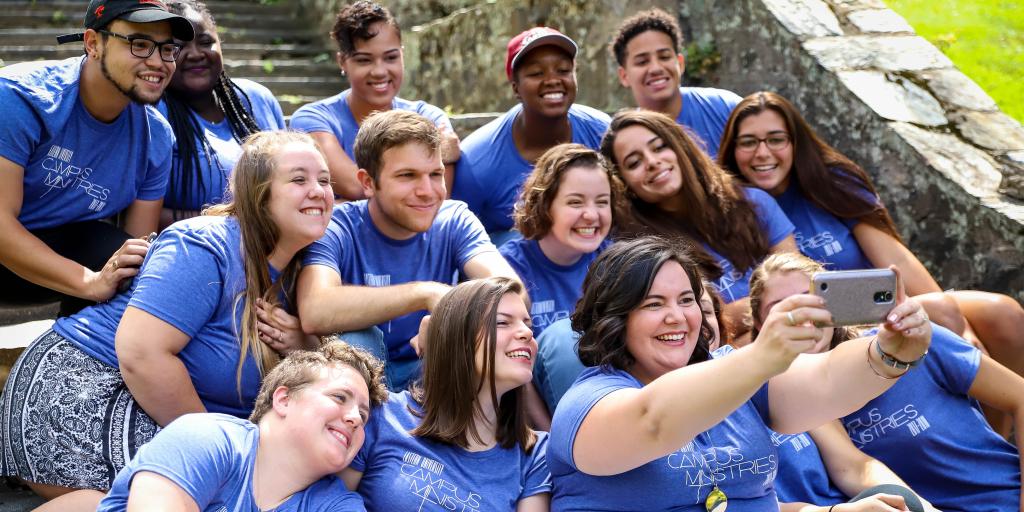 Campus Ministries
Student-led campus ministries provide vehicles for developing students as Christian leaders and ministers. The focus of the groups ranges from service to evangelism and other forms of ministry. The Coordinator of Student Ministries & Service Learning assists and mentors student leaders in their spiritual growth and ministry leadership through training in April and August, then by following up throughout the school year. Special events include Hunger and Homelessness Awareness (HAHA) Week in November, sponsored by YACHT, and Habitat's annual Act, Speak, Build week.
Below is a list of the various Campus Ministries at Eastern. See a complete list of clubs and organizations.
Student Chaplain Program
The Student Chaplain program equips students to serve as chaplains in their residence halls. Student Chaplains work intentionally with the University Chaplain and Student Chaplain Leadership Team through retreats, classroom instruction, and spiritual guidance. The Student Chaplain program also works intentionally with the Residence Life staff (RDs and RAs) to provide a supportive and nurturing atmosphere in the residence halls where students can develop their relationship with God and others.
Habitat for Humanity Ministry
Educate and work with communities to eliminate poverty housing. Volunteers serve under the supervision of Habitat staff on work days, and students also build homes on annual Habitat spring break trips.  More information about Habitat Spring Break Trips. More information about Habitat's work around the world.  
Prison Ministry
Imitate Christ by sharing the gospel and fellowship at the Lancaster County Youth Intervention Center through prayer, worship, Scripture, and friendship.
Email: prisonmin@eastern.edu
Transformed! Drama Ministry
Glorify God through the dramatic presentation of the Gospel. A student-led Christian drama team that has established an excellent reputation for the quality of its programs and the testimony of its members. Using contemporary theater as a means of proclaiming the Gospel message, Transformed! performs programs consisting of skits that challenge the audience to reflect on society and to live consistent Christ-like lives. Membership is by audition.  
Email: transformed@eastern.edu
Un:ceasing Ministry
Un:ceasing is a gathering of brothers and sisters in Jesus Christ who see a world in need of hope. We are dedicated to spreading light in the darkness through the power of prayer. With an unceasing dedication to spiritual growth and praying for one another, we can not wait to see how God will boldly answer our prayers in individual lives, on campus, and in the world. Furthermore we want to help you mature your own prayer life through aligning your dreams and aspirations with those God has called you too. We invite each and everyone of you to come pray, grow, and learn with us.
Always be joyful. Never stop praying. Be thankful in all circumstances for this is God's will for you who belong to Christ Jesus.1 Thessalonians 5:16-18
Email: unceasing@eastern.edu
YACHT Club 
Youth Against Complacency and Homelessness Today or YACHT Club addresses the issues of apathy and homelessness through a multi-faceted ministry, including education and outreach among the homeless of Philadelphia.  
Email: yacht@eastern.edu
IJM (International Justice Mission)
Eastern's campus chapter of IJM (est. 2017) is a campus ministry made of students committed to prayer and awareness about human trafficking and slavery issues both domestically and abroad. IJM also strives to engage Eastern's campus and the local community through awareness-raising events, and is involved with local and international organizations that fight human trafficking.
Email: ijm@eastern.edu