Big questions. Small classes. Dedicated faculty.
Business students at Eastern will be asked to grapple with the most difficult, yet most important, questions of the business world: Can good ethics also mean good business? Can Christian business people live with a unified set of ethical guidelines that can govern their lives in totality? Should a Christian work for a company which operates sweatshops in Indonesia? Are there Scriptural limits to the pursuit of self-interest?
"I am grateful for the faculty members and mentors who offered me invaluable life lessons. Eastern was not only an academic experience but a foundation to develop practical skills and gain confidence to succeed in the workplace and in everyday life."
Why Study Business at Eastern?
Faculty mentorship: Students can expect small classroom settings where they will learn from qualified faculty with experience in Fortune 500 companies, nonprofit organizations, business ethics, economics, development, board development, and missions. Eastern offers a faculty-led internship program with local and international organizations, as well as study abroad opportunities, so that students can obtain first-hand business experience and a competitive edge in the workplace. Faculty also advise business-oriented student groups, such as Enactus (4x regional champions), the Delta Mu Honor Society, and a Chapter of American Marketing Association.
Career building and networking: Business students are supported by three Career Building courses that grow networking, internship seeking, career researching, and behavioral interviewing skills with a full time faculty member who also supports the building of resumes, Handshake pages and LinkedIn presences. Students have exposure to alumni panel events, career fairs, informational interviewing, and campus visits by local industry representatives, Campus Philly events, and other programs and competitions and other events involving Philadelphia area Universities.
Balanced business foundation: The degrees offered by the Business Department at Eastern University are designed to provide students with a balanced foundation in all the major areas of business, including quantitative skills (accounting, finance, statistics, and operations management) and people-oriented skills (human resource management, organizational behavior, and marketing). Business courses are designed to give students a breadth of understanding in business and economics, and to build logic skills and functional problem-solving skills with which to enter the workplace. Many students choose double majors or major & minor combinations to suit their career goals.
Alumni successes: Eastern Business Alumni have served as human resource managers for financial institutions, vice-presidents of personnel for major corporations, buyers for retail chains, and partners in local businesses. Others have gone on to MBA and other business-related degree programs throughout the region and nation.
The Business Department Mission
The mission of the Eastern University Business Department is to prepare students to serve God in the global marketplace by integrating quality liberal arts education with professional business education. Business majors will learn how to learn, to ask questions and to search for answers.
The Business Department empowers students to become well-rounded people who are entrepreneurial in spirit, who appreciate knowledge, and who work within and change the world. Graduates will be able to use their influence to ensure that profit, products, and services are consistent with Christian ethics in the global marketplace. Our core value is commitment to excellence in Christian business education.
Accreditation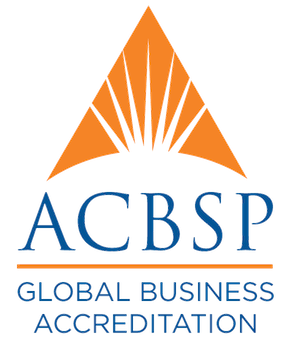 Eastern University's College of Business and Leadership programs are accredited by the Accreditation Council for Business Schools and Programs (ACBSP.)