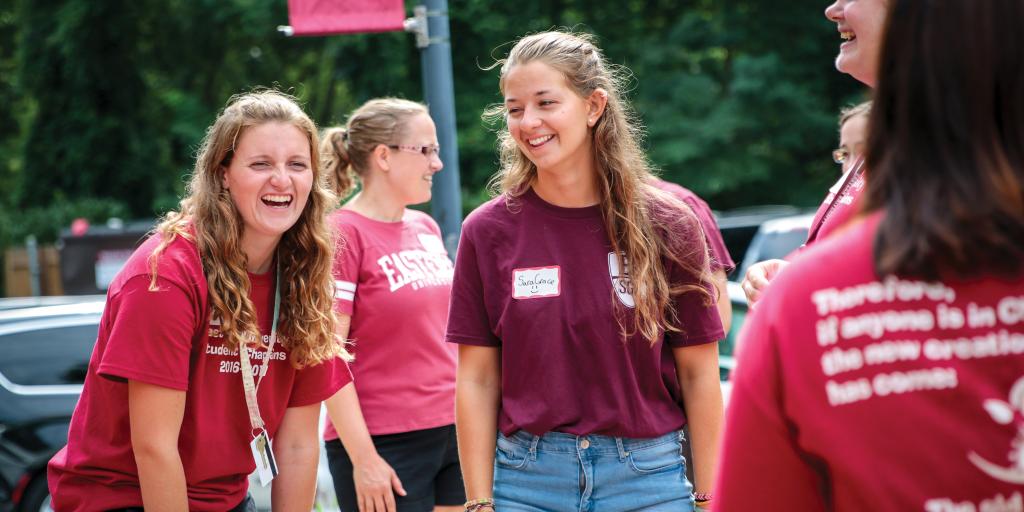 Dates & Schedules
Opening Day Schedule: Thursday, August 22
9am - 3pm: Eastern University Move-in
Check-in at your residence hall. After move-in, you will have a meeting with your Residence Director (RD) and RA staff in your residence hall. You will learn the time of this meeting upon check-in.
11am - 2pm: Lunch available at the Dining Commons
Walton Hall
(EU students eat for free, meal cost may apply for family and friends)
11:30am - 4pm: Optional Info Sessions for Parents
University Chapel
11:30 pm: Academic Overview
1:30 pm: Financial Aid Information
2:30 pm: Student Support and Safety while at EU
3:30 pm: Future Planning with Career Development
4:00pm: Opening Worship Service and Address from President Matthews University Gymnasium
5pm: Welcome BBQ Dinner
Walton Patio (rain location Walton Hall Dining Commons)
Family and Friends Say Goodbye!!
7:30pm: Meet your Orientation Group
Specified locations across campus
8pm: Welcome to EU Social!
(The Bookstore, Jammin Java, Health Center, Service Stop, Financial Aid and Student Account Offices will be open throughout the day for your convenience.)
First day of classes: Monday, August 26th
Get your E-Card ASAP (Service Stop, Walton 4)
Check your class schedule in the Student Planning section of MyEastern
How To Use This Site:
Materials below are important, so students and parents are responsible to read and know the contents of everything posted here, in the University Catalog, and  in the University Student Handbook. Even though we have broken up the material into primary interest groups for you, you will want to peruse all sections so that you don't miss anything.
Return To This Page Often As New Material Will Be Posted. If you have any questions, email the Housing Office at housing@eastern.edu.
For All Incoming Students (Transfers, First-years, Commuters, Residents)