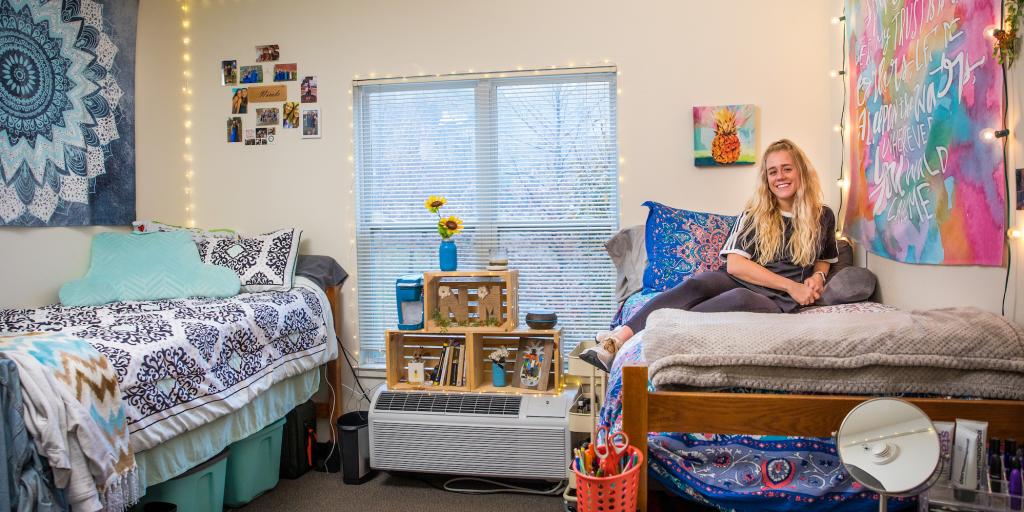 Why is Residency Required?
Eastern University has always been a residential campus meaning all Full-Time Students are required to be residents as long as the space is available. Students who live in Residence Halls within Eastern University community experience greater personal, spiritual, and emotional growth. With these experiences students are more engaged in college life as wel as positive interpersonal skills that become valuable assets in both future jobs and in the home. (Ref: Kuh, G:Schuh, John H; White, Elizabeth J; and associates, (1991) Involving Colleges, Jessey Bass, San Francisco)
We strongly discourage our First-Year students from bringing vehicles to the area as there are limited First-Year parking spaces available. You will find that we have plenty of public transportation opportunities near campus, plus local shopping that is within walking distance. Parking Spaces are available on a first come, first serve basis and all vehicles are required to have a parking permit in advance to arrival. If you have additional questions about parking policies or procedures please contact the Director of Public Safety at 610-341-1720.
Do I need Renters Insurance?
We advise all students to carry renters insurance for their personal belongings; whether in your room, storage or even a storm, accidents happen and it is always better to be well prepared. The University will not replace or reimburse in the event of loss of personal items for any reason.
Should I bring my own computer?
Eastern University has computers in the library for your use; however, we find that many students prefer to bring their own laptops. You will have access to the University's internet through your Eastern email address.  For more information, please see our Information Technology Webpage.
Do I need a phone/answering machine?
With advanced technology and growth of cell-phone usage, there is not always a need for a landline anymore. However, you may request that a phone be installed in your room on Move-In Day with your Resident Assistant. Students who request that a land-line be installed in their room are given a personal account are billed for non-local and long distance calls made from the phone.
The Residence Halls are not available during the summer so you will be unable to access your room prior to Move-In Day. However, if you tour Eastern through the Admissions Office, you will be able to see a room, but it may not be the type of room you will be assigned to.
First, call your roommate before you pack and decide together who is bringing what. Items marked with an asterisk are items we suggest you share with your roommate:
Extra Long Bed Sheets
Pillow
Desk Lamp
Foam Mattress Pad
Trash Can and Bags
Small Fan
Power Strip
Calendar
Flashlight (and batteries)
Hangers
Cleaning Supplies*
Posters/Pictures
Stick tack (white only)
Coffee Pot*
Microwave*
Refrigerator* (4 cubic feet or less)
Plants
Curtains
Small Bookshelf
Sewing/Repair kit
Night light
Comfy Chair
Printer
Writing Utensils
Decorations
Umbrella
Food
Storage Container
Camera
TV*
Video Game Consoles
Games
Movies
Sports Equipment
Mugs, Bowls, Plates, Cups, Silverware
Laundry Supplies
Stationary/Stamps
Shower Caddy
Shower Shoes
Ear Plugs
Sound Machine
What NOT to bring:
Any large appliances (NO open coil permitted on any appliance)
Toasters
Large furniture
Large stereos
Expensive equipment
Valuable Jewelry
Pets (small, non-electric fish tank without a filter allowed)
Fireworks
Weapons
Candles or Incense
Alcohol, Tobacco, Drugs
Halogen Lamps/Bulbs
Eastern University identification and access card. It is issued to students by Public Safety at our Service Stop location upon entrance to the University. Your E-Card must be carried at all times, and presented upon request to Public Safety Officers, any University employee, or police. E-Cards are non-transferable and may only be used by the student to whom it is issued and becomes invalid upon termination of the student's association of the University. E-Cards must be turned in to a Residence Life Staff member upon withdraw from the University. A lost or damaged E-Card must be replaced, a fee will be included; you will need another form of identification in order to proceed with your replacement.
E-Cards are used to access the Dining Commons for each meal as well as at other food services around campus

They are also used to gain admittance to Athletic and other EU events

As well as to check out books from the library and to borrow University-owned materials

Lastly to gain access to various campus buildings, resident halls and facilities
What are the Visitation policies?
Residence Hall Visitation by members of the opposite sex are limited to a specific schedule: Sunday, Monday, Tuesday, Thursday: 1:00pm - 11:00pm, Friday and Saturday: 1:00pm - 1:00am, there is NO visitation on Wednesdays.
Can I have an overnight guest?
Each resident student can have up to 5 overnight guests of the same-sex per semester. All guest (including commuter students) must be registered with the Resident Assistant with their Registration Form properly filled out by 8:00pm the evening before their first overnight stay. There is a fine of no less than $25 for an unregistered guest that will be applied to your Student Account. Guests are required to stay with their host for the entirety of their visit and to abide by all of our policies outlined in the Student Handbook.
What Room Furniture is provided?
Each room has a closet space, a bed, a desk, a chair and a dresser for each student. We have a very limited storage space, so University furniture cannot be removed from the room.
What is my mailing address?
1300 Eagle Road, St. Davids, PA 19087, Mailbox #
Students will receive a specific box number during the first week of the semester. This number is included in the address. This can also be found on your myEastern page.
Early Arrivals are not permitted unless there is an extenuating circumstance. Early Arrivals must be approved by your Resident Director. Please understand if you are approved to return early, you may be charged a fee of $40/night and you will not have a Meal Plan until classes begin, so you will be in charge of providing your own meals. Your room may not be available as Conferences and Plant Operations are very busy throughout the summer with Residence Halls.
Students who show up early without receiving approval will be fined and will not necessarily be given access to their building or room. It is important to note that storing luggage in the Residence Halls early also constitutes an Early Move-In and thus is subject to the same early move in request process. Students who are on-campus because they have been approved but give access to non-approved students will be subject to fines and additional disciplinary actions as well.
Does my room have air conditioning?
Eagle Hall, Sparrowk Hall, Gallup Hall, Gough Hall and Kea Hall are completely air conditioned. Hainer Hall (East) is also air conditioned; however, the rest of Hainer Hall and Guffin Hall are not.
Those with an existing disability with documentation for an air conditioned unit should contact the Disability Accommodations Office at 610-341-1496.
What about Housing during the summer and breaks?
Residence Halls are closed over all breaks. Any Early Arrivals or Late Stays must be approved by your Resident Director. You may also contact your Resident Director or the Housing Office if you are interested in a host home over breaks.
You must be out of your room no later than 24 hours of your last final for both Winter Break and Summer Break. Graduating seniors may stay until Commencement and must be checked out by 5:00pm that day. All other breaks including Thanksgiving, Spring and Easter have an advertised deadline to be checked out of the Residence Halls, typically 5:00pm of the last day of classes.
Students are required to leave the Residence Halls during break; however, if you feel that you require an exception to our policy you may contact your Resident Director for arrangements.
Break Guidelines: Unplug everything in the room, close and lock all windows, close the blinds, empty trash, turn off all room lights, lock your door.
We do not offer single rooms to first-year students as we have a very limited amount of single rooms available. Single Rooms are placed on seniority on Housing Selection Night. There is a waitlist for Single Rooms; if one becomes available, offers will be made from the top of the list. There is a single premium of $585 attached to the room type charge.
Having a roommate and learning to live with another person develops character and interpersonal skills unlike any other experience. Your Residence Life staff is here to guide you through conversations and conflict.
Those with an existing disability with documentation for single Housing should contact the Disability Accommodations Office at 610-341-1496.
Is there storage in the Residence Halls?
Students should be prepared to remove all of their belongings from their rooms when they leave the University for the summer months or within 24 hours of withdrawing from the University. Some, not all, of the Residence Halls have a very limited amount of storage space and is only available if special permission is granted by the Resident Director.
If granted permission to store on campus, all articles are to be placed in closed boxes and labeled "Property of (Student Name)". Security and safety of all items in storage are at the risk of the student. The University will not accept responsibility for the loss or damage of a student's property at any time.
All articles left in storage must be removed by the first full week of classes each semester. Students who are not currently enrolled in classes may not use storage areas. Any items left after a student has graduated or withdrawn from the University will be donated to a charitable organization.