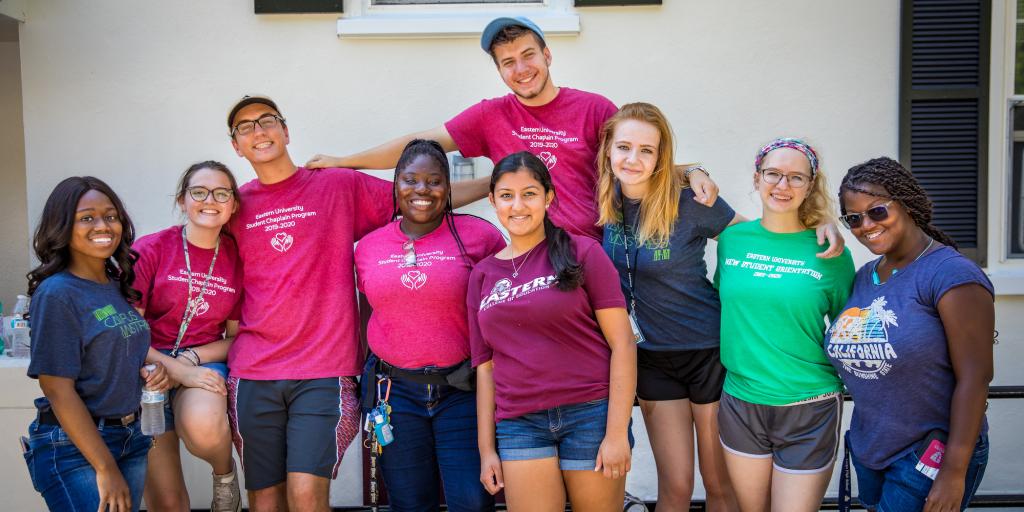 Welcome to EU!
We're excited to welcome you to the Eastern University community! Whether you are a first-year student or transfer student, commuting or residing on campus, Orientation is for you. This is a time to become familiar with campus and the resources available to you. It's also a great time to meet your new classmates. 
We know an Eastern education is valuable. We want as many students as possible to participate in this compassionate, dedicated, creative, academic community.
As part of the Eastern experience, you are likely to meet people who are different than you. Eastern University, as stated in our mission, seeks to "treat each member of the campus community with fairness, dignity, and respect, seeking a spirit of unity and harmony as we join together to achieve our common mission." As an Eastern Eagle, you will be challenged to grow, academically, socially, and spiritually. We look forward to the journey together, in community with you – beginning now, at EU New Student Orientation! 
2022 Dates, Schedule & Info
New Student Move-In: August 24th and 25th 
Students will be assigned a time along with their housing assignment. Students should check their housing portal to view their assigned time. Access the housing portal.
First Day of Classes: August 29th
For All Incoming Students (Transfers, First-years, Commuters, Residents)
COVID-19 Information
Eastern's 2020 fall semester will be in person and on-campus, and will be unlike any in the university's history. Our mission of Faith, Reason, and Justice has shaped us in our commitment to love God, our neighbors, and even our enemies. Amid the painful issues of COVID-19 and the recent national focus on racism and social injustice, our mission is most timely and aspirational as we must continuously challenge ourselves and each other to live according to our highest values. 
We recognize that living involves some element of risk. How we assess and manage risk is part of the maturing process into adulthood. Our present plan and protocols are designed to help all of us experience the many benefits of being together while seeking to understand and mitigate the potential risk involved. Please note that we reserve the right and need to amend protocols as best practices and more information become available. We will continue to share updates accordingly.   Learn More.