The College of Arts and Sciences
The College of Arts and Sciences (CAS) houses majors and minors in the sciences, humanities, and performing arts. From Math to Philosophy, from Biology and Chemistry to Communication Studies and History, CAS is the vanguard of the liberal arts at Eastern University.  Excellent faculty welcome you into our classrooms and their offices and transform this campus and areas far beyond into challenging and invigorating learning environments where we explore the intersections of faith, reason, and justice.
Spotlight: Eastern's EU-Nova Engineering Fast Track with Villanova
Michael Morabito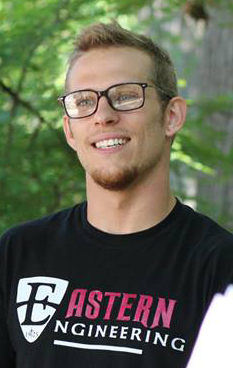 Eastern University has introduced a new engineering fast track for the 2015-2016 academic year.  Through this innovative agreement between Eastern University and Villanova University, Eastern students now have the unique opportunity to access the resources found in Villanova's College of Engineering facility while maintaining the intimacy and Christian education practiced on Eastern's campus.
"Eastern has enabled me to grow socially, spiritually and technically," says EU-Nova Engineering Alumni, Michael Morabito (left).  The technical mathematical skill set I have built at Eastern has made the difference for my success in mechanical engineering at Villanova.  Beyond my academics, I have capitalized on several research opportunities made available to me through the engineering program.  This program is pivotal in my journey toward a successful and rewarding career."  Learn more about the EU-Nova Engineering Fast Track.
Distinctives
Distinguished and highly-engaged faculty
Undergraduate programs from A.A. to B.A. and B.S.
11 majors in the Arts, Humanities, and Sciences
18 minors, easily combined with any undergraduate major across the University